Nigeria, Chad Presidents to discuss insurgency
<![CDATA[[caption id="attachment_11830" align="alignleft" width="300"]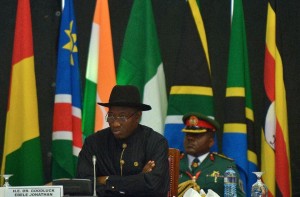 Nigerian President Goodluck Jonathan attends the opening of the African Union Peace and Security Summit in Nairobi on September 2, 2014 (AFP Photo/Tony Karumba)[/caption]
Abuja (AFP) – Nigerian President Goodluck Jonathan and his Chadian counterpart, Idris Deby Itno, will meet this week to discuss how to tackle insurgency and arms smuggling across their borders, a statement said Sunday.
Jonathan will travel to Ndjamena on Monday to hold talks with Deby, who is also the chairman of the African Union's Peace and Security Council, said the statement from the Nigerian president's office.
The two presidents will also discuss how to implement an agreement to work together against "insurgents and terrorists" made by Nigeria, Chad, Niger and Cameroon in Paris earlier this year.
"Their talks are expected to lead to the strengthening of the Paris accord on joint border patrols, intelligence-sharing and the prevention of the illicit movement of terrorists, criminals, arms and ammunition across shared borders," the statement said.
The one-day meeting follows their discussion last week on the sidelines of the African Union summit in the Kenyan capital Nairobi.
African leaders said at that meeting that the continent must work together to end the "scourge" of terrorism, amid fears of a growing extremist threat in Africa.
*Source Yahoo/AFP
]]>