Malawi president rejects ministers' 600% pay-hike bid
<![CDATA[[caption id="attachment_11629" align="alignleft" width="300"]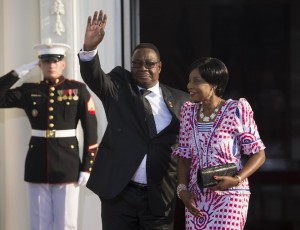 Malawi President Peter Mutharika, pictured during the US Africa Leaders Summit on August 5, 2014 in Washington, DC (AFP Photo/Brendan Smialowski)[/caption]
Blantyre (Malawi) (AFP) – Malawian President Peter Mutharika has shot down a proposal to hike cabinet ministers' pay to almost triple his own salary, a spokesman said Tuesday, amid austerity measures following foreign aid flight.
The cabinet secretary asked for a six-fold increase of the 20 ministers' salaries to $8,800 a month to cover the higher cost of living, according to presidential spokesman Frederick Ndala.
But Mutharika "finds it unethical to raise ministers' salaries when the cost of living is not only high for them, but for every Malawian," Ndala told AFP.
Mutharika, who came to power after beating Joyce Banda in May elections, will prioritise "the improvement of living standards of civil servants," his spokesman said.
Besides roughly $1,500 in pay, ministers receive benefits such as $2,000 in monthly fuel subsidies.
In contrast, the southern African nation's 170,000 public servants earn $100 a month on average.
Malawi is weathering an economic storm after donors, who contribute 40 percent to the state budget, last year withdrew aid worth $150 million over a massive government corruption scandal.
Officials looted $30 million in state funds in less than six months last year.
Ndala said Mutharika has appealed to the ministers to be "good leaders and lead by example and forego the salary review as the president has no intention of raising his salary any time soon."
The president's salary of $3,000 has been unchanged since 2009 when Mutharika's brother Bingu wa Mutharika was in power. He died in office in 2012 following a sudden heart attack.
*Source AFP/Yahoo
]]>