Letter from Africa: Nigeria's Boko Haram wounds army's pride
<![CDATA[By Mannir Dan Ali * [caption id="attachment_11587" align="alignleft" width="624"]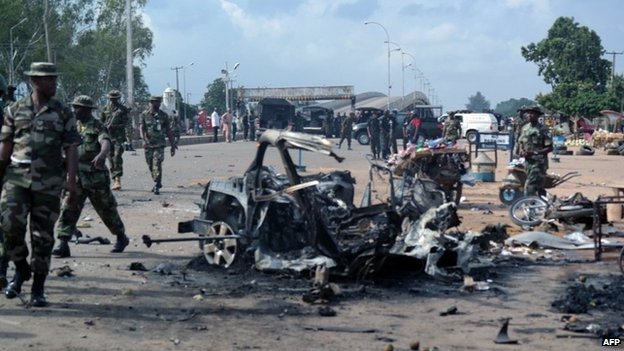 The main cities in northern Nigeria have been bombed on many occasions[/caption]
In our series of letters from African journalists, Mannir Dan Ali considers Nigeria's inability to prevent the Boko Haram militant group from gaining ground in the north-east.
Just when you imagine that it cannot get worse for the Nigerian military and its pride as a fighting force, it takes a further dive. With the abduction of the more than 200 teenage schoolgirls from Chibok in north-eastern Nigeria well past the three-month mark and no news yet about their rescue, the number of towns and villages being taken over by the Boko Haram insurgents is steadily growing. It seems military commanders have believed their own propaganda, ignoring the true state of affairs in the troubled region. For nearly a year – coinciding with the state of emergency in the north-east – there have been constant reports quoting foot soldiers saying they lack the equipment to match the firepower of the insurgents. Recently some soldiers claimed that sending them to engage the insurgents without adequate weapons was like sending them to die. Last month saw the unprecedented spectacle of soldiers' wives protesting at the barracks in Maiduguri against the deployment of their husbands to the battle front on the grounds that they were not properly equipped. Before that the senior general in charge of the same barracks barely escaped with his life when angry junior soldiers turned their guns on him after they heard about a bloody ambush in which a number of their colleagues lost their lives. Courts-martial He escaped unharmed – after being whisked away by his security aides – and was discreetly replaced shortly afterwards. This was quickly followed by reports of mutinous conduct by some soldiers who refused an order to be posted to engage with the Boko Haram militants. At all times the Nigerian military authorities issue standard denials and in the case of the refusal to carry out orders attributed it to "mischief-makers working for terrorists". On the wives' protest, Nigeria's army chief Lt-Gen Kenneth Minimah warned: "Any repeat of such acts, I will tell soldiers to use koboko [whip] on the wives and bundle them out of the barracks."
Who are Boko Haram?
Founded in 2002
Initially focused on opposing Western education – Boko Haram means "Western education is forbidden" in the Hausa language
Launched military operations in 2009 to create an Islamic state
Thousands killed, mostly in north-eastern Nigeria – but also attacks on police and UN headquarters in capital, Abuja
Some three million people affected
Declared terrorist group by US in 2013
The military high command is apparently not taking lightly matters of what it sees as indiscipline – and there are reports of several dozen soldiers being court-martialled. [caption id="attachment_11588" align="alignright" width="624"]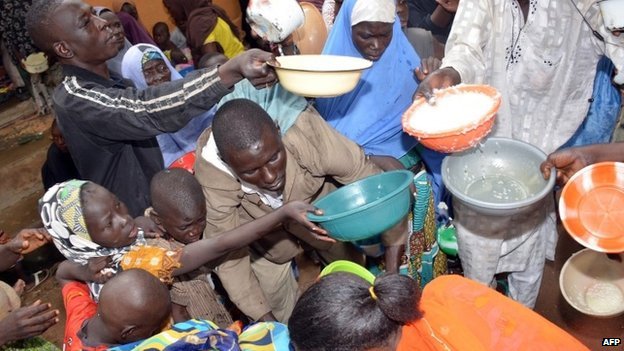 The humanitarian crisis has affected more than three million, officials say[/caption] All of that was before the dramatic report from the Cameroonian military saying that nearly 500 Nigerian soldiers had crossed the border after an encounter with Boko Haram insurgents. The Cameroonians quickly disarmed the Nigerian soldiers, who the Abuja high command said had gone into the neighbouring country on what they called a "tactical manoeuvre". 'Nigerian caliphate' The "manoeuvring" battalion of soldiers has since been escorted back to Nigeria from the town of Maroua, about 80km (50 miles) from the border, and not much has been heard of the matter since then. Privately and on social media, there has been a furious debate about the incident, which has left many Nigerians questioning what may have happened to their fighting force, which performed creditably in several international peacekeeping engagements across Africa. Many cannot understand why, despite the huge budgetary and extra-budgetary allocation to the security sector, Nigerian soldiers do not seem to match what many see as the ragtag Boko Haram insurgents. Most of military's hardware dates back to purchases made under the civilian government overthrown in 1983 – the last non-military administration until multi-party democracy returned in 1999. The rot is blamed largely on corruption – and some say the inadequacy is also a legacy of long years of neglect by military regimes, coupled with politicians who argued a strong army was a challenge to democracy.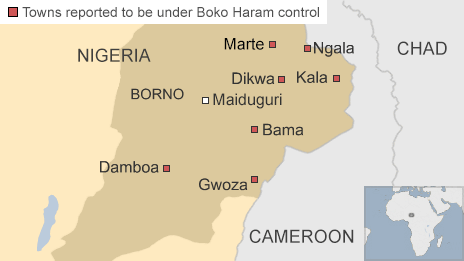 All this has allowed Boko Haram to seize the initiative, taking over and holding towns and villages and hoisting their flags in places such as Gwoza. This has emboldened the group's leader to declare a caliphate in the areas it controls. The Nigerian defence headquarters dismiss this as empty rhetoric – they say the sovereignty and territorial integrity of the state is still intact. But many Nigerians remain wary of such reassurances and are apprehensive about what the militants may do next *Source
BBC
]]>