Joining efforts to improve the health of young women and girls in South Africa
<![CDATA[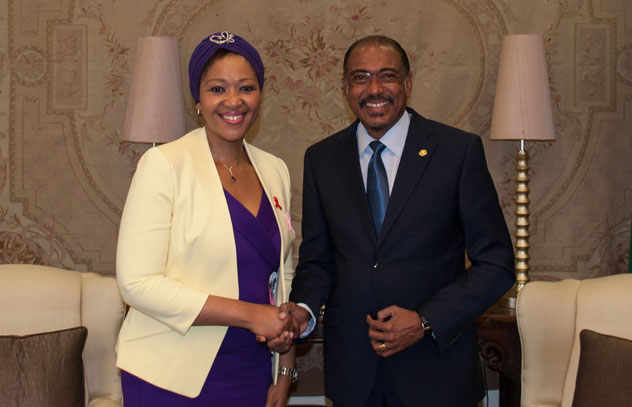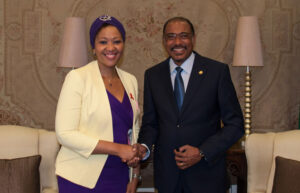 The First Lady of South Africa, Thobeka Madiba-Zuma, pledged to improve the health of young women and girls in South Africa during a meeting with UNAIDS Executive Director Michel Sidibé on 4 September at the President's official residence.
Mr Sidibé acknowledged the First Lady's role in lobbying for a price reduction for the human papillomavirus vaccine and ensuring better access to the vaccine in developing countries. The First Lady works extensively on health issues related to breast and cervical cancer and  HIV, including prevention initiatives for young women and girls.
During his four-day visit to the country, Mr Sidibé also met with the South African Minister of Health, Aaron Motsoaledi, to discuss Africa's response to the Ebola virus outbreak and the lessons African leaders can learn from the AIDS response. Mr Sidibé said that strengthening health systems and bridging the gap between health systems and the community are critical to addressing the outbreak effectively.
In a round-table dialogue with Mr Sidibé, members of the South African National AIDS Council's Civil Society Forum reiterated the need to form a stronger and strategic partnership with the Government of South Africa and the critical role that civil society plays in creating demand for the services that the government provides to respond to HIV and tuberculosis.
Quotes
"We can build a hundred hospitals, but, if we don't empower people with knowledge on healthy lifestyles and responsible behaviour, we won't make progress."
"In the absence of a cure or vaccine for Ebola, we need a deliberate and non-emotive response which learns lessons from AIDS in Africa."
"We need to innovate on HIV prevention for young women and girls and find ways to reach them earlier with solutions like cash transfers and address intergenerational sex."
"There is a serious need to focus on local initiatives in creating sustainability and coherence of strategies in South Africa. Civil society remains committed to the HIV response and we are encouraged by UNAIDS' commitment in ensuring that communities access quality and competent health-care services."
*Source unaids
]]>