What Does Godane's Death Mean for Al-Shabab?
<![CDATA[By Gabe Joselow* After confirmation that U.S. airstrikes Monday killed the leader of Somalia's al-Shabab militant group, Ahmed Abdi Godane, experts debate what his [caption id="attachment_11729" align="alignleft" width="300"]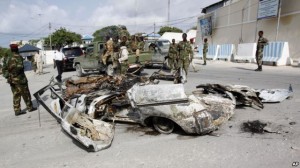 Somali soldiers stand near the wreckage of car bomb that was detonated at the main gate of the presidential palace in Mogadishu, July, 9, 2014.[/caption] death would mean for al-Shabab, Somalia and the fight against terrorism.
Ahmed Abdi Godane rose to power and has sustained his authority in al-Shabab through a combination of charisma and brute force.
Known as an eloquent speaker and poet, he rallied many to the Islamist group's fight against the Somali government and foreign forces in Somalia, and has helped funnel money to the organization. Since becoming emir of al-Shabab in 2008, Godane has commanded the group's militant operations, and forged a formal alliance with the al-Qaida terrorist network in 2012.
Al-Shabab's high-profile and carefully plotted 2013 attack on Nairobi's Westgate shopping mall – in which 67 people were killed – took place under Godane's watch.
The director of the Heritage Institute for Policy Studies in Mogadishu, Abdi Aynte, told VOA's Somali service that Godane has ruled al-Shabab "with an iron fist" and sought to model the group's global jihadist identity after himself.
"He was running the organization by himself and was essentially branding the organization as his own," said Aynte.
Rivals eliminated
In recent years, Godane has consolidated power by eliminating rivals within al-Shabab, through his command of a personal team of young, loyal militants called the Amniyat.
His deputy, Ibrahim al-Afghani was killed in 2013, after sending an open letter to al-Qaida's central leadership complaining about Godane's despotic rule.
An American-born jihadi known as Abu Mansoor al-Amriki, another vocal critic of the al-Shabab leader, was killed the same year. Aynte says "there are no obvious successors" to Godane, and that further internal violence is likely in the event of a power vacuum. "What you will likely then see as a result of that is further disintegration and fragmentation of the organization and possibly the emergence of much more extremist and violent groups from the ashes of al-Shabab," said Aynte. Godane took over leadership of al-Shabab after his predecessor, Adan Hashi Ayro, was killed in a U.S. airstrike in 2008.
Ideology, danger remain
The United States put a $7-million bounty on Godane through the 
Rewards for Justice Program
 – which targets terrorist leaders and their supporters. But independent Horn of Africa analyst Abdiweli Sheikh Abdisamed says killing the group's leaders alone is not enough to stop al-Shabab. "You can kill a person, you cannot kill the ideology. Ideology will take a long time," he said. Abdisamed says if al-Shabab finds itself in an internal struggle, that is the time for the Somali government to reach out to less extreme factions. He says providing a dialogue and alternative governing structures in towns formerly under al-Shabab control is the only way forward. "We have to address underlying grievances of society, we have to address how can we gain the hearts and minds of Somali society, that itself can easily defeat al-Shabab," said Abdisamed. The African Union peacekeeping forces known as AMISOM and the Somali National Army launched a fresh campaign against al-Shabab militants in late August to take their remaining strongholds. AMISOM pressure has wrested control of key towns from al-Shabab, starting with the capital, Mogadishu, in 2011.  But the group continues to carry out deadly suicide attacks against government institutions and foreigners in the country. *Source
VOA
]]>