Former Ivory Coast president backs Ouattara for 2015 election
<![CDATA[By Loucoumane Coulibaly*
DAOUKRO Ivory Coast (Reuters) – Ivory Coast President Alassane Ouattara on Wednesday received the endorsement of former president Henri Konan Bedie for re-election in 2015, boosting his chances of a second term.
[caption id="attachment_12112" align="alignleft" width="640"]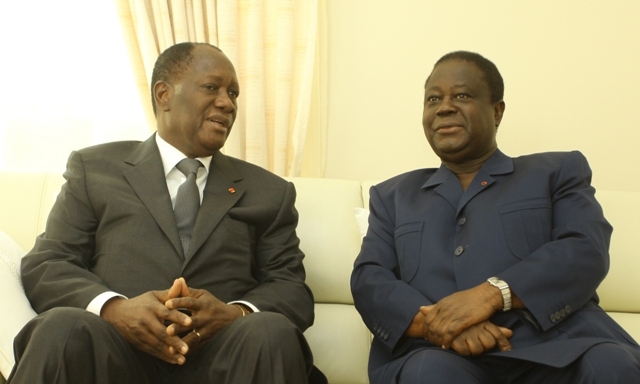 From Foes to Friends, President Ouattara and Former President Bedie[/caption]
Support from Bedie, who heads the Democratic Party of Ivory Coast (PDCI), was previously uncertain and some had speculated that his party would field a separate candidate.
"Before the nation assembled here, I am giving clear guidance to support your candidacy at the next presidential election," Bedie said, addressing Ouattara in a speech before political leaders in Bedie's home town of Daoukro.
In the same speech, he urged party members to "gear up for battle" to help Ouattara's campaign, in words that could be aimed at rallying support among younger party members.
In Ivory Coast's last presidential poll in 2010, defeated candidate Laurent Gbagbo refused to accept the result, leading to a post-election civil war that killed some 3,000 people. Bedie, who rivalled Ouattara in the first round of the vote, supported him in the next round against Gbagbo and throughout the subsequent upheaval. Gbagbo now faces charges of crimes against humanity and is awaiting trial before the International Criminal Court in The Hague. "You have renewed your confidence and support for me at a critical moment in our country's history," said Ouattara in a speech, following a political tour of the region. GROWING SUPPORT The pledge means Ouattara now has the backing of two of Ivory Coast's three main political parties, but Gbagbo's Ivorian Popular Front (FPI) withdrew from the elections commission at the weekend, raising the prospect of an opposition boycott. FPI has not yet named a candidate for 2015. Since taking office in 2011, 72-year-old Ouattara is credited with fostering an economic renaissance in the French-speaking cocoa grower. Growth in the West African country of 20 million people has been over 9 percent for the past two years.
"Bedie's support for Alassane Ouattara's candidacy makes it likely that Ouattara will win a second term," said Trent Baldacchino, Africa Risk Consulting's West Africa analyst, adding that this would be "good for business".
"This is a good piece of news," said Julitte Ahou, a hairdresser in Daoukro, referring to Ouattara's endorsement. "It will bring us peace."
*Source
Yahoo/Reuters
]]>