Five things I've learnt about Boko Haram leader Abubakar Shekau
By SOPHIE KAMYA* You can learn a lot from just watching someone YOU can tell a lot about a person from just watching their YouTube videos, and here are five traits I summed up about Boko Haram's mad leader from what I've seen, and heard, so far. 1: Control freak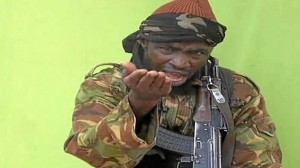 Only a control freak would abduct young girls, force them to convert to his religion and have them speaking Arabic in weeks. Like many control freaks, he knows the only way he can get anyone to do his bidding is hold them against their will. The gun brandishing is also telling, lest anyone forgets who's in charge. Have you seen the way he shakes and waves his right hand? Must be one of those people who push or slap you during a heated argument. I'm assuming Osama Bin Laden was his mentor, and clearly, the student didn't learn from the master. Anyone who has watched the latter's archived interviews knows how cool, calm and collected Bin Laden was, to the point that you 'enjoyed' the clip much as you hated the message. Maybe Shekau can refer to them for tips on how not to sound angry and vile. If his intention is to draw more hip youths, he may end up with dislikes and thumbs downs instead.
2: No smart businessman Only a fool would brag about selling a supposedly prized possession at only $12, as he said he would for each of the abducted girls. In case you're wondering why an African would promote slavery in the 21st Century, knowing what it cost our race, Shekau happens to head Boko Haram, a movement against Western education, so clearly, he skipped History class.
3: Ungroomed I don't know if it's the sinister grin, the unkempt beard or his clothes but he comes across as someone who hasn't had a bath in months. On top of that, he scratches what appears to be his butt and scalp in one of the videos a couple of times. We all get an itch every now and then but something tells me this guy is covered in layers of dirt. Considering that he and his fighters have to hide from Nigerian and international forces, probably in a forest without proper bathrooms, maybe this shouldn't be a surprise.
4: Bully Bullies are good at taunting and threatening their victims. Here's one of Shekau's outrageous threats. "We're more than a match for the Nigerian army. We have killed countless soldiers and we are going to kill more. Our fire power is bigger than that of Nigeria, which is no longer a big deal to us. We will now comfortably confront the United States of America…" Need I say more?
5: Terrible Actor He would have a hard time breaking into Nollywood, Africa's biggest movie industry, There's something about his eyes that's so off-putting. That aside, he gestures a lot, flubs his lines and repeats himself. I reckon directors would be yelling 'cut' every five minutes. There's also the matter of his name. Notable Nollywood actors include Jim Iyke, Ramsey Nouah and Desmond Elliot. Abubakar Shekau sounds so, Boko Haram. In that case, I would advise him to keep his day job but we all know that's not a good thing.
*Source M&G