Congolese government clashes with bishops over third-term debate
<![CDATA[By Aaron Ross*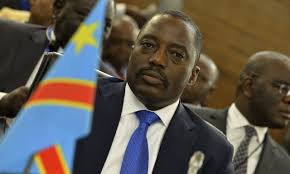 KINSHASA (Reuters) – Democratic Republic of Congo's government accused Catholic bishops of pandering to foreign influence on Thursday after they issued an open letter opposing a possible constitutional revision to let President Joseph Kabila seek a third term.
The letter, issued on Sunday by the National Episcopal Conference of Congo during a visit to the Vatican, said the current rules limiting leaders to two terms underpinned the country's stability by ensuring a balance of power.
The opposition, which includes some former rebels, has suggested that an attempt to hold on to power by the president would lead to protests. Kabila has not announced any plans to stand again, but a number of his supporters have made public appeals for him to change the constitution before his second term expires in 2016. Government spokesman Lambert Mende accused the bishops of overstepping their ecclesiastic role. "To judge by the place chosen by the Congolese bishops to sign and release their letter, it is clear that once again the major actors in the history of our country wanted to please agents of foreign influence," he said, in a lengthy response. He did not specify which foreign powers were involved. But he accused the Church of a long history of interference in domestic politics and said it stirred up sentiment against Congo's first post-independence prime minister Patrice Lumumba, assassinated with the complicity of Western intelligence services in 1961. The Church, which has not responded to the accusations of excessive interference, holds considerable sway in Congo, where more than 40 percent of the population identifies itself as Catholic. The bishops had already come out against a constitutional amendment in a statement in July. But the debate around a potential revision has heated up in recent weeks amid calls from Kabila allies for a third term. Many fear that any attempt to alter the constitution could destroy a fragile stability in Congo, whose 1998-2003 civil war caused millions of deaths, mostly through hunger and disease. The giant country's mineral-rich east remains beleaguered by dozens of armed groups, despite a 21,000-strong U.N. peacekeeping mission. Last Saturday, police forcibly dispersed at least five demonstrations across the country against a constitutional amendment. On Monday, Senate president Leon Kengo wa Dondo devoted much of his speech opening September's parliamentary session to opposing calls for such a move.
But Mende insisted that the rhetoric over the constitution is misplaced, noting that the president has not announced any intention to stand again.
Kabila – who took office in 2001 following the assassination of his father, then-president Laurent Kabila – was elected for the first time in 2006. He won reelection in a 2011 poll that was criticized by the U.N. mission for irregularities.
 *Source
Reuters
]]>