Coca-Cola eyes agricultural expansion
<![CDATA[
[caption id="attachment_11748" align="alignleft" width="300"]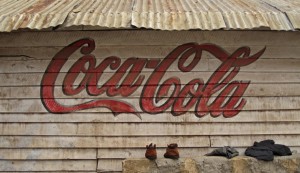 Hand-painted Coca-Cola sign in Kenya (Photo: Meena Kadri)[/caption]
Is Coca-Cola's increased interest in the 'African dream' sweet, or are its words of promise masking the bitter truth about a new wave of Western exploitation?
By 
Rachel Hamada
* So, that was a party and a half at Obama's! It's amazing that he fitted everyone important from the 
'nation of Africa'
 in the White House at once. Sorry to distract from the interesting topics of the nights, such as how tall Kagame's daughter is and Chantal Biya's outfit, but amongst the gossip-generating photos, an announcement was made.
Coca-Cola took the opportunity to announce that it wants to invest $5bn more in Africa.
Why? The official line is: "Because we believe in Africa, and we want to refresh its citizens, build our business, and create new economic value for the people who own and operate the 900,000 shops, restaurants and other outlets that sell Coca-Cola and 68 of our other brands on the continent."
OK, so Coca-Cola wants to make more profit, at least there is some honesty there. But hang on, there are some grander claims. Said chief executive Muhtar Kent:
"For nearly 90 years, Coca-Cola has been part of the economic and social fabric of Africa. Now we have a special chance to participate in—and help fuel—Africa's rapid and remarkable development. We can grow our business and create more jobs and economic opportunity across the continent, all while helping build more sustainable communities and making a real difference in the lives of literally millions of people."
Coca-Cola already has a deep footprint on the continent, from Swaziland to Somaliland
Diabetes? Obesity? Or did they mean another kind of difference. Hmm. Coca-Cola already has a deep footprint on the continent, with bottling plants from Swaziland to Somaliland. So, what exactly is it planning now?
The company has signed a letter of intent to launch Source Africa, which is a "drive to secure more consistent and sustainable local agricultural ingredient sourcing" for Coca-Cola's products in partnership with Grow Africa and the New Alliance for Food Security and Nutrition.
Background time: in case you missed the memo on the dubious "New Alliance for Food Security and Nutrition" (otherwise known as the "Aid and Multinational African Pillage Partnership"), let us remind you what it is:
• It is made up of some of the world's biggest multinationals – from Monsanto to Unilever, Diageo to Cargill, SABMiller to Syngenta.
• Ten African countries have signed agreements with the New Alliance, variously including arrangements for access to large tracts of land for agribusiness, promises to use genetically modified seed and guarantees regarding the export of agricultural produce outwith Africa.
• The New Alliance is supported with money from both the USAID programme and the Department for International Development in the UK i.e. taxpayers' money designated for aid spending.
This push has been categorised by many (including 
This Is Africa
) as a "
new scramble for Africa
" – a collective effort between vast Western multinationals and governments to gain control of, scale up and extract Africa's agricultural resources for profit. The fact that is has been dressed up as a "food security" initiative just adds insult to injury. Note the word 'security' is used, rather than 'sovereignty', which would imply African control of food production and therefore much greater independence from the West. Coca-Cola goes on to explain: "The initiative will focus on sustainable mango production in Kenya, Nigeria, and Malawi and can also be extended to other African countries in the future."
This certainly throws up some questions. Mangoes? For what? Fanta Mango? Juice? What does 'sustainable' mean? Why Kenya when Kenya is not even signed up to the New Alliance initiative? On which land will the mangoes be grown? Land that is currently being farmed by small-scale farmers? Small-scale farmers who often don't have paper land deeds because, for generations, things didn't work that way and operated on trust?
In fact, Coca-Cola has been stung in the past by accusations of sourcing from suppliers complicit in land grabs, and last year, after much campaigning by activists, it made a statement saying: "The Coca-Cola company believes that land grabbing is unacceptable." So let's just say, Coca-Cola, we are watching you…
[caption id="attachment_11749" align="alignright" width="300"]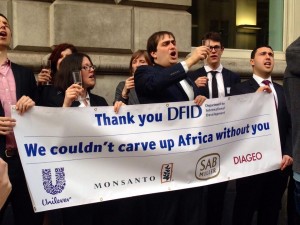 Protest against the UK government's backing of the New Alliance. Coca-Cola has signed a letter of intent involving a partnership with the New Alliance, but the latter wants the African governments who've signed up to reform their land, seed and trade laws to benefit multinational companies, often at the expense of the small-scale farmers. It's the "new scramble for Africa".[/caption]
Meanwhile, what has the company's legacy really been on the continent? As most of the world, Africa laps up sugary sodas by the bucketload. Why? Of course, it is a mix of factors, but these include aggressive marketing; the corralling of small businesses into stocking Coca-Cola products exclusively; the fact that sodas are genuinely rehydrating when you lose sugar and salt from your body in hot climates; popularity among Muslim populations in particular as the celebratory drink of choice; and their place in the diorama of Western aspiration, along with increasingly prolific Subways and KFCs in new urban, middle-class hotspots.
But the truth is, soda is about the worst thing that you can have nutritionally, as it delivers a payload of sugar, delivering empty calories, but has bubbles that make you feel full up. Children who fill up on soda often don't eat a proper meal. The proliferation of commercial soda products also has implications for street vendors and demand for local small-scale crops – for example, orange juice, sugar cane juice, young coconuts and other on-the-spot drinks
Now Coca-Cola intends to get deeper into the "African dream" by partnering with the New Alliance. Its chief executive Kent describes this as a "win-win for everyone involved".
We are not convinced.
*Source thisisafrica
]]>