C. African capital rediscovers nightlife, forgets conflict
<![CDATA[By Christian Panika* [caption id="attachment_11967" align="alignleft" width="300"]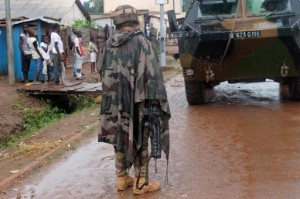 French soldiers from the European Union's Eufor mission patrol in a street of the PK5, the last remaining Muslim district in Bangui on August 21, 2014[/caption]
Stop in at Bangui clubs like Songo Night or Zammours or stroll through the red-light district. Nightlife, silenced by months of bloody conflict, is again hopping in the Central African Republic's capital.
"Here, it's 24 hours a day," said student Yvon Sanga at the Kadam Kadam, one of many dancing bars clustered in the central, residential parts of the capital.
Even the so-called "district of sin" is back to work after the city was hard-hit by clashes that took on a religious aspect, pitting minority Muslims against Christians and raising the spectre of genocide early this year.
Beer-swilling club patrons chatter over plates of fish and braised chicken. The keenest dancers carry on until dawn, hips and limbs bouncing to the "ndombolo", a variation on the famous rumba of neighbouring Democratic Republic of Congo, along with throbbing drum'n'bass music from Ivory Coast and American rhythm'n'blues.
As the night goes on and alcohol is consumed in prodigious quantities, the rising racket in bars and clubs banishes any thought of the armed crisis still gripping parts of the country. Bangui residents largely ignore a nationwide curfew from midnight to 5:00 am.
The city has been largely emptied of its Muslim inhabitants, who fled for fear of reprisals by mainly Christian vigilantes after widespread atrocities by ex-rebels of the mostly Muslim Seleka alliance.
Many people have returned to work now that the Seleka has left the capital, where it held sway for 10 months from March 2013, before intervention by troops from African Union countries and France.
Today, citizens are also reclaiming the pleasures of the night, giving the impression that normal times are on the way back.
– 'The shooting gallery' –
"We have the privilege of being close to the city centre. It's an area that wasn't disturbed too much by events," said Helene Mballa, a young Cameroonian woman under the red neon lights of the Kadam Kadam club.
"Here, we're fine so long as the Central African police and gendarmes (paramilitary police) don't bother us with their untimely patrols," said student Sanga, adding that law enforcement officers "haven't dropped their good old habit" of extortion.
"They all went to ground when the Seleka invaded Bangui. It's best to keep an eye on them with joint patrols," he added, just as a few policemen appeared at the end of the street, accompanied by soldiers from Burundi.
Bangui's more popular night clubs and dance halls get quickly packed after opening at 9:00 pm and don't close until very late into the night.
Customers say they feel reassured by the presence of the AU's Misca mission, France's Operation Sangaris and a new European Union force (Eufor-CAR) that recently began to deploy under the aegis of the United Nations.
"You see those 4X4 vehicles in the colours of the European Union with heavy machine-guns? Those are Georgian soldiers. French troops only just went by," trader Josee Penguele told AFP, saying their presence had made Miskine, the popular name for the district, secure again.
Dozens of lives were lost in Miskine, which was among districts worst hit by the ethnic and religious violence. Thousands more have died across the country and more than a quarter of the population of 4.6 million are displaced.
[caption id="attachment_11968" align="alignright" width="300"]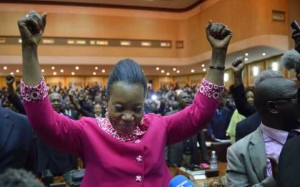 The mayor of Bangui, Catherine Samba-Panza, celebrates after being elected interim president of the Central African Republic[/caption]
Muslims fled Miskine in droves for fear of brutal atrocities by "anti-balaka" (anti-machete) militia forces seeking revenge for killings, rapes and looting by the Seleka. Their former homes in the capital have been pillaged and burned and weeds overrun the ruins.
"This has become a shooting gallery," jested Guy, who pimps for local prostitutes. "Those who are unable to go to appropriate places make arrangements with their partners for playtime here."
– 'Death corridor' –
One part of Bangui remains unusually quiet and fearful after nightfall. The PK5 district is the sole remaining Muslim enclave in the city, where residents are still threatened with murder or lynching by the anti-balaka.
"This place once used to rock," said Aubin Bangue, a health care worker, with obvious nostalgia for the "koloutou mamas (with heavy hips), the 'sepele' girls (tall and thin), the practical women (gifted in business) and the pirates" who are renowned for robbing men down to their last cent.
"We had the best mechouis (barbecued roasts) in Bangui," mechanic Alain Kossingou said. "They were suitable for all budgets, everyone got what they wanted."
"But now this is death corridor," he warned, adding that to venture out at night in PK5 is to run the risk of being "kidnapped, killed, butchered or vanishing completely".
*Source AFP/Yahoo
]]>