Beyond the Paradox: Realising Africa's Agricultural Revolution (AGRF 2014)
<![CDATA[By Liz Wilson* Africa spends about $35 billion per year importing food. Imagine if it went to our farmers and fishing communities instead.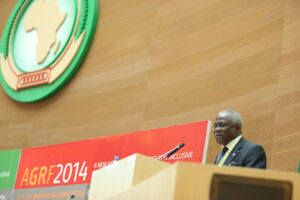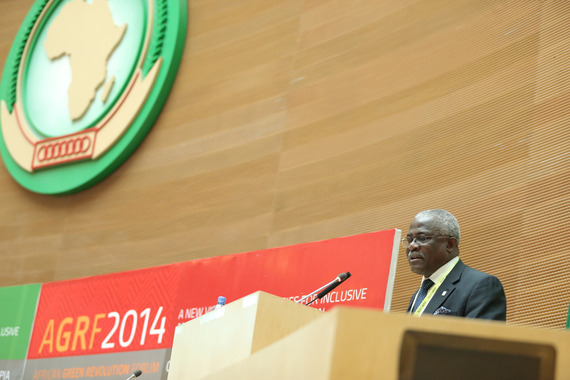 Attending the Alliance for a Green Revolution Forum (AGRF) 2014, Kofi Annan, former secretary-general to the UN and chair of the Kofi Annan Foundation,encouraged participants to fulfil Africa's potential to be a leading and inclusive food producer. In doing so he alluded to a paradox that dominates African economic development. This paradox was outlined robustly by Kanayo Nwanze, IFAD President, in a keynote address to the forum. He said that although Africa is now home to some of the world's fastest growing economies, including consumer spending that will double in the next ten years, sub-Saharan Africa is also the only region where the absolute number of people living in poverty has risen steadily between 1981 and 2010. "Do we want to go down in history as the generation that allowed Africa's economic success to benefit just a select few, while hundreds of millions of our people remained desperately hungry and poor? Or do we want to be remembered as the generation that transformed African agriculture and in the process built inclusive economies and opportunities for our children and grandchildren?" We could be forgiven for feeling overwhelmed by the challenges that African countries face to unleash a sustainable and inclusive green revolution at scale. African farmers – most of whom are smallholder farmers with less than two hectares of land – continue to deal with barriers such as lack of access to quality certified seeds and fertilisers, dependency on rain-fed weather systems, endemic pests and diseases, low rates of mechanisation, and poor on- and off-farm infrastructure. Just as important are the significant challenges of selling agricultural products on the market. To make African agriculture sustainable and effective at scale, there is there is a need to support local agribusiness. In particular farmers, farmer organisations, agribusiness entrepreneurs and early stage agri-SMEs urgently need more access to finance and agribusiness development services. AGRF's convenor AGRA, and social finance providers such as Root Capital, AgDevCo, Juhudi Kilimo, and Acumen are active in this area, but much more action and innovation is required. AGRF touched on the need to think about quality and as well as quality of food production in Africa. Jeff Waage, director of the London International Development Centre and head of the secretariat for the Global Panel on Agriculture and Food Systems for Nutrition, gave a presentation that showed that malnutrition – whether it results from a lack of nutrients, the overconsumption of calories, or a poor quality diet – prevents people from thriving, and thereby inhibits African and other countries from reaching their full economic potential. Despite these intractable issues, and with a focus of moving beyond the tipping point, AGRF discussions suggested there are reasons to be optimistic about delivering an African agricultural transformation.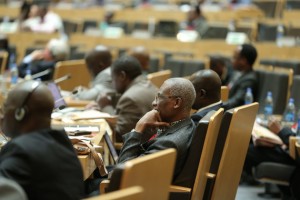 Dr. Nkosazana Dlamini-Zuma, Chairperson of the African Union Commission,highlighted recent commitments by African Union member states in the Malabo Declaration on accelerated agricultural growth and transformation for shared prosperity and improved livelihoods. She signalled the key contribution of agriculture in Africa's development, and urged AGRF participants and others to engage in the consultation currently underway on Africa's future through the Agenda 2063 process. Many AGRF speakers emphasised the critical role of national governments in creating and supporting a conducive environment for increased and inclusive productivity, and for African agribusiness to flourish. For example, in 2011 the Nigerian government launched an Agricultural Transformation Agenda, with the goals of adding 20 million metric tonnes of food to the domestic food supply by 2015, and stimulating the creation of 3.5 million jobs in the sector. Dr Akinwumi Adesina, Minister of Agriculture and Rural Development,said that he and his colleagues ended four decades of fertiliser sector corruption within 90 days, and replaced it with a private sector-driven system. He said that bank lending to seed companies and agrodealers rose from $10 million in 2012 to $53 million by 2013, while bank lending to fertiliser companies rose from $100 million in 2012 to $500 million in 2013. Beyond political actions, AGRF included a strong emphasis on developing agricultural knowledge and human capital for future generations. Nickson Muturi won theagribiz4africa business idea competition, an initiative to attract and support young talent to enter into agribusiness supported by Enactus Kenya and Syngenta. Muturi was awarded $10,000 to take forward his concept of developing and selling diverse products such as flour and chicken feed from local staple crop cassava. Larry Keya ofI-Farm won the agribiz4africa agribusiness messaging competition. In their early 20s, the finalists embodied the innovation and creativity that is already driving change across the continent. Yet these young entrepreneurs and others will need much more support if their ideas are to become part of a sustainable transformation at scale.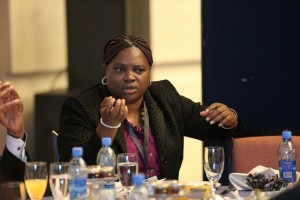 AGRF 2014 set out the challenges and opportunities that governments, the private sector, researchers, donors, and individuals must all explore and act on if we are to tackle Africa's agricultural development paradox. There was consensus among the 1,000 delegates from 60 countries that we need to move beyond rhetoric to action. Dr. Wanjiru Kamau-Rutenberg, Director of AWARD, articulated the imperative for us to act: "I firmly believe that we are the generation charged with bringing about Africa's prosperity. Our fathers, our mothers brought independence. It is on us who are alive 50 years from independence to secure Africa's prosperity.We are the ones we have been waiting for." *Source huffingtonpost .Follow Liz Wilson on Twitter: www.twitter.com/LizWilsonUK]]>