US-Africa Leaders Summit: Africapitalism at Full Speed
After repeated calls to make Africa a priority, many hoped that the 2014 US-Africa Leaders Summit would bring the United States and the African continent together in an unprecedented partnership.
Indeed, the summit turned the page on a post-cold war type of diplomacy which had been dominated by derogative aid and a paternalistic approach. The summit helped to usher the two continents toward stronger economic cooperation and also created a platform fora win-win, mutually beneficial partnership aimed at reducing security threats.
The official agenda was focused on security, democracy and governance. However, for the first time, a trade and investment- focused theme dominated the week, with more than 60 ancillary events featuring African leaders who shared information on business opportunities in their respective countries.
As a result of these conversations, US President Barack Obama announced a $26 billion commitment to power development on the African continent to provide electricity to more than 60,000 Africans and entrepreneurs and to lay the foundation for an African economic boom. A total of $33 billion was pledged and $14 billion worth of private deals were created during the summit.
These investments are a far cry from China's $200 billion investment in the African continent in 2013 which is more than double that of the United States. In fact, US Ambassador Linda Thomas-Greenfield said that Africa presents enough opportunities to be seized by all players. China and the US have two different approaches to investing in Africa but they are complementary. Still, Africa's bright future will not depend on the amount of investments made; it will depend on which investments have the ability to create jobs on the continent and secure long-term development.
African leaders came to Washington accompanied by more than 200 African executives. Mutually beneficial partnerships are now the new models of engagement such as the partnership between Dangote Industries, asset management firm Blackstoneand Black and Black Rhino, an African infrastructure development company, with a $5 billion investment in infrastructure development. Another partnership includes Heirs Holding, Symbion and General Electric. It's a venture that contributed to tripling the power capability in Nigeria from 150 megawatts to 453 megawatts in just six months. These success stories were made possible by the strong implementation of local content laws in Nigeria which allows their private sector to grow and due to improved power and investment regulations.
Leaders called for the creation of jobs on both sides of the Atlantic, in order to address the US employment challenge and Africa's security threat posed by 54 million new jobs that need to be created in Africa by 2020. This can be duplicated in all sectors. This is Africapitalism at full speed.
Nevertheless, Africa's future still depends on Africans, not on China, the European Union or even the United States. While speaking at the Believe in Africa Day High-Level Dialogue organized by African diaspora leaders, President of the African Development Bank M. Donald Kaberuka said: "A country that relies on others to finance development is ordained to fail."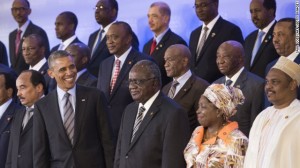 African leaders had expected to participate in the usual bilateral talks that they have attended summits held in France, the European Union and China. However, the lack of such talks did not undermine the outcome of the US-Africa Leaders Summit. Their participation in the summit sent a clear message to the rest of the world that Africa is ready to enter the big leagues and that the US summit was not just held to compete with the ones held by the Chinese or French.It is rather a loud proclamation of the strategic and economic importance the continent holds as stated in a resolution introduced by US Representative Gregory Meeks in the US Congress.
Nonetheless, the US still needs to contend with China, Europe and other emerging economies, including India and Turkey. The increase of positive south-south relations has already altered the traditional regional landscape.We are entering a new era for US-Africa relations. President Obama deserves an accolade for igniting the spark for these new relations. It is our hope that other summits will take place, and hopefully the next time it will be on African soil.
* Souce US-China Daily