Is Obama's 'billions' for Africa a development strategy?
<![CDATA[By Michael Igoe* [caption id="attachment_10923" align="alignleft" width="300"]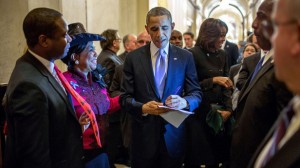 United States President Barack Obama at the U.S. Capitol in Washington, D.C. President Obama unveiled billions in new U.S.-Africa investments, but will it solve longstanding development challenges? Photo by: Pete Souza / The White House[/caption]
What happens when almost 50 African heads-of-state, many of their ministers, hundreds of U.S. and African business leaders, donor officials, development professionals, civil society activists, artists, and entrepreneurs all gather together in one place to discuss the future of U.S.-African relations?
The short answer: we don't really know yet.
As promised, the U.S.-Africa Leaders Summit in Washington, D.C. played host to plenty of big announcements. Among them: $1 billion from the Swedish government as it joins U.S. President Obama's signature Power Africa initiative; an additional $7 billion from the New Alliance for Food Security and Nutrition's private sector partners; a new $100 million "global resilience partnership" between the U.S. Agency for International Development and the Rockefeller Foundation; and $38 million from USAID and others to open leadership centers for young Africans.
If nothing else, Obama succeeded in placing the word "billion" next to the word "Africa" in the U.S. media as never before. That is no small feat since, as he pointed out in his remarks at the U.S.-Africa Business Forum, "Our entire trade with all of Africa is still only about equal to our trade with Brazil — one country."
Indeed, when it comes to investing in Africa's future, the U.S. has significant ground yet to gain on China. And for those who view strong economic ties as the cornerstone of development cooperation, this week's summit was long overdue.
Changing the narrative or redirecting attention?
But headline-grabbing investment announcements, while useful in transforming the African narrative from "aid to trade," also risk redirecting attention from some of the extremely troubled conditions under which those investments are poised to take place.
For example, the six countries where Obama's Power Africa initiative operates rank only as high as 63rd and as low as 144th out of 177 countries on Transparency International's global corruption index. Only one of the six — Ghana — ranks in the top half worldwide in its corruption control efforts. While energy sector reform is part of the Power Africa package, so far reform efforts seem to have stressed standardizing documents and economic liberalization to facilitate international investment over difficult commitments to combat corruption.
The U.S. government development agency leaders who have been tasked with helping break down the barriers to U.S. private investment in Africa — using tools such as credit guarantees, public-private partnerships and insurance schemes — will have to be careful that the risks they are mitigating include those of corruption, exploitation, and conflict, not just of poor profits and bad deals.
American companies are bound by the U.S. Foreign Corrupt Practices Act, which compels their investments to meet transparent accounting criteria and forbids bribery of foreign officials. But will U.S. investments go beyond a "do no harm" approach on hard-fought issues such as governance, corruption, and social inclusion? Do they need to?
What is the American alternative, exactly?
Closer economic ties and investments in infrastructure, power, agribusiness, and transport can help lift people out of poverty and create incentives for leaders to prioritize the strength of public institutions over personal gain. But unless they are conditioned on measurable improvements to development and governance challenges, those investments can also legitimize irresponsible, unaccountable leadership.
The chief criticisms of this week's summit were its lack of attention to good governance, Obama's invitation to Washington of notorious human rights abusers, and the perception of a marginalized role for civil society in proceedings. There is an argument to be made that investment, trade and growth are the tip of the spear of progress across development challenges. At the same time, China's approach to investment on the African continent has been widely derided as being unconcerned with concepts such as inclusive growth and undeterred by social and environmental risks.
So what exactly is the U.S. alternative we heard articulated in Washington this week, and who are the actors at its leading edge?
Obama's strategic shift from African aid to African trade has somewhat altered the role of U.S. development agencies, who now convene mutual interests and facilitate commercial ties. What remains to be seen, however, is what role development professionals will play as those investments they have helped facilitate begin to mature over time.
How closely will USAID monitor Coca-Cola's newly-announced $5 billion investment within the framework of the New Alliance for Food Security and Nutrition, for example? Is that investment subject to anywhere near the same degree of transparent and independent evaluation as publicly-funded agricultural development programs aspire to be?
And as U.S. development agencies increasingly play a "convening role" in bridging public and private aims and leveraging commercial resources — now increasingly in Africa — will they remain as committed to the monitoring and oversight role that pins those resources against indicators other than profit and production?
What comes next?
These are all questions that require considerable attention and scrutiny in the coming months, but aside from a few traffic closures, the occasional protest, and the constant wail of motorcade sirens, the first-ever U.S.-Africa Leaders Summit produced a generally favorable response. That may be, in part, because attendance at a summit in Washington, D.C. is generally limited to those who can afford the trip.
At Devex we seized the opportunity to hear from health ministers about innovation and solar energy entrepreneurs about Power Africa's progress, to explore the link between regional African trade and human rights enforcement, to hear what young African leaders want from President Obama, and to learn about university partnerships for science and technology.
The Obama administration's summit organizers described the gathering as a "starting point" in a new kind of relationship and we will continue to track progress along the way. This includes following U.S. legislative efforts to embed Africa programs in law through the African Growth and Opportunity Act reauthorization, as well as bills to codify Power Africa. And we will monitor how discussions among civil society activists and business leaders at this summit might feed into September's U.N. General Assembly and the special discussions around finalizing the post-2015 sustainable development goals.
*Source devex.com
]]>