Nigeria's last line of defence
<![CDATA[[caption id="attachment_11024" align="alignleft" width="710"]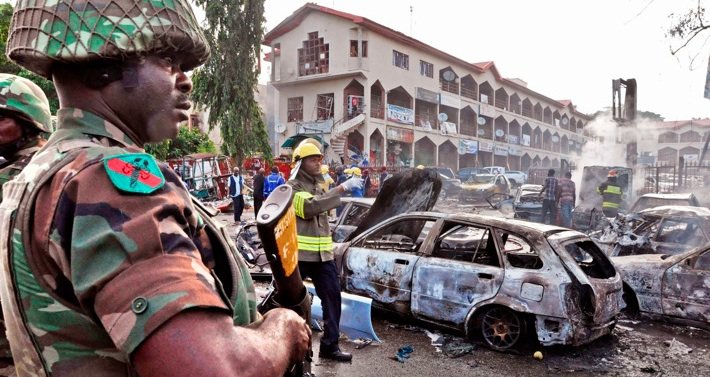 The bombing of a mall in June was Boko Haram's third attack on Abuja this year. Photo©Olamikan Gbemiga/AP/SIPA[/caption] The role of the military in fighting Boko Haram holds centre stage in politics after explosions in Abuja and Lagos. Security worries are mounting ahead of national elections planned for February 2015. Two bomb blasts near a fuel depot at Apapa port on 25 June in the commercial capital of Lagos sent shockwaves across business and the political class. Although local officials insisted at first that it was an accident involving a gas canister, security officials and the manager of a nearby container depot said it was a terrorist attack involving a car carrying a bomb that rammed into a petrol tanker.
Some reports say a female suicide bomber was involved. Two people were killed in the blast. Had it been about 20 metres closer to the fuel depot, it would have set off a chain reaction that could have killed hundreds of people. In a triumphalist video released on 14 July, Boko Haram leader Abubakar Shekau announced: "A bomb went off in Lagos. I ordered the bomber who went in and detonated it." Whatever the truth behind the bombing, an extension of the terrorist campaign to Lagos could frighten off fickle investors and spark more chaos ahead of next February's elections. President Goodluck Jonathan's entourage is convinced the Boko Haram crisis is exaggerated by his political enemies. No coincidence, they say, that the three states worst hit by the group are controlled by the opposition All Progressives Congress (APC).
A national problem
That shows the desperate political competition between Jonathan's People's Democratic Party and the APC alliance. Each side accuses the other of sacrificing lives ahead of 2015 elections. Boko Haram's Islamist insurgency, which many link to mainstream politicians, is exacerbating those political battles. "There is no consensus about the rules of the game," laments Ibrahim Gambari, a former foreign minister and under-secretary-general at the United Nations. "What is happening in Nigeria is a national, not a regional, problem that cannot be confined to the north-east," he argues. Boko Haram's insurgency and clashes in the Middle Belt and the Niger Delta threaten next year's elections, Gambari told a conference on security in Nigeria organised by the Center for Strategic and International Studies in Washington DC in July. Citizens feel vulnerable and frustrated as the threats mount, professor Jibrin Ibrahim of the Centre for Democracy and Development told the Washington conference: "The parents of the Chibok schoolgirls [who were kidnapped in April] came to Abuja to ask why no members of the security forces had come to their town since the abductions, despite the international campaign and publicity." The string of attacks by Boko Haram – killing more than 3,000 people this year in the north-east, bombing the Nyanya motor park in Abuja twice and then a shopping mall in the city centre – have put the insurgency and questions about treacherous politicians and security agents centre stage in politics. No longer a haven from local realities, Abuja is on edge. People avoid crowded places, and taxis refuse to pick up passengers carrying heavy bags. Such precautions help only so much. "Even in the light of increased security within the Nigerian capital, Boko Haram still has the operational capabilities to bypass such measures and execute sophisticated mass casualty attacks," says Ryan Cummings of red24, a Johannesburg-based crisis management consultancy.
Bad lieutenants and schadenfreude
Much blame has been directed at the military, which has scaled up its operations exponentially. The security commitments in this year's national budget topped $6bn, but it is more than a numbers game. "Corruption has eaten deep into the heart of the security agencies, as has politicisation, sapping the will to fight," says Ibrahim. Nigeria's feisty press is full of stories about badly paid, under-equipped soldiers and mounting discontent in the ranks. Major Debo Bashorun, an aide to military leader General Ibrahim Babangida in the late 1980s, blames the military's performance on bad commanders: "They collect money for armaments, [but] they won't buy them. You should see what the soldiers are being fed. We talk to them – everybody is suffering and smiling. They cannot talk. Only those of us outside the system can talk. With all the defence budget, why haven't we got GPS capability, [or] night-vision equipment?" Boko Haram's repeated attacks on army bases and armouries point to disarray in the senior ranks, says Bashorun. Its attack on the Maiduguri air force base in December 2013, which destroyed several aircraft, was "a disgrace to anybody who served in the military".
]]>