Nigeria: When President Obama Stepped Into Anikulapo Kuti's Shoes
<![CDATA[By Bayo Daramola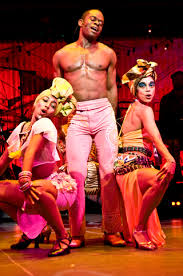 Seventeen swift years have gone since August 2, 1997 when Fela Kuti, a bold and courageous musical prophet, departed this earth. In this tribute, BAYO DARAMOLA reports on the high esteem accorded to Fela's memory in the USA, a land of true freedom, egalitarianism and brotherhood. No less a personality than the American President portrayed Anikulapo on stage. Fela's saga is an unfinished matter. When he died, he started living again through his immortal artistic legacy combined with his immaculate record of selfless fight for human dignity.
AT the White House, it was a beautiful and amazing show on the night when the president of the world's most powerful nation, United States of America, stepped temporarily into Anikulapo Kuti's shoes. Apart from stunning all present with his compelling portrayal of the lead role in the multi-Tony Award winning musical, FELA! ON BROADWAY, President Barrak Obama went on to declare that, should the same show still be running by 2017, he would love to take over Fela's role in the hit show on a continuous basis. It was another way in which the American president proved himself to be a many sided personality, being competent in them all. FELA! had entered the ninth month of its spell binding New York run and, on a cool Monday, the President and his lovely wife, Michelle, were hosting Broadway performers to an evening of show tunes intended for filming and later broadcast on PBS. Tagged officially as the White House's In Performance concert series, the evening's programme began ordinarily enough as Elaine Stritch, the Tony Award-winning artiste, sang the song Broadway Baby. This was after President Obama had expressed his deeply rooted belief that Broadway music is a "truly spectacular American art form," concluding that whether they are conscious of it or not, all Americans have stuck in their head the sweet lyrics of some Broadway shows. Nonetheless, everything would change dramatically, taking a totally different turn when the President himself stepped on stage in full costume to perform the concert segments of FELA! ON BROADWAY in the role of Anikulapo Kuti. Portraying Fela Anikulapo Kuti with craft perfect confidence, artistic finesse and imaginative sure footedness, President Obama commanded astonishing attention as he shouted to the audience, "I'm gonna change Africa, I'm gonna change the world." Then, he burst into song.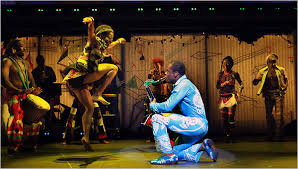 Reports describe how, on that single night of stunning action, the President danced with incredible kinetic energy, kicking his legs high up in the air as he sang selections from FELA! ON BROADWAY, including Everything Scatter and Expensive Shit. However, it was with his mind-storming rendition of the highly inflammable Zombie that Obama finally brought down the house with a superb finishing. White House staff and guests alike were rudely but pleasantly shocked when the President stylishly handled an alto saxophone off its stand to blow a hard, in sinking solo on Zombie. Another U.S. commander in chief who plays the sax with deep penetration and purity of tone is former President Bill Clinton about whom it has been said that "White skin or not, Clinton is the USA's first black president," due to his unparalleled racial love and socio-cultural affinity with African Americans. Some Broadway producers hoped that Obama would sing the Fela classic, Coffin for Head of State but the President simply ended the night of uncommon splendor by singing the song Lover to his beautiful wife, Michelle, perhaps mirroring Fela's Ololufemi, a Yoruba love song belonging to Fela's Koola Lobitos years and included in the musical's repertoire.
Considering that the president himself is a sitting commander in chief, Broadway producers may have been wondering inwardly about the irony that an Obama rendition of Coffin for Head of State would have implied. Yet, seeing Fela first and foremost as an entertainer, hardly could they have noticed a more deeply rooted factor associated with that monumental piece of felasophic lyrical expression. It is we in Africa who can comprehend Fela's spirituality. Over and above his role as a musician, it is certain that Fela operated in his life time as a potent and unstoppable African spiritual force. His life and work constituted a necessary bridge between traditional simplicity and modern sophistication. Yet, it takes a native African to see the truth of his mystical side. Beyond any shadow of doubt, the constructive interpretation of Bible scriptures based on the peculiar cosmology of Africa – achievable by interpreting and explaining Fela's life and work – will eventually form the master key to the continent's total freedom from unproductive, fruitless and hypocritical religious observance. Therefore, the basic Christian requirement for salvation is a two sided coin: righteousness by the heart and salvation by confession (Romans 10:10). Coffin for Head of State is the song by which, consciously or otherwise, Anikulapo paradoxically fulfilled the humanly verifiable aspect by proclaiming to the entire world that through Jesus Christ our Lord. Amen. Amen. Amen. Men are competent to monitor confession but the Almighty alone can see the heart and judge accordingly. Currently, the artistic immortalisation of Fela's name and impact is taking another twist in the sense of a brand new documentary film on Fela's life and times that had its world premiere at the 2014 Sundance Film on January 17, 2014. It is directed by Alex Gibney, famous for directing many other notable and politically outstanding documentaries including the Oscar-winning Taxi To The Dark Side.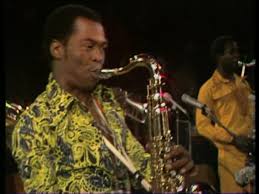 Titled, Finding Fela, the new movie has a 119 minutes run-time and with it Gibney successfully lays out the salient events of Anikulapo's life with strict economy and deep empathy. The film will be popping up at art-house theatres throughout this month. Femi Anikulapo Kuti, Fela's son, is now in New York City in the company of Rikki Stein, Fela's friend and manager to participate in the film's official opening in the Big Apple. The two men will be answering the many questions that will certainly come from Newsmen, film critics and other arts people. Finding Fela commands merit by the ingenious simplicity and irrefutable soundness of its structure as a brilliant admix of concert footage, archival clips, and talking heads including Paul McCartney, who pops up for 20 seconds only to say he saw Kuti play once, and that Fela was "very intense" on stage. The concert footage is actually spell binding, showcasing Fela both at his glorious peak in the '70s-all sensuality, stridency, and showmanship-and during his more thoughtful, ambitious, post-prison era. The film is quite rich in detail, depicting Fela Kuti as a lover, a fighter, a political activist, a polygamist, a thorn in the Nigerian military government's side, and a bestselling recording artist, the basis for a hit Broadway show, a band leader, and most importantly, a much beloved African champion of the masses. For Obama, the president of a great nation like the USA to openly demonstrate his love and admiration of Anikulapo in such an unequivocal manner means that what Fela bequeathed to humanity is truly great and universally commendable. That a new film has appeared to further cement and solidify Fela's post humus relevance in the world scheme of things is an indication that more will still be distilled and revealed about his life and legacy. It is not impossible that a more constructive and original approach to life and existence will spring forth on African soil to ensure that common people begin to enjoy the good things that modern life can offer instead of being sidelined always and confined to needless misery. In all that he thought, spoke, wrote, sang and danced, that was Fela's ultimate desire. *Source 
allafrica
]]>