Little girls as weapons of terror?
By Theophilus Ilevbare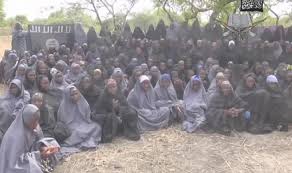 On January 27, 2002, Palestinian anti-Israeli occupation activist, Wafa Idriss, became the first female suicide bomber of the Israeli-Palestinian conflict when she boldly walked into a shopping district on Jerusalem's Jaffa Road and blew herself up in the heart of the City. The bomb killed Idris, an Israeli citizen, and wounded approximately ninety people. Since then, Martyrs Brigade in Palestine has conducted series of successful bombing martyrdom operations with young females against Israel. Though the first case of female suicide bombing date back to the 1980s, and since then female martyrs have taken the initiative from the male folk, they have successfully executed suicide bombings in Turkey, Pakistan, Afghanistan, Russia, Belgium, Sri Lanka, Iraq, Sudan among others. Female predatory martyrs can be daring: they have assassinated an ex-prime minister of India, ripped apart markets in Jerusalem and brought Moscow to its knees. They have sunk many, across the globe, beneath a tidal wave of grief.
Islamic Jihadists in Nigeria have joined the global terror trend. It is an increasingly disquieting and disturbing twist to the war against terror.  Boko Haram has adopted the Palestinian model of Jihadism in its recruitment of teenagers and little girls as suicide bombers in crowded places. According to the information gleaned from the media, the latest move by the extremist sect to rain terror on Nigeria prompted the leaders of Boko Haram to recruit and train teenage girls for suicide missions in parts of northern Nigeria. This in itself will prove to be another tough battle for the Nigerian security operatives – one that's much more difficult to combat.
These girls have drifted from the naiveté and demureness of their age group to the savagery of rebels. The perplexing rise of homicide-bombers is attributable to a culture of the glorification of martyrdoms in terrorist groups. Radical mothers are encouraged to compel their children to enlist in the struggle against the enemies of the nation of Islam and die as martyrs for the name of Allah. But it appears they are definitely not the leaders in their organisations, but serve as mere pawns and sacrificial lambs.
These terrorist organisations use girls (adult and children alike) because they are quite easier to work with in terms of planning and low cost. In relation to their low social status in some societies, they are considered expendable, willing casualty of the latest Jihadi trend. More so, women are emotional and easier to indoctrinate. When a human bomb mission is accomplished, it attracts higher shock value and more media coverage if it involves a female martyr. They have earned the dubious distinction of appearing more newsworthy than their male counterparts. Buttressing these unique capabilities, women make up to 65 percent of all assassinations among groups that use female suicide terrorists. As a motivating factor, suicide-homicide is perceived as a way to achieve equal social status with men.
Nigerian security agents should be on top of their game – not just the clichéd on top of the situation – as this gender of suicide bombers sometimes disguise with faux pregnancies and breast implants, fitted with explosive devices which are nearly impossible to detect at security checkpoints since traditional female garb, such as the hijab, are used to conceal them. The threat female suicide bombers pose is another dimension to the evolving tactics of terrorist groups, the most daunting yet for our security operatives. The dexterity and knack of the sect has proved challenging and light years ahead of security operative's effort to stop them.
The arrest of a 10-year-old female suicide bomber in Katsina State by security forces  and recent suicide bombings by teenage girls has heightened fears that the abducted Chibok girls are being indoctrinated and conscripted to carry out terrorist attacks. Some years down the road, we will have a much bigger problem on our hands with the radicalisation of these children. The recruitment of little girls as suicide bombers raises the all-important question of parenting, such as: Who are their parents? How were they conscripted into terrorism? Were they fully aware that they were going to be martyrs in the process of killing others?
There is the apprehension also that if the abducted Chibok girls could be forcefully converted to Islam by Abubakar Shekau as explicitly revealed in his video, there's nothing stopping him from using them as pawns to detonate bombs in public places. Some analysts believe there is a nexus between the new trend of deploying female teens as suicide bombers by Boko Haram and the over 200 abducted Chibok schoolgirls from Borno State. It is only a matter of time before the lid blows open. Recent intelligence reports reveal that some of these bombers who had carried out terrorist attacks might have been unaware that they were being strapped with deadly explosives. This writer will not pander to the conjecture that the bombers were beggars who were banished to the outskirts of Kano when the state government rid the state of street beggars. Such insinuation wrapped up in propaganda as 'intelligence report' might just be another ploy by the PDP led government at the centre to indict and witch-hunt the APC Kano government. The possibility that the female suicide bombers might be the indoctrinated and brainwashed wives and children of slain or arrested members of the Islamic sect who intend to take revenge on behalf of their husbands (or loved ones) is a probable presumption. We can't rule out the possibility as well, that some of these martyrs may be entirely new recruits from neighbouring countries.
We aren't worried just because females have taken to the front lines in the festering Boko Haram insurgency but it is the use of teens and little girls that makes the trend disturbing. The 10-year-old girl strapped with explosives in Katsina but fortunately intercepted by eagle-eyed security operatives, barely knew how lethal the explosives she was wearing below her hijab was. The narrative might be the same for the others who have become Jihad's cheapest weapon.
Please follow the writer on twitter, @tilevbare.