Kagame's girl and African First Ladies steal show at US summit
<![CDATA[
[caption id="attachment_10989" align="alignleft" width="425"]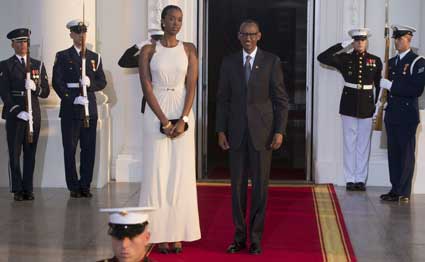 Rwanda President Paul Kagame and daughter arrive at the White House for a group dinner during the US Africa Leaders Summit August 5, 2014 in Washington, DC. AFP/PHOTO[/caption] Any extraordinarily tall woman with a sense of style attracts instant attention even without trying.
But when that woman is the daughter of a prominent African head of state and poses for a photograph with her father, US President Barack Obama and First Lady Michelle in the iconic Blue Room at the White House, the interest is certain to increase tenfold.
That was what happened when a picture featuring Ange Ingabire Kagame, the 25-year-old daughter of Rwandan President Paul Kagame, was released to the world during the first-ever US-Africa Summit that ended on Wednesday. The photo went viral.
Kenyans joined in the global admiration of Ange, who seemed to have briefly stolen the limelight from the largely serious discussions on security, trade and big money deals involving at least 50 African leaders in Washington DC.
The first daughter had largely stayed away from the limelight before she was gloriously unveiled when she accompanied her father to the gala dinner. Dressed in a figure hugging ivory sleeveless evening gown that was subtly draped at the waist, the "tallest first daughter"— as sections of the media branded her —  displayed a confident, graceful stance on the red carpet. She towered over her relatively tall father who is 6'2''.
DINNER WITH DADDY
The White House photograph of the father-daughter duo sandwiched between the Obamas spread like wildfire with Ange (@AngeKagame) gaining more new followers on Twitter.
Born on June 10, 1989, Ange spent most of her childhood shielded away from the public having studied and completed her education abroad. However, in 2010 she started engaging in charity in Rwanda, mostly by involvement in the activities led by her mother, Jeanette. She has been involved in immunisation campaigns, women's empowerment, education and poverty eradication.
Ange is the second child and only daughter of President Kagame and she has three brothers: Ivan, Ian and Brian.
Quite the daddy's girl, Ange often tweets about her presidential father and posts various photographs.
On August 5, prior to the White House dinner, Ange posted on Twitter, "White House Dinner with Daddy" followed by the now famous photograph with the Obamas.
Ange's tweets also let the world in on the Rwanda President's softer side as a doting father. On July 27, for example, she posted: "My dad just spent the last 5-10 minutes helping me detangle and brush out my post wedding hair … very out of his element #afatherslove"
Of her mother, she says: "My mother is a walking survival kit/superwoman … Literally has the answer to EVERYTHING".
She is an ardent soccer fan; and constantly tweeted about the highs and lows during the World Cup that ended in Brazil last month. From her tweets, it looks like she supported Ghana and Germany.
Ange, like any other young woman her age, loves music and teases her girlfriends on Twitter. Some of her favourite artistes are American musicians Trey Songz and Beyonce. She is also a fan of Nigerian musician Davido. Her iPod is also blaring with Trey Songz new album Trigga.
 She constantly posts selfies and updates her whereabouts on social media. Ange's ties with the US did not begin and end at last week's summit because she studied abroad "due to security reasons".
From her Tweets, Ange is a frequent flier to the US where she has several friends. A photo of Ange and her brother wearing military uniform alongside their father was taken when she was attending a national  civic education training programme which focuses on teaching  and introducing young people — and sometimes older people from the diaspora — about Rwanda, patriotism and culture.
HAIR QUEEN
But it was not just Ange that added a touch of glamour to the summit. Here is how a headline in the Washington Post captured the arrival of Chantal Biya: "The First Lady of Cameroon and her hair have touched down in DC".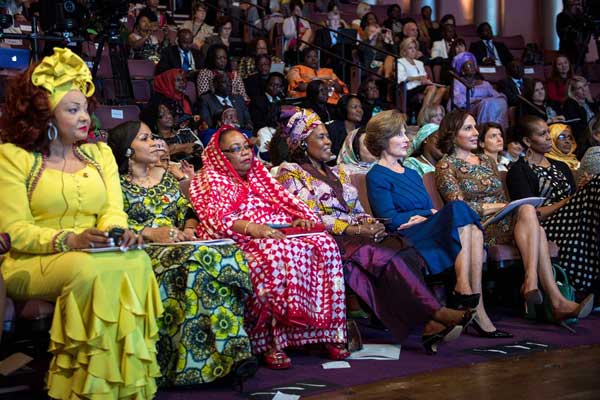 The newspaper went ahead to describe her famous hair as "beauty school master's thesis in contradictions. Somehow her hair manages to be short and long, rebellious yet elegant, unruly but controlled".
Chantal stood out in her signature devil-may-care mane; the glorious coffee-brown mullet that would put country singer Dolly Parton's famous wigs to shame.
Christened the "Lady Gaga of First Ladies", Chantal is the lady of fierce fashion whose eclectic style and grandiose fashion sense has put her country on the map.
Her hair deserves a paragraph of its own. It is a magnificent crown of waves and curls, wild and seemingly with a mind of its own. Chantal disregards the lyrics of India Arie's song I am not my hair because she is every inch her hair: head-turning, eccentric, showy and elegant.
She is a trendsetter in every sense of the word, with an aura of diva-fierce, outshining other First Ladies.
Chantal is so stylish, you can't keep up with her, let alone try to catch up. In previous interviews with international media, she has been quoted as saying that her favourite European designers are Dior and Chanel, and many of the pieces in her wardrobe are custom-made.
The traditional African outfits kitenges she wears are custom-made, designed, and sewn by Cameroonian tailors. In her country, she is not only the First Lady, but also the "First Fashionista" and her wardrobe has made her so popular she routinely launches trends and has a hairstyle named after her.
And she has never said no to platform heels that make her tower over her  husband Paul Biya, or bright colours that make other First Ladies' choice of demure colours look pale. She likes to play with bright colours; irrespective of the event. From bright orange to audacious shades of pink and fuchsia to bold and beautiful red and occasional monochromes, there is never a dull moment in the life of charming Chantal.
The Cameroonian First Lady is also a socialite in her own right, having met (and outshone) the likes of Paris Hilton, Michelle Obama and supermodels like Naomi Campbell. Even Pope Benedict XVI has not been spared her splendour.
At the US gala dinner, Chantal wore a head-to-toe pink outfit. But she was not the only one who stood out at the dinner. It was beauty re-defined as the continent's leaders and their wives ignored Western fashion trends, with most of them opting for authentic African wear. The First Lady of Chad, Hinda Deby Itno, dazzled with a deep violet gown and a head wrap, all decorated in golden sequins.
The President of Gambia, Yahya Jammeh, disregarded the mundane black suit and tie, opting for a white African ensemble and carried a big wooden sceptre, flanked by his wife Zineb Jammeh who wore a black sequined dress and a white scarf.
Lady Tekber Mint Melainine Ould Ahmed of Mauritania was oozing class and sophistication with her stunner shades and her designer bag, flanked by her husband, President Mohamed Ould Abdel Aziz
Michelle Obama ditched the contemporary full-length evening gown for a canary-yellow silk-chiffon party dress just a few inches below the knee. The dress was designed by Prabal Gurung, a Nepalese designer.
Kenyans also took time off the usual political bickering to share amusing messages on the summit.
On social media, for example, President Uhuru Kenyatta's photograph with the Obamas was captioned as "Kenyans in the diaspora with their President", alluding to the US leader's roots in Siaya County.
Tools like Photoshop were also at hand to include in the picture Nairobi Senator Mike Sonko in a red suit and Cord leader Raila Odinga running to join the Obamas and President Kenyatta.
The President was also in a good mood when he met Kenyans living and working in the US. Away from the serious discussions, he danced with children and cracked jokes about how much he enjoyed Michelle's soup and and his view on a return visit.
"Tukialikwa tena tutarudi, tusipoalikwa tuko kwa Facebook (If we're invited, we'll return, if not, we are on Facebook)", he said. The President was also photographed recording a video of the children dancing and told the crowd that he had enjoyed dancing to Lionel Ritchie's music.
The visit was also an opportunity for President Kenyatta to meet Senegalese-born US artiste Akon, who is popular in Kenya. In the end, the US-Africa Summit created the chance for colourful scenes beyond talks on trade, security, investment. *Source
Daily Nation
]]>