Eto'o Calls it Quits for International Football: A Salute to One of Africa's Greatest
Jules Kuate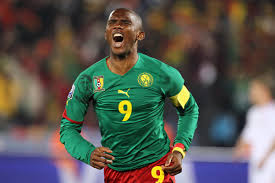 For his critics, it will be considered good riddance to a polarizing figure who  for four years of   skippership of the Cameroon National Team fetched no glory for the country. Detractors, he has them at plenty and was far, very far from a prophet in his homeland, but Samuel Eto Fils will forever remain one of the greatest if not the greatest footballer that Africa ever produced.
http://www.youtube.com/watch?v=juyMuQ-tm8s#t=16
But for the soccer world cup which continues to elude Africa, Samuel Eto'o won everything that was there for grabs in Africa and in Europe. Two nations cup titles in 2010 and 2012. Finalist in 2008. A gold medal with the Cameroon Olympic Team at the 2000 Sydney Olympic Games. Three European Champions League triumphs -2 with Barcelona of Spain with goals for him in both finals and one with Inter Milan of Italy. Participation at four world cup finals France 98, Korea/Japan 2002, South Africa 2010, and Brazil 2014.Voted African footballer of the year four times, record holder of goals at the nations cup and at the Cameroon National Team.
Eto 'o rivaled the best in the planet and will for long remain one of the most recognized Africans around the world of  sports .He worked hard to earn his iconic status and gave back generously to the community in his native Cameroon and beyond . No matter the controversies that trailed him from the captainship issues ,to a suspension by the Cameroon football federation ,the sensational flops of Cameroon at the last two world cups, and a cock and bull tale of love gone sour which went viral , it will take generations for Eto's exploits  and trophy haul to be matched by any other African .
http://www.youtube.com/watch?v=lKS8wl4S_Gs
He braved rejection by clubs, responded to racist chants with dazzling skills and reminded the world that in terms of talent Africa has no reason to envy the rest of the world. Africa should search elsewhere for its problems and not with the absence of talent .It may come as a surprise to many that in the country of Eto'o and other iconic figures like Roger Milla and Thomas Nkono, there is no stadium worth the name, that for for seven participations at the world cup and all the money generated, the state of sports infrastructure is deplorable, at each world cup it is endless quarrels about bonuses.
Speaking out against managerial flaws of football in Cameroon has landed Eto'o in hot water more than once and there are people who would rather see Eto'o humiliated out of the national team .People may be entitled to their opinions but the fact remains that Eto'o flew high the Cameroon and African flag and deserves respect. The respect should even be greater when products from a football academy he opened in Cameroon are already earning national team selections. He deserves the break and hopefully other young Africans emulate him and Didier Drogba of Ivory Coast who also called it quits with the national team.