Diamond Trust Bank of Kenya to Expand After Raising Capital
<![CDATA[By Charles Wachira*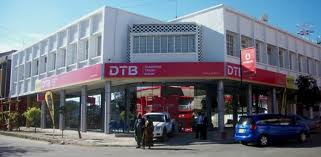 Diamond Trust Bank Ltd., a Kenyan lender, is considering expanding into a fifth African country as growing competition at home squeezes margins, Chairman Abdul Samji said. The bank, based in the Kenyan capital, Nairobi, may enter Madagascar, the Democratic Republicof Congo or South Sudan by 2017, Samji said in an interview yesterday. Diamond Trust last month raised 3.63 billion shillings ($41 million) by selling new shares to existing stockholders. "In the next two to three years, we are going to be in one of those countries," Samji said. "The determining factor of where we are going to have a footprint will be determined by what makes economic sense to the people of those countries." Madagascar, Congo and South Sudan offer growth opportunities for Kenyan lenders because of their lack of access to banking facilities. While 42 percent of Kenyans aged 15 and older have an account at a formal financial institution, that ratio is only 6 percent in Madagascar and 4 percent in the Democratic Republic of Congo, World Bank bank data shows. The sub-Saharan Africa average is 24 percent. In South Sudan, which gained independence from Sudan three years ago, only 1 percent of households have a bank account, according to the United Nations. Kenya Commercial Bank Ltd., the country's biggest lender by market value, last month said it's considering expanding into Congo, Mozambique, Zambia and Somalia. Equity Bank Ltd., Kenya's second-largest bank, has operations in four other East African nations including Uganda,Tanzania, Rwanda and South Sudan.
Increasing Competition
Diamond Trust, an affiliate of the Aga Khan Fund for Economic Development SA, ranks as Kenya's sixth-biggest lender by market value. The country has 43 commercial banks, a mortgage-finance company, nine microfinance banks and eight representative branches of foreign banks, according to the Central Bank of Kenya. The Banking Association of 
South Africa
, which represents lenders in an economy more than nine times larger than Kenya, has 31 members, including branches of foreign banks. Kenyan President Uhuru Kenyatta, his deputy 
William Ruto
 and other government ministers have urged banks in East Africa's biggest economy to cut their lending rates to spur economic growth. Average 
lending rates
 stood at 16.4 percent last month, according to data compiled by Bloomberg. The benchmark central 
bank rate
 is currently 8.5 percent.
'Biggest Challenge'
"The biggest challenge now is that the banking industry is becoming very competitive, not only in Kenya, but within the East African market," Samji said. "There is a lot of push from various organs of government, for example the central bank, to reduce our 
interest rates
 and as a result our margins are becoming thinner." The margin in South Africa between official and commercial bank prime-lending rates is 3.5 percent. DTB, as the lender is known, operates in 
Kenya
, Uganda, Tanzania and Burundi. Earlier this month, the bank posted a 10 percent increase in net income for the six months through June to 2.94 billion shillings as earnings from interest charges on loans jumped 19 percent. The lender, which focuses on services to small- and medium-sized businesses, plans to introduce products next year that will target youth and women, Samji said. "We are finalizing products which target the youth and women and we are sure to get customers from those sectors," he said. "This is because 75 percent of the population is made up of the youth." Shares in DTB have surged 41 percent so far this year to 261 shillings, outperforming the benchmark 
Nairobi Securities Exchange All-Share Index (NSEASI)
, which gained 15 percent over the same period. *Source
Bloomberg 
]]>