Boko Haram is winning the media war
<![CDATA[
Chadian soldiers have reportedly freed some of the hostages captured on Aug. 10, but there is little concrete information available about the whereabouts of the schoolgirls kidnapped in Chibok. Boko Haram seems to be one step ahead of Nigerian security forces.
[caption id="attachment_11371" align="alignleft" width="300"]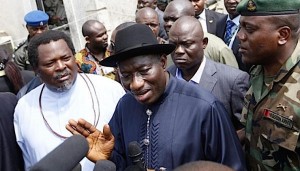 President Goodluck Jonathan. It is clear that the government and security forces are not communicating effectively. Photo: AP[/caption] The 14th of August marked four months since the kidnapping of over 200 Nigerian schoolgirls from the town of Chibok, Borno state. Very little concrete information is available about their whereabouts, and in the propaganda war over who is in control in northern Nigeria, terror group Boko Haram seems to be one step ahead of Nigerian security forces.
Reports just over a week ago that the girls were sighted
by United States (US) drones in a remote open field have still not been verified, and analysts have been questioning both the veracity of the information and the motive for releasing such information to the public. Is Boko Haram indeed winning against an ineffective Nigerian government, or is the correct information just not filtering through? Clearly, the international media have moved on to the Ebola outbreak and other stories from Africa. The heavy reliance on US and Europe-based networks and agencies allows for news priorities in Africa to be driven by their consumers, rather than those in Africa. In South Africa, for example, local media are almost completely reliant on wire services for international news. But once Agence France Press, Reuters or CNN editors think their clients have lost interest, local media tend to follow suit due to their relationship with the agencies and cable channels. Ironically, some local media in Nigeria also tend to reproduce copy from international wire services on issues of grave national importance, such as the Boko Haram insurgency. But even if the international media did care, there hasn't been
much to say about #BringBackOurGirls
in the past few weeks, barring reports on the worsening security situation across northern Nigeria.
In the past week,
clashes have intensified in Gwoza
, south of Maiduguri, the capital of Borno state, and the latest indications are that Boko Haram is in control of the town. In July, Boko Haram fighters took the town of Damboa, and the conflict is increasingly spilling over to northern Cameroon.
According to some figures
, Boko Haram has directly been responsible for the death of over 6 000 people since 2011. Martin Ewi, a senior researcher at the Institute for Security Studies in Pretoria, says the blame for the information blackout is partly to be placed on the shoulders of the Nigerian government, particularly the military. They should better communicate what steps are being taken against Boko Haram;
the families of the kidnapped girls
, the Nigerian people and the international community at large want to know about the progress being made. 'This has been one of the elements missing in the fight against terrorism in Nigeria: the failure to effectively use the media as a tool for counter-terrorism,' says Ewi, an expert on counter-terrorism in Africa. He adds that when training security forces to deal with terror groups, the importance of forging a partnership with the media is always emphasised and should be put into practice. In Nigeria it is clear that the government and security forces are not communicating effectively. [See, for instance, the
not particularly enlightening
nor especially reassuring "Nigeria will overcome terrorism soon" message from Nigeria's Chief of Army Staff.] Boko Haram, on the other hand, is releasing information on a piecemeal basis to selected media and is deliberately creating an aura of mystery around itself. 'Boko Haram is fighting this media war and they are winning it,' says Ewi. 'The media have not been able to get close enough to Boko Haram to provide a first-person reporting perspective. So whatever we know about the sect is what they want us to know about them.' Nigeria has a plethora of media outlets, mostly based in Lagos, but many rely on foreign media and press releases from the government and the security forces for their information on Boko Haram. On-the-spot and investigative reporting on what is really happening is relatively rare, but does exist. The Lagos-based
Daily Trust
, for example, recently ventured into refugee camps in Borno state to
report on the dire situation
of people fleeing their villages due to the take-over of Boko Haram. International correspondent Kwangu Liwewe, who was until recently the Lagos bureau chief for South African news channel eNCA, says it is extremely difficult for local media to report on Boko Haram because of the danger associated with such reporting. There are also many logistical obstacles in travelling to the remote region where Boko Haram has launched many of its attacks. 'Getting to Maiduguri is extremely difficult because of the state of emergency. The airport was closed and one had to hire a helicopter to get to Chibok, at huge expense,' she said. In addition, Boko Haram is known to attack media houses. In 2012, the group bombed the offices of
ThisDay
, a national newspaper, in Abuja and Kaduna, killing seven people. [caption id="attachment_11372" align="alignright" width="300"]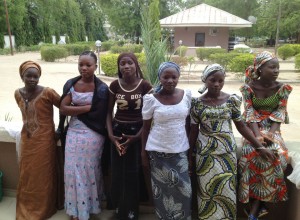 Six of the Nigerian schoolgirls who escaped Boko Haram kidnappers in April. Photo: Adam Nossiter/The New York Times[/caption] The only way for local or international media to report on Boko Haram would be through being embedded with the military. This would pose another set of complex problems: something that the Nigerian military might not be willing to risk. When it comes to on-the-ground reporting, the international media, with greater financial resources, clearly have an advantage over local media. In May, for example, a
New York Times
correspondent
managed to travel to Chibok
and interviewed, for the first time, the girls who had escaped their captors. For the international correspondents, this was worth the cost, since #BringBackOurGirls had created a worldwide outcry. If the girls are to be tracked down and returned to their families, it will be an even bigger story. For local media, it is quite a different challenge due to years of acrimony with the military. In June, for example, the military seized hundreds of newspapers across the country, claiming that weapons were being transported in delivery vans. Press freedom organisation Reporters Without Borders suspected that the seizure of the newspapers was linked to a report about alleged army complicity in Boko Haram activities. 'The army must accept criticism in the media without preventing their circulation,' says Reporters without Borders, which ranks Nigeria 112th out of 180 countries in its Press Freedom index. Two weeks ago, the Nigerian military was also accused by Amnesty International of
human rights abuses
in its war against Boko Haram; information that it is certainly not happy about. The Nigerian government is clearly concerned about its image and the impression that it is losing the battle against Boko Haram. According to reports, it has apparently paid an American company US$1.2 million to assist with its
public relations efforts
and to 'change the dominant narrative' that the government isn't doing enough against Boko Haram. However, more often than not, the information blackout is construed as a cover for lack of action. And people are still asking: where are our girls? *Source
thisisafrica.Liesl Louw-Vaudran is a Johannesburg-based freelance journalist, Africa analyst and consultant at the Institute for Security Studies
]]>