West Africa's Misguided War on Drugs
By Kofi A. Annan*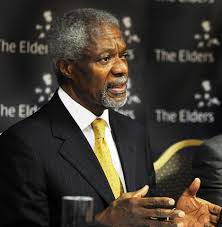 A recent estimate by the United Kingdom's Office for National Statistics that the market for illegal drugs adds £4.4 billion ($7.6 billion) annually to the country's economy gives a sense of the astonishing scale of the illicit narcotics trade. For regions such as West Africa, with economies that are neither as large nor as developed as the UK's, the impact of such activity can be even more corrosive.
West Africa finds itself increasingly enmeshed in the global drug trade. Its location makes it vulnerable to being exploited as a transit point between the Latin American and Asian production centers and consumer markets in Europe and the United States.
But, as the experience of Central America shows, transit countries do not serve only as a corridor for drugs. Illegal drugs and the money that surround them invade and destabilize their societies. This disturbing development – a byproduct of the failed "global war on drugs" – threatens to reverse recent economic and social gains in our region.
So far, West Africa has avoided the worst of the endemic and routine violence that accompanies the passage of drugs through Central America. But, with the stakes so high, there is no room for complacency. The scale of the cocaine trade alone in West Africa dwarfs the combined government budgets of several countries in the region.
We already know that the narcotics trade has played a direct or indirect role in political upheaval in countries such as Guinea-Bissau and Mali. National and international action against the traffickers must be stepped up, and it should include targeting those who run the networks, rather than expending scarce law-enforcement resources to pursue their foot soldiers. We need to pursue those who gain the most, whoever they are and whatever position they hold.
But it is not only the trade in illegal drugs that is destabilizing countries in the region; narcotics consumption is becoming a major problem as well. The West Africa Commission on Drugs, which I convened and former Nigerian President Olusegun Obasanjo chairs, points out in a new report that cocaine, heroin, and locally produced methamphetamines have become increasingly available across the region. This has led to greater use and dependence, especially among the region's young people.
Yet the region is simply not ready or equipped to deal with the spread of drug use and dependency. All too often, the response is to stigmatize and penalize drug users. But pushing them to the fringes of society or locking them up in ever increasing numbers will not solve the problem. On the contrary, it worsens health problems and puts enormous pressure on West Africa's already over-stretched criminal justice systems.
The Commission's report instead calls for a new approach to drug abuse, one that treats it not as a criminal-justice issue, but rather as a public-health problem. That means tackling the near total absence of drug-treatment facilities and programs and the lack of personnel qualified to manage and monitor drug abuse.
The Commission accepts that there are many urgent demands on strapped health-care budgets. But such is the importance of this challenge – and so dire are the consequences of failure to overcome it – that the Commission strongly recommends the adoption of a drug-treatment policy with minimum standards across the region.
This includes the establishment of drug treatment and related health services and facilities, and the implementation of harm-reduction approaches, such as needle-exchange programs, which have been proven to reduce the spread of HIV and the incidence of drug-related deaths. To date, Senegal is alone in West Africa in implementing some form of government-run harm-reduction initiative.
Tackling the impact of drugs through informed, humane, and coordinated policy will require leadership and a concerted effort by countries across the region. The Commission calls for a shared commitment from governments, civil-society groups, and regional organizations. We can no longer sweep this issue under the carpet or pretend that it is not our problem.
The report also urges increased support for these efforts from the international community. Governments in those West African countries that are the principal producers and consumers of illegal drugs should fund prevention, treatment, and harm-reduction initiatives, rather than only investing in interdiction and law enforcement.
Without a change of direction, drug trafficking, production, and consumption in West Africa will continue to undermine institutions, threaten public health, and damage development progress. But reforming drug laws, offering chronic users proper treatment, and vigorously pursuing high-level drug traffickers will reduce the damaging impact of illegal drugs on communities, families, and individuals. By having the courage to refocus national and international efforts, we can help to ensure that our young people grow up healthy and secure.
*Source project-syndicate .Kofi A. Annan, a former secretary-general of the United Nations, is the founding chair of the Kofi Annan Foundation and also chairs The Elders and the Africa Progress Panel. In 2001, he and the United Nations were jointly awarded the Nobel Prize for Peace