Two sides to every story – why African players shouldn't be blamed for pay disputes
By Peter Staunton*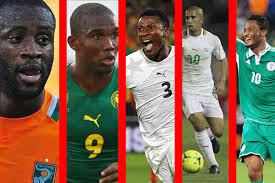 It is a privilege to be selected to play for one's nation at a World Cup, but there is a duty on behalf of football associations to ensure that all players are respected.
Three African teams – and especially their players – have been painted in very poor light at this World Cup over issues of appearance fees and bonuses. They are being made to carry undue flak.
"Money, money, money had been the refrain by the players, and it is a pity they allowed this to ruin our World Cup," Ghana FA president Kwesi Nyantakyi was quoted as saying by the state-owned Daily Graphic last week.
Cameroon reportedly refused to travel to Brazil until their bonuses were increased. Ghana's players allegedly threatened to strike instead of playing against Portugal until they had their $3 million collective bonus flown to Brazil and paid in cash; that money was initially promised but not delivered. Nigeria's players then reportedly refused to train until their bonus money for qualifying to the last 16 the second round was paid.
More ammunition, then, was provided for those who wish to portray footballers as greedy and alienated. It is convenient to paint the players as the bad guys as that keeps the focus off the football associations themselves.
Ghana midfielder Kevin-Prince Boateng was thrown out of the squad before it played Portugal and his interview with Bild in the aftermath was revealing.
"It was a nightmare from the first day to the end," he said of his World Cup experience. "I never thought that anybody could organize a World Cup so badly – from the flights to the hotels – everything was so amateurish.

"The flight from Miami to Brazil was 12 hours and we were sat cramped in in economy. It was hard on our legs. It may sound a little strange to normal people, but for a professional sportsman it's unreasonable. At the same time, the president was sat in business [class] with his wife and two children."
And bonuses are not a uniquely African issue. There isn't one team at the World Cup who went to Brazil without a guaranteed participation bonus. Germany's players got their initial 50,000 euro-per-man bonus after defeating Algeria last night and will be taking home 300,000 euros each if they lift the trophy. Spain was on 720,000 euros per man for winning the World Cup.
FIFA guarantees payment to each country with rewards ranging from 25.5 million euros – for the winning side – downward to 5.8 million for a group stage exit plus an extra 1 million euro participation fee. The problem comes with the non-delivery of money by the football associations – or even the threat of that.
"These things are normally sorted out before the competition, you can't keep telling the players the money will come," Ghana coach James Kwesi Appiah told the press last week. The country's president, John Drahami Mahama, was eventually forced to step in.
"What we have to do for future World Cups is to ensure that firstly there is an agreement between the players and their national associations for the payments of bonuses," FIFA general-secretary Jerome Valcke said last week.
This isn't the first time that African teams have been caught up in rows over bonuses. Nigeria's 1998 World Cup campaign was derailed by a spat before it crashed out in the second round to Denmark. Togo's one and only appearance at the finals was overshadowed by a bonus row. "In our FA everyone thinks about their own pockets," Emmanuel Adebayor said to Radio Frequence1 in 2012.
Cameroon's players pulled out of an international friendly against Algeria in 2011 following the staging of the LG Cup. No bonuses were paid to the players following the event and as such drastic action was taken through a strike. "What is the quota for players who work for this money that goes into the coffers of the Cameroon Football Federation (Fecafoot)? This is the question," Samuel Eto'o asked Mboafootball in May.
What do players like Adebayor and Eto'o have to gain from another $10,000? They are rich beyond their wildest dreams. Not every international, however, for those nations earns like those two. Having a spokesperson with such sway can be beneficial to voiceless players who would otherwise be ignored. For a player in the Togolese or Cameroonian leagues, a bonus for taking part in the World Cup could be the best earning opportunity of their career and should be treated as such.
There is money within these associations, make no mistake. One colleague tells a story of going to a certain headquarters for the purpose of collecting money on behalf of a player and being confronted with dusty envelopes full of cash which had not yet been sent to players. Both Ghana and Nigeria's football associations have been left high and dry by botched sponsorship deals in the past year – with Glo reneging on financial agreements. But that is no excuse – not when FIFA guarantees payment for every participating nation at the World Cup.
"FIFA does not pay before the players arrive for the competition, FIFA pays after," Kwesi explained. "The government or the FA has to find money to pay and later get it back off FIFA. Once there is a delay in getting it from the government or FA it becomes a problem."

Four Nigerian officials, including former federation president Sani Lulu Abdullahi, were arrested after the World Cup in 2010 in relation to a missing 5.8 million euro sum that was allegedly misappropriated. Abdullahi has since been cleared of the wrongdoing and recently wrote to president Goodluck Jonathan asking for a Presidential Task Force to investigate the missing money.
"It's not about being paid reward for anything," said Appiah. "It's got to do with an appearance fee, which I think every country pays its players, not just Ghana. It's a right."
These players are representing their nation and their people. The least their FAs could do is look after them. There are two sides to every story. "Why did our federation not invest some of the considerable amount of money they had received from FIFA in letting us live this whole experience better?" Boateng asked. It is a question which deserves examination.
*Source Goal/Yahoo