Odinga tells AFP: Kenya govt 'not serious' on Islamist threat
<![CDATA[By Reuben Kyama and Thomas Morfin* [caption id="attachment_10444" align="alignleft" width="300"]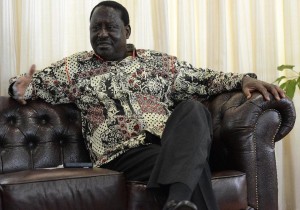 Kenyan opposition leader Raila Odinga in an interview with AFP at his office in Nairobi on July 15, 2014 (AFP Photo/Simon Maina)[/caption] Kenya's opposition leader Raila Odinga has accused the government of failing to safeguard national security in the face of a wave of Islamist attacks and has warned of mounting internal ethnic tensions.
He said the east African nation was now in a state of permanent anxiety because of attacks by Somalia's Al-Qaeda-linked Shebab insurgents, and that Kenya should pull its troops out of Somalia.
And he accused the government of President Uhuru Kenyatta of using the worsening security situation "to score political points against their political adversaries."
"There's a great degree of anxiety in the country. People are worried about the security situation in the country," the 69-year-old former prime minister, who lost to Kenyatta in last year's elections, told AFP in an interview.
"You've seen a lot of killings that have taken place in the country, which have reached unprecedented levels. People had expected an improvement but instead what so far has been seen is a deterioration of their quality of life," said Odinga, leader of the opposition Coalition for Reforms and Democracy (CORD).
Since last year's Shebab attack on the Westgate shopping mall in Nairobi, in which at least 67 people were killed, Kenya has been hit by a wave of shootings and bombings in the capital and coastal city of Mombasa.
The coastal region of Lamu has witnessed further carnage since last month, with a string of gruesome massacres claimed by the Shebab leaving 87 dead, according to the Kenyan Red Cross.
President Kenyatta, however, has denied Shebab were involved and has blamed the coastal violence on "local political networks". Many Kenyans saw it as the government pointing the finger at Odinga and the CORD.
"That kind of reaction is absurd. It amounts to trivialising a very serious and tragic situation where so many lives have been lost," Odinga said. "When this incident occurred, immediately other international intelligence agencies — the British, French and the Americans — said that it was the work of the Shebab. The Shebab themselves came out publicly and said it was them," he added.
– 'Pull out from Somalia' –
The government accusations also raised renewed fears of ethnic violence of the kind seen during the post-election violence of 2007-2008, Kenya's worst unrest since independence and for which President Kenyatta and his deputy William Ruto are still facing crimes against humanity charges at the Hague-based International Criminal Court.
[caption id="attachment_10445" align="alignright" width="300"]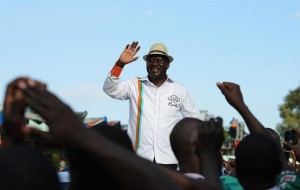 Raila Odinga arrrives for a Coalition for Reforms and Democracy rally on May 31, 2014, in Nairobi (AFP Photo/Simon Maina)[/caption]
"If the authors of this criminal act are known, they should be arrested, even if it was myself, I'm not above the law, I should be arrested and prosecuted. This basically shows that the government is not serious in terms of dealing with these elements who are costing the lives of many Kenyans," Odinga said.
"We need to move away from this Balkanisation… to a more cohesive society, where there is more tolerance among the communities. We are not yet there. That is what has been responsible in the past for the clashes," he added.
The Shebab have stepped up their attacks on Kenya in retaliation for Kenya's military intervention in Somalia in 2011. Kenyan troops now control a part of southern Somalia and form a part of the 22,000-strong African Union force supporting the internationally-backed government in Mogadishu.
According to Odinga, the operation is proving too costly.
"On a regular basis our dead soldiers are being brought back in coffins and the government is not announcing it," he alleged.
"This was never meant to be an indefinite engagement in Somalia. We need to have a clear timetable of this engagement, how long our troops are going to remain in Somalia. In my view, as quickly as possible, pull our troops out."
*
AFP/Yahoo
]]>