Obama Seeks Closer Africa Ties as China Is First Choice
<![CDATA[By Mike Cohen and David J. Lynch*. [caption id="attachment_10676" align="alignleft" width="300"]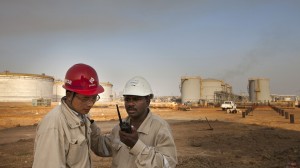 Workers for China Petroleum Engineering & Construction Corp. (CPECC) talk on a mobile handset by oil storage tanks near Melut, in the Upper Nile, Sudan.Photographer: Trevor Snapp/Bloomberg[/caption] When Uganda sought bids last month for an $8 billion contract to expand the East African nation's rail network, it only invited Chinese companies to apply. That condition, agreed to by the Ugandan and Chinese governments, illustrates the hurdles President Barack Obama must overcome as the U.S. tries to challenge China's status as Africa's No. 1 investor and trading partner. China's trade with the continent exceeded $200 billion last year, more than double that of the U.S, which it overtook five years ago. Obama will step up his efforts to forge closer ties with Africa when he hosts more than 40 of the continent's leaders at a summit in Washington next week. While the World Bank projects African growth of 4.7 percent this year, the U.S. is looking beyond securing deals and access to a consumer market of 1 billion people to promoting democratic principles and countering Islamist-inspired security threats from Nigeria to Kenya. "China has got a massive head start," Daniel Silke, director of Cape Town-based Political Futures Consultancy, said in a July 23 phone interview. "From both a diplomatic and economic point of view, China has made all the running over the last few years so there is quite a catch-up for the U.S." China has held five conferences with ministers and leaders across Africa since 2000 as it fosters ties with a continent that provides both resources and a market for manufactured goods. Nigeria has the potential to be one of the world's top 20 economies by 2030 with a consumer base exceeding the current populations of France and Germany, New York-based McKinsey & Co. said in a report last week.
Strings Attached
In November, China said it would extend $1 trillion of loans to Africa by 2015, most of it via Export-Import Bank, the 
South China Morning Post
 reported, citing Zhao Changhui, the lender's chief country risk analyst. Chinese Premier 
Li Keqiang
 detailed $10 billion of new loans on a four-nation African tour in May, including financing for 90 percent of a 380-mile rail (611-kilometer) link between Kenya's capital, Nairobi, and the port of Mombasa. "The Chinese strength really comes in projects funded by China itself," said Paul Hinks, chief executive officer of Symbion Power LLC, which has built 
power plants
 in Nigeria and Tanzania and competed with Chinese firms for World Bank-funded projects. China's Foreign Ministry in Beijing didn't respond to an e-mail seeking comment.
Corruption Perceptions
While 
oil companies
 such as 
Exxon Mobil Corp. (XOM)
 and retailers like 
Wal-Mart Stores Inc. (WMT)
 and 
YUM! Brands Inc. (YUM)
 have entered the African market, other U.S. businesses have held back because of fears about corruption and security risks. "Part of the challenge involves reorienting Africa as a continent of opportunity," said Witney Schneidman, senior international adviser for Africa at Covington & Burling LLP, a Washington, D.C., law firm. "Too many still see it as a continent of crisis." Nigeria, Africa's biggest economy, ranked 144th in Transparency International's 2013 corruption perceptions scorecard of 177 countries. 
South Africa
, the No. 2 economy, ranked 72nd. The U.S. was placed 19th and China 80th on a list topped by Denmark. While the U.S. Commerce department expects more than $900 million of business deals to be announced at the three-day summit that starts Aug. 4, they won't necessarily be the result of direct competition with Chinese companies.
Different Expertise
"We build airplanes and the Chinese do 
road construction
," said Todd Moss, a former State Department official who is a senior fellow specializing in U.S.-Africa relations at the Center for Global Development in Washington. "It's not like we're regularly going head-to-head." European, Turkish, Indian, South Korean and Brazilian companies also vie for business on the continent. Exxon Mobil, 
Chevron Corp. (CVX)
 and 
Anadarko Petroleum Corp. (APC)
 have the technological edge over their Chinese rivals when it comes to deepwater exploration. China National Offshore Oil Corp. is active in six African nations, its website shows. It typically gets involved after the most challenging exploratory drilling is complete. "In petroleum I'm not aware of one instance where an American company has lost out to a Chinese company," said Schneidman. "A lot of Africa's oil is offshore in deepwater and Chinese companies do not have the technical expertise to develop it."
Security Focus
For the U.S., soaring production of shale gas has reduced its reliance on African crude, with total imports from the continent plummeting by more than a fifth last year. Meanwhile, Islamist-inspired attacks have surged in countries from Nigeria to Kenya, heightening concerns about the threat posed to U.S. security interests. "The imperative for the U.S. to protect its strategic oil interests in Africa is diminishing extremely rapidly, if it's not already vanished," said Martyn Davies, CEO of Johannesburg-based Frontier Advisory, which provides research on 
emerging markets
. "The U.S is viewing Africa through a security lens more than ever before." American and Chinese executives have done battle over contracts for some mining concessions and railway equipment and in some instances have shared the spoils. South Africa's state transport company Transnet Soc Ltd. split a $4.7 billion contract for 1,064 locomotives in March between China's CNR Rolling Stock and 
CSR Zhuzhou Electric (3898)
 Locomotive, Canada's
Bombardier Inc. (BBD/B)
 and 
General Electric Co. (GE)
Good Governance
Since President 
Bill Clinton
 signed the 2000 African Growth and Opportunity Act, giving sub-Saharan nations that practice good governance duty-free access to U.S. markets, Washington has weighed a broader set of interests. 
George W. Bush
 instituted an anti-AIDS program that's helped secure treatment for more than 6.7 million people since its founding in 2003 and has Africa as a primary beneficiary. Last year, Obama unveiled a $7 billion plan to double access to power in six African nations that practice good governance. Two-thirds of people in sub-Saharan Africa lack electricity. Africa will welcome both American and Chinese partners, provided they cater to the continent's needs and ambitions, according to South African Trade and Industry Minister 
Rob Davies
. While China's trade volumes with Africa soared 11-fold in the decade through 2013, the European Union offers another alternative. The 28-nation bloc did more than $420 billion of trade with the continent last year, about double that of China. "The fact that you have got both the U.S. and China increasingly involved in Africa helps us in dealing with both of them," Davies said in a July 21 interview in Cape Town. "It's not just one of them who can come along and dictate all the terms. We have got several possibilities." *Source
Bloomberg
]]>