Museveni seeks Machar meet over exit strategy
<![CDATA[By BARBARA AMONG*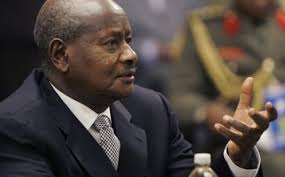 Amid growing signs that South Sudan President Salva Kiir's regime is crumbling, Uganda's President Yoweri Museveni has intensified efforts to meet rebel leader and former vice president Riek Machar, in what observers say is a bid to find an exit strategy from the country.
Ugandan intelligence officers and diplomats have been contacting Dr Machar's handlers and peace envoys to set up a meeting between the two.
Dr Machar had refused to meet President Museveni in May this year but the rebel leader's advisers say he has now had a change of heart, although he pegs any kind of meeting to Uganda first withdrawing its troops from South Sudan.
"Yes, Dr Machar has said that he will meet President Museveni if he withdraws his troops from South Sudan. Other than that, it will not be possible," said James Gadet Dak, Dr Machar's spokesperson.
"We have a number of issues we would like to discuss with him. His support for President Kiir is a big problem."
Mr Dak said that the agenda of the meeting had not been set, but said he felt President Museveni now realises that he erred by taking on Dr Machar militarily, and that the Ugandan leader wants to correct this and play a positive role by mediating between the two principals.
Observers and security experts also argue that the latest efforts by President Museveni to meet Dr Machar are informed by the need for an exit strategy and by the realisation that Uganda misread the situation in South Sudan, and underestimated the former South Sudan vice president turned rebel leader.
The fighting in South Sudan, which has claimed thousands of lives and displaced over 1.2 million people, erupted when President Kiir allegedly ordered that some soldiers of the presidential guard be disarmed, sparking off violence.
Uganda sent in troops to fight alongside the forces loyal to President Kiir and President Museveni warned Dr Machar that Uganda and the region would not hesitate to fight him if he did not agree to a ceasefire.
"President Museveni is looking for an exit strategy. Uganda went in very fast but now realises that things are changing, events are becoming more complicated and he knows it. Also, President Kiir is now a liability," said a security analyst who preferred anonymity.
The latest demand that Uganda People's Defence Forces withdraw has come from the Obasanjo-led AU Commission of Inquiry on South Sudan, feeding into Dr Machar's insistence that UPDF pull out so that the Inter-Governmental Authority on Development-mediated peace process can succeed.
Ethiopia, Sudan, the US and the UN, who have been involved in the peace negotiations, have also demanded for Uganda's withdrawal.
"I think increasingly Uganda is caught between a rock and a hard place. If it stays in South Sudan, more countries within Igad will be alienated by its stance. If it withdraws now, President Kiir's government will be history. Increasingly, we are seeing the Equatoria regions becoming hostile to the government. If the Equatorias join the greater Upper Nile, the Kiir government is bound to fall," said Phillip Kasaija, a political science lecturer at Makerere University.
Last week, President Kiir threw a spanner in the works, declaring that UPDF would not leave South Sudan unless a permanent peace accord was arrived at, which analysts interpreted as a survival plan.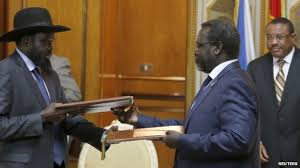 "What are the trajectories and options for President Kiir? He is not a strategist. Neither is any one of the bullies around him in Juba. Due to the massive problems that he has, he cannot look beyond his nose," said Tag Elkhazin, senior consultant at the SubSahara Centre.
Mr Elkhazin, a security analyst, who has done research on Sudan and South Sudan for over 30 years, said "President Kiir will most likely be killed if the UPDF exit South Sudan."
President Museveni's attempts to meet Dr Machar in May came after advice from John Garang's widow Rebecca Nyadeng, who sources said has met with Uganda's president nine times in the past six months.
Uganda initially read the situation in South Sudan as a military stand off instead of as the result of long simmering political differences within the Sudanese Peoples Liberation Movement/Army, and rushed in to support President Kiir.
But now the premise of the UPDF presence in South Sudan has been undermined after a number of senior SPLA party members and army officers deserted or resigned from the regime.
In April, President Kiir made several changes in the army and appointed officers loyal to himself, the most significant change being the naming of Paul Malong Awan, who had formed a militia that is fighting alongside government soldiers, as the new Chief of General Staff.
General Mac Paul was removed as the Military Intelligence Chief and replaced with the former director of Public Security and Criminal Investigation Department Marial Nuor.
Then, last month, Defence Minister Kuol Manyang Juuk resigned citing the strained relations between himself and Malong.
President Kiir rejected his resignation. "I know there are serious and worrying issues facing the Ministry of Defence but we must handle them with care and leadership," President Kiir reportedly told his top security official at a meeting in Juba.
As the bickering among top SPLA officers grows, Uganda could find itself fighting two different wars in South Sudan, especially if the issue of poor and late payment of SPLA soldiers amid claims of preferential treatment for Ugandan soldiers is not sorted out.
Two shoot-outs took place last month between UPDF and their SPLA counterparts at Juba International Airport, after an SPLA soldier attacked a Ugandan soldier.
Dr Machar, initially seen as the "guy with no friends" has upped his game and made friends in Ethiopia, Kenya, Eritrea and South Africa.
He tweeted after his meeting with President Uhuru Kenyatta on June 1, that it was great to be back in Addis Ababa after a successful meeting with Uhuru and his government. Last week, Machar met officials of the South African government.
"He may persuade President Museveni to reduce or end his support for President Kiir," said Mr Elhkanzin, adding that Dr Machar risks having the Uganda army continue to pursue him if he turns down the opportunity to meet President Museveni.
The first and only time President Museveni and Dr Machar met since the fighting in South Sudan broke out on December 15, last year, was on June 10, in Addis Ababa at the regional leaders summit. The closed-door meeting is described by insiders as heated and candid. Dr Machar reportedly explained the events prior to and on December 15. He also reportedly asked President Museveni to explain why Ugandan forces were deployed around Juba two days before the alleged December 15 coup, arguing that the prior deployment indicated there was a plan to disrupt the reconciliation process within the SPLA.
Another reason Kampala is seeking a meeting with Machar is the latter's consolidation of control of South Sudan's oil-rich areas. *Source
The East African 
]]>