Living the dream: How Ashish Thakkar became Africa's youngest billionaire
<![CDATA[
BY Lillian Kiarie*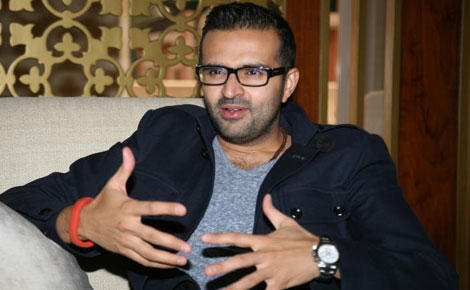 Having a fortune worth more than half the current value of Kenya's Eurobond, and being dubbed Africa's youngest billionaire while still in his 20s by Forbes, has not gone to Mr Ashish Thakkar's head. He does not have that arrogant self-assurance many moguls relish projecting, nor does he have the inflated ego that so often stalks those at this level.
Instead, the 32-year-old projects modesty and warmth. Inspired by business tycoons such as Bill Gates and Warren Buffett, Ashish insists the billions of shillings he has amassed are a drop in the ocean. He says he knows where he stands in the entrepreneurial food chain — smack in the middle of the pecking order.
The genocide On a chilly Saturday afternoon, Business Beat sat down with the Ugandan-born serial entrepreneur — he started his first company at 15 — to get the story behind his success. Wearing a pair of jeans, loafers and a trendy trench coat, we found Ashish winding up a meeting with one of his business associates. He does not compromise on his image. He looks dapper and his scent screams affluence. He laughs when asked if he's wearing the Sh240,000 Clive Christian perfume, the world's most expensive scent. He does not answer.
From the beginning of the conversation, Ashish emphasises the importance of mentorship, compassion and ethics.
But just what is his background "I was a refugee, I'm a school dropout, an entrepreneur, a philanthropist, an astronaut and a young African," he says.
He is of Indian descent, but his parents were born in Africa, as was he. "In 1993, when I was 12 years old, my family sold their business in the UK and moved to Rwanda where we invested. Several months later, the Rwandan genocide began, subjecting us to weeks of terror as we watched bodies pile up around us. We lost all of our physical investments, but luckily managed to escape in a chartered plane to the United Kingdom.
"From being top entrepreneurs, my parents were reduced to waking up at the crack of dawn to sell women's clothes and drive vans to markets all around England," he says. Ashish's family then moved to Burundi and then to Kenya before resettling in Kampala, Uganda, when he was 15.
Having seen people look down on his parents after they lost their fortune, Ashish was determined to start a business while still in school. His parents were not too pleased with the idea as he was still young.
One day, a family friend came to their home, and Ashish sold him his personal computer, making a profit of about Sh8,600. "I then got convinced I could make a lot of money in IT. I dropped out of school after finally convincing my family that this was temporary and I was just testing the waters.
If business did not work out, I would go back to school — the option is still open, 17 years down the line," he laughs. "I convinced my dad to borrow $5,000 (Sh438,000 at current exchange rates) from friends, and I used the money to travel to Dubai on weekends to stock up on computers, hard disks and motherboards, among other items."
Ashish cashed in on the "Africa Rising" wave of democracy, globalisation and technology that was sweeping across the continent in the early 2000s. With the help of his parents, the last born with two elder sisters, Ahuti and Rone, branched out and started offering credit to other businessmen.
Today, Ashish is the founder of Mara Group, which has more than 8,000 employees across 21 countries, 19 of them in Africa. The company's annual turnover is in excess of $100 million (Sh8.76 billion), and according to the Financial Times, the Mara Group is valued at "slightly above" $1 billion (Sh87.6 billion).
"Mara has its tentacles in banking, real estate, IT and agriculture. We offer a wide range of products through Riley Packaging (a leading East African packaging company), Atlas Mara (a bank founded in partnership with former Barclays Bank UK boss Bob Diamond), Mara Ison (a pan-African IT services company) and Ison BPO (a pan-African business process outsourcing company), among so many other businesses."
Ashish says he started taking home a salary two years ago after it dawned on him that his business had come of age. "I take home about $5,000 — the same amount I borrowed to kick-start my business," he says. So what does he spend his money on "As cheesy as it sounds, I like using my life to make a difference in the lives of other people.
I have gone through the phase where people isolate you because you do not have anything. If you do well, with a clean heart, you will flourish." Ashish begins to dole out his nuggets of wisdom as he sips on green tea, explaining that he used several tactics to change his perception of life at a young age to prosper.
"On the advice of my elders, I took the right steps, such as registering my business and being part of the formal sector. I paid taxes, I started building a track record so I could get loans. Thinking short term is futile, I learnt; think long term." He credits his determination to think differently from others as a key reason for his success.
"I was persistent even when they refused to offer me credit; I questioned this and refused to accept the norm. If I had got comfortable, I'd still be a small-time businessman trying to grow," he says. How is he able to run his empire "I don't juggle, I just pretend to be smart, yet I don't run anything. I oversee my fantastic team of smart, empowered individuals who help me run the organisation. I'm involved in strategy and spearheading growth," he says.
Spiritual teachings
Ashish says his visit to Kenya is purely to catch up with friends and is not business related. However, his companies, such as Ison BPO, Dodhia Packaging and the Mara Foundation, are scaling up in the country. "I am here to catch up with long-lost friends, business partners. I haven't visited this beautiful country for close to five months now. I'm here for a weekend. I studied in Kenya, St Mary's along Nairobi's Raphta Road, in my younger years, though I lost touch with most of my friends. I consider Kenya my home,"
How did it feel to make the first Sh1 million
"Frankly, I can't recall that moment. I can genuinely tell you that I wasn't tracking my wealth; I was focusing on the challenges as I was new in business. I didn't have mentors. I didn't track it or celebrate, I was cautious. I'm very impatient, I want everything done yesterday.
I reinvested everything in my business. The only way you are going to grow is if you keep on planting." Ashish adds that over the years, he has formed the habit of taking a step back whenever he thinks he has achieved something, or as Aloe Blacc sings, when he feels like he is "The Man". "I go out and see what others are doing and I get back to working. I have never settled.
Look at the late Steve Jobs, over half the world is using his products! "I'm a billionaire, yes, I agree, but billions of people are yet to hear about the Mara Group and Foundation. I feel the need to work hard every day. I follow my spiritual father, Morali Bapu's teachings, which have had a great impact on me."
His biggest mistake while starting out in business
"In my first year of business, I trusted a European man who showed up to ask for credit. He was dressed sharply and was in a four-wheel drive car. I advanced him goods worth $15,000 (Sh1.3 million at current rates) and he gave me a cheque from a certain water project; it all looked legit. I loaded the goods in his car but when I took the cheque to the bank, it bounced.
Half of my investment was gone. I was devastated! I kept asking if it was a sign Should I go back to school" And does he plan to going back to school He laughs. "Education is good. However, informal education is much more important and valuable in life than formal education. Mentorship and vocational skills training build up an individual," Ashish says.
So how does it feel to be young and rich
"Feeling young feels great. Rich I feel like success should never be measured by wealth, but by the impact you've made, the lives you are changing, the difference you are making. People think too often that success is equal to dollar signs. It's not.
How is that being successful "So when a guy robs a bank or a politician siphons public funds into his private accounts, does he become successful No. Ethics, making an honest living and giving back are what make you successful. I am saddened by the fact that many of us have got the wrong perception and associate money with success."
Ashish, who has in the past said he avoids bidding for government tenders because of the tricky dealings often involved, explains why he thinks the youth fail in business: "Many go for shortcuts and engage in unethical deals, forgetting that where there is no pain there is no gain. They compromise on value. Like my mentor, Bapu, says, have love, compassion and be truthful. Stop thinking business is a destination, it's a journey." He, clearly, feeds on positivity and transforming lives.
"People keep talking about bringing Silicon Valley to Africa, and I like and appreciate this message, but it doesn't excite me. I do not want to bring Silicon Valley to Africa, I want to take Africa to Silicon Valley. We need to be innovative and global. Why keep using Facebook, Twitter and all these American products when we can create great things like Safaricom's M-Pesa Those great innovators started in gory garages, what's holding us back" To contribute to changing the status quo, the Mara Foundation has partnered with various organisations to launch Mara Mentor, a platform that seeks to connect entrepreneurs across Africa with business leaders.
For his efforts, Ashish has won a tonne of accolades, most recently the MTV Base Leadership Award at the June MTV Africa Music Awards (MAMAs) held in South Africa.
His next conquest Space.
"We don't want to rush it; we want ensure it is a return ticket, although I hope to find it habitable and see if I can set up Mara Group and foundation there," Ashish jokes. He became East Africa's first astronaut, and only the second African after South Africa's software mogul Mark Shuttleworth.
Market worth
Finally, how much is he worth exactly?
"I have no idea. Last I checked was in 1996, and back then I had a loan of $5,000 with the bank. Mara Group is a private entity. "However, the market worth of my bank, which is listed on the London Stock Exchange, is open information, and it is worth $850 million (Sh74.5 billion)."
He is shocked into silence when he sees an Internet story that claims he is married. Eventually, and with a laugh: "Wow! People have time … I am single. But I don't want to focus on that lest I start getting crazy messages …."
]]>