Colombia's Lessons for Africa: Op-ed by H.E. Pierre Buyoya, H.E. Olusegun Obasanjo and Dr. Greg Mills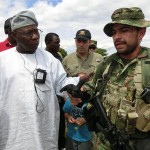 This month a team of distinguished African political leaders, civil officials and military experts visited Colombia on behalf of the Brenthurst Foundation to learn how this country has beaten back a criminal insurgency, begun to address its historical legacy of uneven development and unequal prosperity, and set its people on a path to peace.
Like Colombia, many African countries enjoyed economic growth in the 21st century, averaging five per cent annually for the continent as a whole. The possibilities for collaboration and investment are clear: African companies like SAB Miller and Anglo American have been in Colombia for years, and there's real potential for growth.
Yet, also like Colombia, many countries in Africa have colonial legacies of economic inequality, marginalization of ethnic and indigenous minorities, and exclusion of the rural and urban poor. Legitimate grievances, and those who seek to fix them through violent, illegitimate means, are as familiar to Africans as to Colombians.
Our group has visited most major cities, and many towns and villages across Colombia. We've spoken with military and police officers, mayors and community representatives, indigenous leaders, farmers, demobilized guerrillas, civilian officials and religious elders, and have seen for ourselves the progress being made.
We observed Colombia's peaceful, democratic Presidential elections, and cheered two Colombian victories in the World Cup, watching the matches with the bravest of the brave—soldiers who lost arms and legs to FARC mines while fighting to give every Colombian a chance for peace and prosperity. We will never forget these men, or this country.
What we have seen convinces us that Africa can learn directly from Colombia in many areas. Perhaps the foremost lesson is the importance of international humanitarian law, respect for human rights and the rule of law, not as propaganda or window-dressing, but as a critical element for operational success. As one military officer told us, "Legitimacy is our greatest weapon, and we've learned that this depends completely on respect for human rights and humanitarian law."
Another lesson is in the way that Colombia has worked to improve service delivery at the municipal level, while simultaneously dealing with armed challenges to state authority. Colombia has faced a situation not unlike that in eastern Congo, Boko Haram's violence in Nigeria, Mali's insurgency in its northern areas, or increasingly, Al Shabaab's terrorism across East Africa. The recent spate of attacks in Nigeria and Kenya, like Boko Haram's atrocious killing and abduction of children, highlight the need to urgently learn these lessons.
As Colombia's experience has shown us, an effective response to such threats demands balanced attention to three critical areas: citizen security through efficient military and police operations, political and government commitment from the whole nation, and inclusive socio-economic development with the goal of prosperity and peace for all citizens.
Over the last 15 years, Colombia has learned how to extend government and infrastructure across a huge, rugged territory, including some of Latin America's largest cities as well as some of its most remote jungles and sparsely populated coastlines. We believe African leaders can learn much from this.
We have been extremely impressed by Colombia's work in improving military, police and governance capacity. A deeper partnership could bring real improvements to Africa in training, intelligence, equipment, and the fight against drugs, which increasingly feature in West Africa and the Sahel.
Sub-Saharan Africa's population is projected to increase from 920 million today to 2 billion in 2040. By that time, the majority of people will be living in cities, already today straining at the seam with limited services. Without planning, infrastructure and security, these cities will not be sources of growth and innovation, but points of conflict and friction.
Cities the size of Buenaventura, around 500,000 people, can be shaped more easily through better policy and mutual learning, than already unmanageable mega-cities.  Partnership—both between governments and private sector entities—might help stabilize high-growth urban areas, tipping these cities in a positive direction.
Change takes time. Illiteracy, poor skill levels, and low job prospects are a volatile mix, and a sense of alienation, hopelessness and lack of personal responsibility is deeply ingrained in poorer elements of our societies. Like Colombia, African countries will need a sustained effort—over at least a generation—to address them, and this will almost certainly demand a robust security presence in historically insecure areas.  Ending cycles of violence requires addressing historical inequalities, and this takes time—as does providing a peaceful environment for today's children, until they finish their education and find jobs.
A final key lesson is the need to combine a continued national effort to counter crime and insurgency, with a genuine and inclusive search for peace. What we have seen convinces us that the peace process and sustained counterinsurgency are not opposites, but rather two sides of one integrated strategy. Colombia has a historic opportunity, one that comes to a nation but rarely, to build on its success of the past decade, to finally end a decades-long struggle by means of genuine reconciliation, with security and prosperity for all.
We, and people in Africa (as around the world) will be watching closely to see how this opportunity unfolds.
*Buyoya and Obasanjo are the former presidents respectively of Burundi and Nigeria; Mills headed the visit to Colombia for the Brenthurst Foundation. More at  olusegunobasanjofoundation