CHINA AND JAPAN'S NEW DIPLOMACY IN AFRICA: WHAT IS THE CONNECTION?
By Seifudein Adem*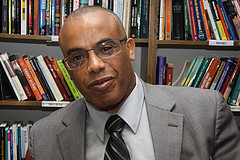 Japan's Prime Minister Shinzo Abe visited Ivory Coast, Mozambique and Ethiopia in January 2014.  China's Foreign Minister visited Ethiopia, Djibouti, Ghana and Senegal, also in January2014.  The two visits somewhat overlapped chronologically as well as geographically.  The visits also took place on the heels of a steadily worsening relationship between the two Asian powers and, at times, the visits themselves descended into a verbal combat over who is a better friend of Africa.  In May 2014, about four months after Prime Minister Abe visited Africa, Mr. Li Keqiang, China's Premier, also visited Ethiopia, Nigeria, Angola and Kenya.  In this essay I wish to share one perspective on what I believe is an emerging Sino-Japanese rivalry in Africa by closely scrutinizing Prime Minister Abe's visit to Africa.
 Abe in Africa
 So, in January 2014 Prime Minister Shinzo Abe visited Ivory Coast, Mozambique and Ethiopia.  The visit was not totally unexpected since he had earlier indicated that he looked forward to visiting Africa "at the earliest possible time".  But the visit was still intriguing for the following reasons.
First, none of the countries the Prime Minister went to were among the most important today in terms of Japan's economic interest in Africa—as sources of its imports and destinations of its exports. The second reason has to do with the fact that this was the first Japanese prime ministerial visit to Africa since 2006.  And third, the visit took place when many observers believed that Japan would singularly focus on domestic recovery after Fukushima, the large-scale disaster which befell the nation in March 2011.  Ironic though it may seem, however, Japan's renewed interest in Africa today is partly because of Fukushima, and not in spite of it, as I shall explain shortly.
So, why did Prime Minister Abe visit Africa?  Why did he do so in January 2014?  Do the answers to these questions in any way pertain to Sino-Japanese relations?  Let us first explore why Prime Minister Abe went to Mozambique, Ivory Coast and Ethiopia.
Prime Minister Abe decided to visit Mozambique because of the recent discovery of huge natural gas reserve in that country.  Let me elaborate.  First, Japan had long sought to diversify the sources of liquefied natural gas which it presently imports, like China does, mainly from Australia and Qatar.  There was an added urgency in this regard after the Fukushima nuclear meltdown in 2011.  The disaster heightened anti-nuclear sentiments in Japan.  In the first week of July 2014, Japan's 48 nuclear reactors which had supplied 30% of electricity generated in the country, were all offline waiting safety standard test.  Reduced electricity from nuclear power also meant increased demand for importation of natural gas, including a quest for new sources.
Second, Japan imports rear earth metal from China.  In addition to natural gas, Mozambique, too, has this critical raw material which China has sometimes used as a bargaining chip against Japan.  After announcing a substantial aid/investment package in Maputo in January 2014, Prime Minister Abe thus said quite candidly: "our assistance is aimed at securing access to the vast mineral resources of Mozambique".
If Prime Minister Abe visited Mozambique for economic reason, we can say that he visited Ivory Coast for diplomatic reason.  Ivory Coast was the Chair of Economic Community of West African States (ECOWAS) in January 2014.  By visiting Ivory Coast, Prime Minister Abe wanted to reach out to as wide West African audience as he could, since it was more logical to invite West African leaders to Ivory Coast in this context than to any other country in the region.  But Prime Minister Abe's visit to Ivory Coast acquired additional meaning since it was also the first time for a sitting prime minister of Japan to visit a French-speaking African country.
In general, the same reason which took Prime Minister Abe to Ivory Coast also took him to Ethiopia.  It was easier to address Africa from Addis Ababa, the seat of the African Union (AU), especially when Ethiopia's Prime Minister was also the Chair of AU.  Another consideration was perhaps the fact that Ethiopia is the second most populous country in Africa and a potentially huge market.  Furthermore, Ethiopia and Japan have the longest-running bilateral relations in sub-Saharan Africa.  Early twentieth century rulers of Ethiopia went as far as portraying Ethiopia as a Tokugawa Japan.
Now let me turn to the timing of the visit.  Why did Prime Shinzo Abe visit Africa in January 2014 rather than when he was Prime Minister of Japan from 2006 to 2007?  Is this a tale of two Abes, or is there something particularly significant or unique about January 2014?  The answer is both of the above.
The first administration of Shinzo Abe was, in hindsight, markedly different from the second (2013 – ) with regard to policies towards China.  The first Abe administration appeared more pragmatic.  In fact, China was the first destination of Prime Minister Abe's international visit in 2006.  The second Abe administration was less pragmatic.  The rapid rise of China was perhaps seen as a unique development by the second Abe administration to justify a special response in 2014.
In any case, more generally, there are at least four overlapping schools of thought about Prime Minister Abe's visit to Africa in January 2014.  First, for some observers, the visit was part and parcel of the Abe administration's strategy to contain China's expanding influence in Africa and elsewhere.  The second school sees Japan's aim in Africa as engaging China by trying to make it clear that China's behaviors in Asia could affect its interests in Africa.  The third school views Japan's ambition in Africa as more limited in nature, focused mainly on gaining access to Africa's resources and its potentially significant market.  The fourth school considers Japan's interests in Africa as more specifically diplomatic, one of trying to garner Africa's support in its quest for permanent membership of a reformed UN Security Council and its other ventures.
One does not have to subscribe to the "containment" school in order to maintain, first, that it was the growing power of China in Africa (and elsewhere) and the insecurity it triggered in Japan that conditioned the timing of Prime Minister Abe's visit to Africa in January 2014.  With more than $198 billion dollars, China-Africa trade hit all-time high last year, and this was more than 7 times the value of Japan's trade with Africa in the same period.  While Africa's imports from China grew from 2% in 1995 to 13% in 2012, Africa's imports from Japan fell from around 7 % in 1995 to 3% in 2012.  In 2014, 13.5 % of Africa's trade was with China; the comparative figure for Japan was only 2.5%.
China has also bolstered its growing economic presence in Africa with a potentially formidable soft power by mobilizing its cultural resources and opening multiple channels of public diplomacy with governments and peoples of Africa.  In 2012, Xinhua, China's state news agency, had 23 bureaus in Africa.  In the same period, China had built 31 Confucius Institutes in 26 African countries.  In 2010, NHK, the Japanese equivalent of Xinua, had only one news bureau in Africa, and that was in Egypt.  The Yomiuri Shimbun thus sounded the alarm in 2013: "…Japan must be cautious about China's moves on the African continent, where it is stepping up its presence.  We cannot ignore China's policy towards Africa, which is noticeably aimed at monopolizing natural resources there while focusing only on China's interest."
Surely, the prevailing sentiment among Japanese business leaders even today seems that Africa is not yet ready for Japanese economic involvement in a major way.  That was, for instance, what one JETRO study recently found—  98.2 %  of 110 Japanese firms doing business in Africa  indicated "political and social instability" was still a major problem in Africa.  And yet a broad consensus was emerging that Japan had to make a move without much delay.  As one Japanese government official reportedly said: "If you wait until the security situation fully improves across Africa, there will be no market left for you".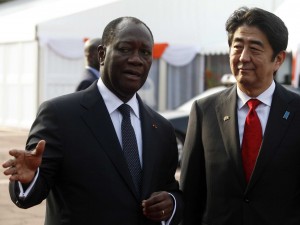 The second factor is Abenomics, which is Prime Minister Abe's policy designed to restore vitality to Japan's economy by ending its long economic slump through fiscal stimulus (such as public works package), structural reform (such as free trade agreements) and monetary policy (manipulations of interest rate).   Abe's experiment has been successful so far as it had made possible the growth of Japan's GDP for six quarters in a row. Needless to say, stable supply of energy sources, preferably from diverse places, is one of the requirements to ensure sustainability of Abenomics.
Third, Prime Minister Abe is arguably the most assertive leader in postwar Japan when it comes to his country's diplomatic approach towards China.  In January 2014, as indicated already, he traveled to Africa amid tensions which arose between his country and China over disputed islands in East China Sea and his visit to the Yakusuni Shrine in Tokyo; it also took place when China's Foreign Minister was visiting some of the same African countries.  Prime Minister Abe has also openly advocated a more "muscular foreign policy" towards China.
Conclusion
In closing we can say that Afro-Chinese and Afro-Japanese relations in the last half century reflected adjustments and readjustments by the two Asian countries to changing domestic and global conditions.  The unfolding Sino-Japanese rivalry in Africa is likewise a by-product of the growing power of China and the anxiety it has caused in Japan, the Fukushima nuclear accident, and the coming to power of an administration in Japan which is committed not only to revitalizing Japan's economy in a certain way (Abenomics) but also pursuing a "muscular" foreign policy towards China.  But the rivalry is ultimately rooted in historical animosity between the two countries.
The Cold War is over, and China and Japan are at different stages of industrialization.  It follows that China and Japan may compete but must not necessarily confront each other in Africa.  Both China and Japan could each make unique contributions to Africa's efforts to modernize, if they wish to do so.  They could also help themselves to Africa's vast resources.  In this case, Africa becomes an arena of cooperation rather than conflict, with all sides benefitting in the process, including Africa.  It would not be totally unrealistic, therefore, to imagine also a scenario in which, for instance, there would be a co-ordination between the Tokyo International Conference on African Development (TICAD) and the Forum on China Africa Cooperation (FOCAC).  Admittedly, this is much easier said than done, but it is not an unachievable scenario.
If China and Japan are now ready to compete not only for raw materials and markets but also for respect and love in Africa, a question which also arises is this: what is the proper African response?  I believe, first and foremost, an African response should be informed by an acute awareness of the underlying divergence and convergence between China's and Japan's diplomacy in Africa.  In economic terms, we should also recognize, relations with Africa are far less important both for China and for Japan compared to their respective relations with the major powers and other regions.  Africa's shares in the overall global trade of China and Japan are much smaller compared to the shares of overall global trade of Africa of China and Japan.  What this means is that Africa needs the two Asian powers more than the other way round.  Despite the lack of symmetry in the relationship, however, Africa could still maximize its relative autonomy and reap optimum benefit by utilizing its producer and consumer power through (non-adversarial) collective bargaining and through diversification of its partners.
* The Author is Associate Director, Institute of Global Cultural Studies and Associate Research Professor, Binghamton University, New York, USA