Africa: Why Obama Launched Mandela Fellows to Lift Africa
<![CDATA[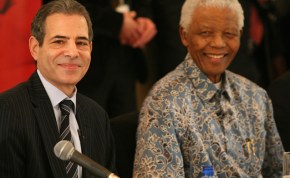 Washington, DC —When President Obama told young African leaders on Monday that their fellowship program was being renamed to honor Nelson Mandela, it was an emotional moment for Richard Stengel, one of a number of high-level administration officials in the audience. Two decades ago, Stengel worked with Mandela on his autobiography, Long Walk to Freedom . In 2010, while serving as managing editor of Time magazine, he published Mandela's Way: Lessons on Life, Love, and Courage .
 Since February, when he became the Undersecretary of State for Public Diplomacy and Public Affairs, Stengel has been a key member of the Obama team directing the 
Young African Leaders Initiative 
and preparing for this week's gathering of 500 selected participants. In an interview with AllAfrica's Reed Kramer, he discussed the goals and the details of the program.
 Why did President Obama decide, now, to honor Mandela in this way?
 The Yali program in general and the Washington Fellows program in particular is something that's incredibly close to President Obama's heart. Renaming it the Mandela Washington Fellows is something that captured his imagination and would speak to people immediately about this generation of African leaders that he's trying to engender. It is also very symbolic. In my work with Mandela, he was always thinking how to create great leaders like those he had known.
 From your observations of the process and direct interactions with the fellows since they arrived, how would you characterize this group?
 From the beginning there was a tremendous outpouring of interest. The incredible number of people who applied for the Washington Fellowship – 50,000 people – shows how much demand there is for this kind of leadership incubation. The caliber of these Fellows is really extraordinary. At the Town Hall, I talked with a woman from the University of Virginia about the cohort of kids who spent time at UVA during the first part of their fellowship. She said a professor told her that he had never had a better group of students in thirty years of teaching. I've been hearing similar things from officials at other universities. It's a really stellar group. And there are more where they came from! That's why President Obama wants to double the number of Yali Fellows by 2015 to 1000.
 The President spoke about the broader YALI network and an online community across Africa going beyond the 500 participants now in Washington. How do you plan to make the linkages real?
 We're trying to figure out how we can sustain this. How do we increase the networking and connections among all of those Washington Fellows, including the 50,000 [applicants]. It's a very exciting prospect and the potential is enormous. One of the first things that we announced is the creation of regional leadership centers – in Kenya, Senegal, South Africa, and Ghana. These will help the young people network across Africa. One of the force multipliers we are using is the so called 'MOOCs' – massive online open courses. We're creating this vertical particularly focusing on entrepreneurship and leadership for the Yali network.
 People can sign up for these online courses. They can use the regional leadership centers to get coaching and help, not only with their entrepreneurship ideas, but with the courses they are taking. This is something we're creating from scratch, so we'll see how it works. That's the idea of larger engagement.
 What kind of resources is the U.S. government making available to back the efforts of these young people?
 For starters, the U.S. African Development Foundation (USADF) has announced a partnership with the State Department to offer $5 million in funding to the Yali network over the next three years in the form of
small entrepreneurship grants
. Lots of American companies and technology companies are also involved [in the program], along with American universities. In some ways, it's a fantastic sort of job fair for these young African leaders with universities and companies seeing this talented cohort of young people and how entrepreneurial they are. There will be lots of synergy that comes out of this.
 How does this week's Fellows meeting relate to the Leaders Summit?
 One of the issues that the president said he will bring up next week with the African leaders is the youth and their entrepreneurship. They need and deserve things that are foundational to democratic countries – the rule of law, due process, an open system that isn't plagued by corruption. They need a level playing field, a meritocracy, where a good idea and a talented person gets an outcome based on his or her idea. That doesn't exist all across Africa.
The President said these are the values and the ideas that he' s going to talk about at the African Leaders Summit, and I think he feels that he's been informed by his interaction with these young people. He's also informed by his own idealism. These young people will only have a robust future if the foundations are there. He'll be talking about those values with the African presidents and prime ministers at the largest collection of African leaders meeting with an American president.
 How were the 500 young people in Washington this week chosen from the 50,000 applicants?
 It was done regionally by our embassies and bureaus. Basically, the number of fellows was meant to be proportional both to the applicants and to the populations of the respective countries. There are more Fellows from Nigeria than Malawi, for example, based on the number of applications and the population. At different posts people spent weeks staying up late at night reading the applications looking for young people who, in some cases, already had experience starting businesses, who had interesting ideas for starting businesses, who had interesting educational backgrounds. Even before it was announced, this program represented the values of Nelson Mandela.
 Going forward as we start looking to ramp it up – I don't want to get too far ahead of myself – I'd like these Mandela Fellows be a part of the selection process for next year. We want to stay in very close touch with them, and we want them to stay in touch with each other. As the president said, one of his last remarks, which I thought was lovely: "As inspired as I am by all of you today, I hope you're equally inspired by each other. And I hope you stay in touch." That was a wonderful thing for the president of the United States to say. It's not just about this kind of bilateral relationship. It's about helping Africa continue its extraordinary rise. For that to happen, all of these Mandela Fellows need to be in touch with each other.
 Finally, how are you expecting this youth initiative to strengthen ties between the United States and Africa and advance American interests?
 Africa rising is now 'in'. By 2040, Africa will have perhaps the largest workforce in the world. President Obama has a special relationship with Africa. What he wants is to institutionalize and sustain a relationship with Africa, and he wants to solidify the relationship between the United States and young Africans. He wants the Mandela Fellows to be successful, and he wants the U.S. to help make that happen. We're a kind of incubator for the entrepreneurship and the achievements of these Mandela Fellows, and the Yali network as a whole.
 What advances American interests is the shared values that are encompassed by the Mandela Fellows. It's not just about entrepreneurship: it's rule of law, freedom of speech, freedom of ideas. All of those things are, I think, shared interests and shared values, and I think everybody benefits front that.