World Cup – Yaya Toure: City stopped me seeing dying brother
Yaya Toure has claimed that Manchester City prevented him from spending time with his brother Ibrahim, who died of cancer last week.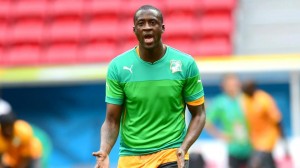 Yaya and older brother Kolo are both at the World Cup, and left their younger sibling – also a footballer – with the rest of the family.
In an interview with sports newspaper France Football, Yaya said: "I confess that I am still very sad. I¹m suffering because I feel I have done nothing useful for him the last few weeks
"At the end of the season, I wanted to stay for four or five days with my brother before I flew to prepare for the World Cup with Ivory Coast, except that City did not want to give me a few days.
"I went to celebrate the title championship in Abu Dhabi while my brother was in his sickbed. By fortune, Kolo was at his bedside. After that I blame myself for not insisting and for not leading them to respect me.
"However, club officials knew that I had been suffering for a few months seeing the health of my brother decline. This is the reason I had several injuries at the end of the season, because my head had taken control of my body. These last four months have probably been the hardest in my life.
"I have had sporting success, except that when you get home and you find yourself facing the distress of someone you love, but you do not know how you can help, it¹s not good."
Toure had previously criticised the club for not publicly acknowledging his birthday, but these claims are markedly more serious. He said that the "beautiful party" of the World Cup had stopped for him on Thursday when he learned of Ibrahim's death.
"For sure, doctors had left me with very little hope when I had left for the World Cup. During those days, he could not even respond to my calls, he was so tired.
"I also felt that brother Ismael and my sister Aicha, who had stayed with him in Manchester, were not telling me everything the last few days. Despite that, in these cases we always try and hold on to a miracle.
"The news came as a huge shock because I was very close to him. We spent two years apart but we were very close. As kids we always stuck together and we played in the famous local tournaments that were never-ending.
"I wonder how I¹ll cope without him. I know that I will no longer be able to hear him, sense him, see him, this feels awful, especially when you¹re thousands of kilometres away.
"Luckily, I have Kolo with me. More than once, he has played big brother to me, finding the words to comfort me, keep me strong, talk to me.
"At one point, we thought about leaving Brazil for Manchester to see Ibrahim one last time. But our father advised against it and we listened."
*Source yahoo