Rwanda deals with Israel to see FDIs reach $1.1bn
<![CDATA[By ALEX NGARAMBE* [caption id="attachment_9964" align="alignleft" width="595"]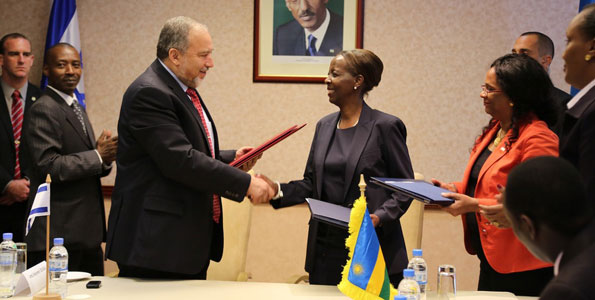 sraeli Minister for Foreign Affairs Avigdor Liberman and his Rwanda counterpart Louise Mushikiwabo exchange MoU documents on a Business and Investment pact between their countries in Kigali. Photo/Daniel Sabiiti[/caption] Rwanda is expecting to increase its registered Foreign Direct Investments (FDI) this year from $1 billion which was registered last year to $1.1 billion this year.
The country is basing this year's projections on an increase in foreign investors in sectors such as energy, mining and real estate. However, these sectors received huge investments in the past.
The government is courting investors from Israel in various sectors such as ICT and agriculture. Once the deals are sealed, there should be an increase in FDIs.
Over 50 Israeli investors led by Avigdor Lieberman, Israel's Minister of Foreign Affairs, were in the country to meet with the Rwanda Development Board and the Private Sector Federation to explore business opportunities.
Agriculture has already started seeing investments from Israel with the country establishing a centre of excellence in agriculture.
"Israel is at the forefront of using technology in the agriculture sector and this centre of excellence will help improve Rwanda's capacity in agriculture by improving our yields for both local consumption and exports," said Claire Akamanzi, chief operations officer of RDB.
Currently investment from Israel to Rwanda stands at $38 million mostly in energy and agriculture while trade between the two countries stands at $5 million.
Rwanda becomes the latest destination in the region to attract investors from Israel, after Kenya and Ethiopia while in Africa it has strong trade ties with Ghana, Angola and Gabon.
Rwanda has traditionally attracted FDIs from East Africa, Mauritius, Europe and America but more recently the government has been aggressively campaigning for investors from Turkey and now Israel. "Our strength lies in having technology to boost areas in agro-business, water, ICT and homeland security," said Jonathan Peled, director of the Economic Department for North America, Latin America and Africa in Israel's Ministry of Foreign Affairs.
Last year, Rwanda registered the highest growth rate in FDIs in East Africa, even though it still trailed Kenya, Tanzania and Uganda in the value of foreign investments. According to last year's report by the United Nations Conference on Trade and Investment, Uganda led in the value of foreign investments, followed by Tanzania, Kenya and then Rwanda and Burundi in last position.
Uganda's FDI flows for 2012 hit $1.721 billion, up from $894 million a year before while Tanzania attracted $1.706 billion up from $1.229 billion as Kenya saw its FDIs drop to $259 million. Although Rwanda was among the countries attracting the least amount of FDIs, during 2012, it posted an increase of 5 1 per cent to register $160 million from $106 million a year before, while Burundi came last with $1 million down from $3 million in 2011.
The interest in Uganda and Tanzania could be attributed to huge investments in the latest discoveries of oil and gas respectively.
Rwanda has been on an upward trend in attracting FDIs given the fact that in 2005, the country only attracted $25 million. However, according to the Rwanda Development Board the country is performing better than most countries in terms of growth rate. *Source 
theeastafrican
]]>