Offering to Disarm in Congo, After 20 Years of War
<![CDATA[
A Reversal by a Militia of Rwandan Hutus in Democratic Republic of Congo
By SOMINI SENGUPTA* [caption id="attachment_10175" align="alignleft" width="300"]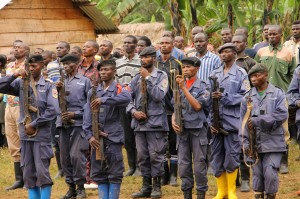 Congolese national police officers in front of the 83 Democratic Forces for the Liberation of Rwanda guerrillas who surrendered in Kigogo.
SARAH FLUCK FOR THE NEW YORK TIMES[/caption] KIGOGO, Democratic Republic of Congo — Shortly after midday in this village nestled in clouds, the progenitors of the long, dirty war across Central Africa came out of the jungle and laid down their guns. Not all the gunmen in their ranks: 83 guerrillas were present, along with their wives and children. And not all their guns: The cache included several ancient rifles, some rusty mortars and two Vietnam-era, American-made machine guns. But the gesture, wrapped in pomp and ceremony in the presence of foreign diplomats and United Nations officials, was a new twist in a war that has pitted tribes and nations against one another for 20 years and left a trail of rapes and massacres across a vast, mineral-rich section of the continent. The members of the militia, the Democratic Forces for the Liberation of Rwanda — composed of ethnic Hutus from Rwanda and known by its French initials, F.D.L.R. — said they were willing to give up their guns for good if they were allowed to go home and negotiate power with their archnemesis, the Rwandan government. The leaders shed their camouflage for ill-fitting black suits. A marching band played. The tableau presented a tricky political test for foreign powers trying to end the Democratic Republic of Congo's long war. "We want to go back to Rwanda, but after dialogue with the Rwandan government so we can share in the prerogatives of the country," the militia's executive secretary, Wilson Irategeka, said in an interview, in a house tucked behind a banana grove, before the ceremony on June 9. The F.D.L.R. has been hiding in villages like Kigogo for two decades and terrorizing them, too. One of its leaders, Sylvestre Mudacumura, is wanted by the International Criminal Court because of his role in the 1994 genocide of ethnic Tutsis and moderate Hutus in Rwanda. Five of its leaders are under arrest in Germany. Ten are on a United Nations sanctions list and barred from traveling. The week before, 105 troops disarmed north of here. "We want to show the international community we are serious, we are committed, we are ready to be part of the process for peace," Mr. Irategeka said. He asked diplomats from the Southern African regional bloc to relay the group's political demands to Rwandan officials. Few see this as realistic. United Nations officials are cautiously backing the effort, though one said the prospect of political talks was as likely as former Nazis joining Israel's Legislature. The United States is opposed to negotiating with a group that has a history of committing atrocities. Rwanda has since accused the United Nations of trying "to sanitize F.D.L.R. genocidaires." In a letter Thursday to the Security Council, Rwanda's United Nations envoy, Eugène-Richard Gasana, chided it for trying to secure a travel ban exemption for an F.D.L.R. leader so that he could discuss the disarmament efforts with a senior envoy. "Any further delay in eliminating this group and its ideology would only serve to cause further harm and suffering to the region," Mr. Gasana said. Even in this village, F.D.L.R. forces once burned houses and looted crops. Now, on a grassy field, they stood expressionless in five straight rows. Most wore tracksuits and knee-high rain boots. The few who agreed to talk to a reporter said they had left home 20 years ago, some as children, when a Tutsi-led guerrilla group swept into Rwanda to stop the genocide and then drove into eastern Congo in pursuit of the Hutu perpetrators. Clouds rolled in and out. A big unknown hovered: Was this just a delaying tactic by the F.D.L.R. to avoid being trounced by United Nations peacekeepers? Or was it a genuine offer from rebels worn out by fighting? Either way, it came at a pivotal moment for the United Nations mission here. Having recently 
quashed a Rwandan-backed guerrilla group
 called M23 and then taken on a radical Islamist group near the Ugandan border called the Allied Democratic Forces, United Nations peacekeepers are under immense international pressure, not least from Rwanda and its supporters, to stamp out the original combatants of this war, the F.D.L.R. The group's offer of voluntary disarmament has compelled United Nations forces to defer military action while diplomats seek a negotiated settlement. [caption id="attachment_10176" align="alignright" width="300"]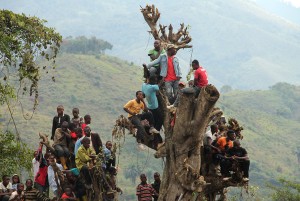 Boys in Kigogo, Democratic Republic of Congo, watched this month as Rwandan militants turned in their weapons. It was the biggest celebration many villagers had known.
SARAH FLUCK FOR THE NEW YORK TIMES[/caption] Tackling the F.D.L.R. is not a military matter alone, acknowledged the United Nations' top military commander in Congo, Lt. Gen. Carlos Alberto dos Santos Cruz. It is also political. The militants live among civilians, General dos Santos Cruz said, and they should be given a chance to disarm. "It is a very special moment," the general said. "If the process develops, you disarm people. You bring peace without war." He took pains to add that he had not ruled out military force. He may not be able to wait forever. Russ Feingold, the United States special envoy for the Great Lakes region of Africa, urged United Nations forces to go after the fighters militarily if they, including their senior leaders, did not surrender completely in the coming weeks. "If this drags on through the summer, there's no excuse not to take strong action against the F.D.L.R.," he said. Mr. Feingold flatly dismissed the notion of negotiations. "People involved in genocide, who are included in this group, are not entitled to dialogue," he said. For the ceremony in Kigogo, United Nations helicopters flew in, one after the other, with foreign dignitaries. Herds of children gathered. Under a tin roof sat a half-dozen ambassadors, listening intently, committing to nothing. "All those in the bush should come out," said the Namibian ambassador to the Democratic Republic of Congo, Wilbard Hellao. The United Nations estimates that there are fewer than 2,000 active F.D.L.R. fighters left in Congo. In recent years, thousands have run away from their units and surrendered to peacekeepers, who have sent them back to Rwanda. The ones coming out of the bush now are being housed, fed and guarded by the United Nations in temporary camps. Congo has suggested sending them to the west of the country, far from the Rwandan border. Discussions are also underway to find a third country in which to resettle some former combatants. To listen to Mr. Irategeka's rendition of the last 20 years is to hear a narrative that contrasts sharply with that of the Tutsi-led Rwandan government. The F.D.L.R. members see themselves as protecting Hutu minorities in Congo, in particular from Rwandan-backed guerrilla groups. This is not entirely unfounded. One such guerrilla group, M23, has plundered the mineral riches of eastern Congo and left a trail of terror in the countryside. A former M23 leader, Bosco Ntaganda, 
faces 18 counts of war crimes
 in the International Criminal Court. Mr. Irategeka cannot avoid the subject of war crimes committed by those in his own ranks. Asked whether those people should face trial, he offered something close to a commitment to the idea of justice. "There might be some people in our ranks like that," he said vaguely. "We accept the I.C.C." A rebel revue pounded on drums, sang and danced. "See," said an F.D.L.R. major who called himself Adhonis, "we have lived in the forest 20 years, but we haven't forgotten our culture." Adhonis said he was not ready to disarm yet. He said he would return to the forest after the ceremony. Mr. Irategeka led the diplomats to his combatants. The sole woman, who identified herself as Sgt. Maj. Imanuelle, 35, marched up and told them she was ready to give up guns for politics. Later, she said she had no family left. Her parents had been killed. Her husband had disappeared in the fighting. Her children, ages 4 and 5, were both dead. Another disarmed rebel said he had come to Congo in 1994, when he was 12. His parents were dead. He did not know anyone in Rwanda. A third said he was 19 when he fled and had not spoken to relatives in Rwanda since then. What they would do if they returned home after 20 years in the bush remains unclear. Mr. Irategeka read to the end of his prepared remarks: "Long live international solidarity. Long live pacific coexistence between people and states. Long live peace in the Great Lakes region." Boys climbed to the highest branches as the ceremony began. In this village of strife, this was the biggest celebration they had known. The sun burned hot by 1:30. Mr. Irategeka unveiled four paltry piles covered in tarpaulin. There lay perfect pyramids of guns. There were two American-made M16s, most likely sent to Congo in the years Mobutu Sese Seko was president. There were several AK-47s, one corroded mortar and assorted bullets. About 70 percent of the guns still worked, the United Nations concluded. Afterward, the F.D.L.R. leaders and the diplomats flew out of Kigogo on a United Nations chopper. Clouds rolled in once more. A woman named Kika Bulambo, 62, pointed to the velvety green hills before her. She said she had fled there when the F.D.L.R. swept through here years ago. "They burned houses," she said. "They looted fields. They raped. They left us with no clothes." And not just the F.D.L.R., Ms. Bulambo said. There were once rebels backed by the Congolese Army, and also ones backed by Rwanda. Now, only the banana groves were battered as the helicopters whirred over the village. *
nytimes
]]>