Kutesa voted as first Ugandan President of the UN General Assembly, outlines key duties
<![CDATA[By TABU BUTAGIRA & FREDERIC MUSISI* [caption id="attachment_9857" align="alignleft" width="300"]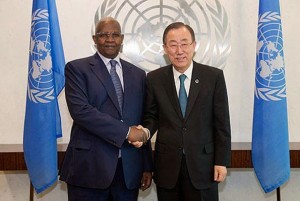 Kutesa meets former UN SG Ban Ki-Moon. Courtesy Photo[/caption] The 193 members of the United Nations sitting in New York on Wednesday afternoon unanimously elected by acclamation Foreign Affairs Minister Sam Kutesa as the next President of the UN General Assembly.
He will chair the world body's 69th session due in September, this year.
The unanimous vote took place shortly after 3p.m. US eastern time (10p.m. Ugandan time). In a statement, Uganda's Foreign Affairs ministry Spokesman Fred Opolot said Kutesa has chosen "Delivering on and Implementing a Transformative Post-2015 Development Agenda" as the theme for his one-year tenure that begins on September 16.
The minister in his 
acceptance speech
shortly after the vote thanked all member states, in particular Africa, for the "trust and confidence bestowed upon me and Uganda."
He drew on the inspirational 1963 speech to the UN General Assembly by former US President, John F. Kennedy, to underscore his resolve to have the UN prioritise elimination of hunger, poverty and illiteracy — dovetailing at home with yet unfulfilled aspirations of Uganda's immediate post-independence leaders.
"Never before has man had such capacity to control his own environment, to end thirst and hunger, to conquer poverty and disease, to banish illiteracy and massive human misery. We have the power to make this the best generation of mankind in the history of the world – or to make it the last," Mr Kutesa said, quoting Kennedy.
He added: "If this applied to (Kennedy's) generation 51 years ago, it is even more applicable to today's generation. The scale and reach of most of the challenges we face, coupled with the limited capacity of many of those worst affected, requires that we address them collectively. The United Nations exists to find solutions through our combined efforts."
Kutesa was buoyant, having triumphed over a Ugandan-initiated online petition to block his candidature on grounds that he was unfit. Activists on the other hand criticised Uganda's new "odious and discriminatory" anti-gay legislation, denouncing the country as a violator of UN principles undeserving of providing leadership to the General Assembly.
After surmounting the opposition, the Foreign Minister declared himself as a man, who as UNGA President, will be "accessible, transparent, fair and balanced, and I count on your support and cooperation."
The other salient issues he outlined in his in-tray include: climate change and rising sea-levels; inadequate and expensive energy; armed conflicts; and emerging threats to peace and security, such as terrorism, piracy and human trafficking. Mr Kutesa replaces John Ashe of Antigua and Barbado, who together with the UN secretary-general Ban Ki-moon, congratulated him upon assuming the high office.
The minister says his victory reflects the international community's recognition of Uganda's positive role and contribution, throughout its fifty two-year membership, to the work of the United Nations.
He commits to formulate a transformative post-2015 development agenda, tackle climate change, revitalise the General Assembly and work for unspecified reformation of the UN Security Council, enhance cooperation between it and regional as well as sub-regional organisations. *Source 
Monitor
]]>