Keshi invokes 1994 spirit on Eagles
Coach Stephen Keshi in this interview with  africanfootball.com, invokes the spirit of Nigeria's 1994 World Cup team on the current set bidding for glory in Brazil.
How was the spirit in the Super Eagles in 1994?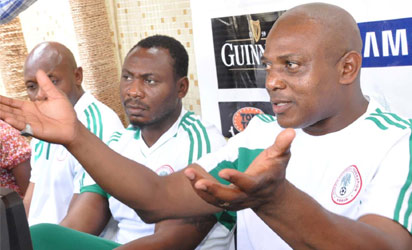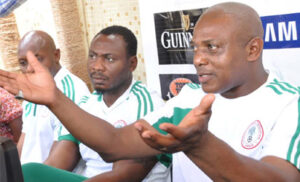 In 1994, the team reminds me of my days at New Nigerian Bank (of Benin) because we lived like brothers, moved together as one big family. We did everything as one.
We just wanted to help one another, play for one another, if it meant to yell at one another for us to succeed, we did.
We had a good atmosphere with a lot of respect for one another. We were just a very good family on and off the field.
The 1994 squad was a beautiful squad. It is my dream to have that squad in this present squad.
To have the unity, the oneness, the commitment, the togetherness, that would be great.
What has kept Stephen Keshi going as Eagles coach?
First, the passion. The passion for my job. It's something I love to do and I am enjoying doing it.
And also the people around me. And by God's grace I have the belief that I can put smiles on Nigerians faces.
And whenever I am working that is what I want to do and it's one of the things that keep me and my coaches going.
What role has your family played in your success story?
I think my family role is far greater than what I am doing out here because if not for their understanding mostly my wife who plays the role of husband, taking care of the kids and all that stuff, taking care of me, making sure that all is well when I am not around and still tries to motivate me and keep me focused on my job. So the love that they have shown me is something that I cannot quantify.
When I look at them, it keeps me going because I know that my family is down there and they are praying for me to make everybody happy.
Did the Eagles know they were on to something big in 1994?
We made up our mind before the Nations Cup right from Holland. You know we assembled at Holland training camp and agreed that this year must be our year, we have to win the trophy.
And we were all together and whoever was not ready to go into the field, we were ready to take the player out. All we needed was victory.
But we also wanted to make ourselves proud by qualifying Nigeria to the World Cup for the first time.
We wanted history to remember us as the generation of players who first qualified Nigeria for the World Cup.
But we had no idea what awaited us in the United States.
We were lucky that our set was the first set to qualify Nigeria for the World Cup.
What got the team going in 1994?
The thing was just that we decided that we were going to win the Nations Cup. And that was because we had come so close to winning it in the past but lost.
And we had a great manager in Clemens Westerhof, who managed people well, . He was just trying to psyche everyone up all the time, telling us that we can do it. Always telling us that we all had what it takes to win the cup. For him he had the best players in Africa and the best team in Africa. So he gave us the belief that we could win it.
What and how was your relationship with Westerhof?
Our relationship was like coach and player. It was like brothers, our relationship was like father and son. He had a lot of respect for me, just like I had for him. He would consult me on what was going on in the team and I would give him my sincere opinion, but he decided what to do.
But Westerhof was more of a father than a coach and you know every child would do everything to make his father proud. And that is what we did in 1994.
Do they feel a sense of unfinished business going to the 2014 World Cup?
Not at all! We are going into Brazil with a fresh challenge and that is to make Nigerians and Africans proud.
I have my personal target, which I am not ready to share with anyone yet, but let's just see how it goes.
How does your current team compare to the team of '94?
I do not want to compare them with the '94 squad because the '94 squad were different.
What I would say is that I am working to ensure that the present team has similar character, team spirit like that of the '94 squad.
Does any player from your current team remind you of any of your teammates in 1994? If so, who and why?
No comments.
How far can they now go in Brazil?
When we get there, we would find out.
* Source Vanguard Nigria