Kagame: We will arrest or shoot anyone posing a security threat
<![CDATA[
[caption id="attachment_9701" align="alignleft" width="300"]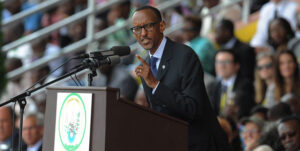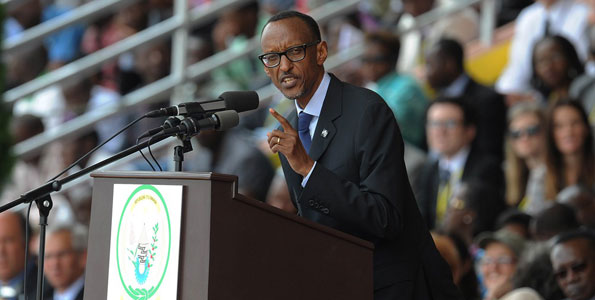 President Paul Kagame at a past function. He has said that his country will continue to arrest or "even shoot on the spot" individuals who wish to destabilise Rwanda's state security. Photo/FILE|AFP[/caption]
President Paul Kagame has said that his country will continue to arrest or "even shoot on the spot" individuals who wish to destabilise Rwanda's state security.
President Kagame spoke on Thursday while addressing residents of Nyabihu district in the northwestern part of the country.
"Those who talk about disappearances… we will continue to arrest more suspects and if possible shoot in broad daylight those who intend to destabilise our country," he said, amid applause.
The President statement came hours after the United States State Department said it was "deeply concerned" by the recent spate of arrests and disappearance of dozens of Rwandan citizens inside the country.
Rwandan security organs in recent months have conducted operations in the northwestern part of the country, rounding up dozens of people suspected of working with the Democratic Forces for the Liberation of Rwanda (FDLR). The  DR Congo-based rebel outfit is linked to the 1994 genocide against the Tutsi.
The US government expressed concern that Rwandan authorities have held individuals incommunicado for periods of up to two months before presenting them in court.
"We are encouraged that Rwandan authorities have recently taken steps to bring a number of these individuals before a court. Nonetheless, the United States remains concerned that additional individuals may still be held incommunicado and without due process of law.
"We are also concerned by credible reports that individual journalists were threatened, and that the Government of Rwanda ordered the suspension of a call-in radio programme that provided citizens with a platform to discuss current events," the Department of State said in a statement Wednesday.
President Kagame, in an apparent response to the US, said that his government will not tolerate anyone who wishes to "throw grenades at innocent citizens and babies" in the name of politics.
"Those who have a problem with the government should come to me instead of throwing grenades at innocent civilians and babies. I should be the one responsible, but they also know the consequences of coming for me," he said.
On Wednesday, the Minister of Foreign Affairs Louise Mushikiwabo responded to the accusations of disappearances, saying that the government is dealing with a specific security challenge in the north of the country, where FDLR and their associates have been infiltrating and recruiting fighters.
She said a judicial process is underway to try to suspects accused of masterminding grenade attacks in different parts of the country. She said the issue has been discussed with diplomats.
"In all instances, police and security agencies in Rwanda have acted lawfully. Accused individuals are entitled to, and receive, due process. Suggestions otherwise, including claims of disappearances, are false.
The US called on Rwanda to account for individuals arrested over the past two months and to respect their rights under Rwandan and international human rights laws.
The alleged disappearances, recently highlighted by Human Rights Watch (HRW), also sparked an altercation between Kigali and the rights watchdog.
*Source The East African
]]>