Jeff Koinange comes unstuck
<![CDATA[By Joyce Nyairo*
[caption id="attachment_9603" align="alignleft" width="300"]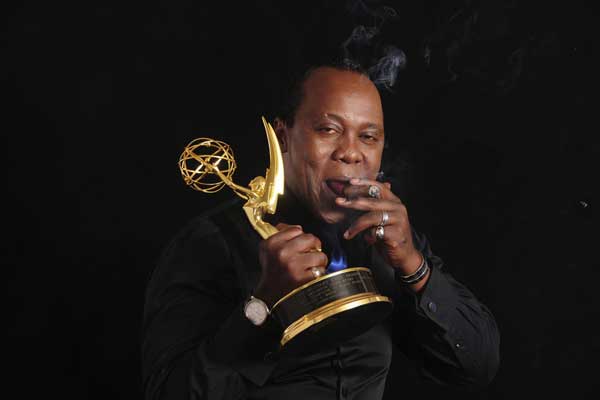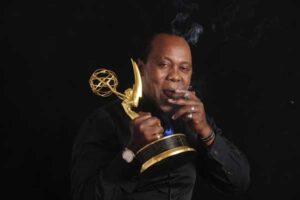 Jeff Koinange celebrates winning his Emmy Award with a cigar. Jeff's book Through My African Eyes, is poised to enter the realm of Kenyan biographies way up high, on the wings of eagles. PHOTO/COURTESY[/caption] The first thing I thought when I finished reading Jeff Koinange's life story, 
Through My African Eyes
, was this: if you are not ready to face the controversies that have dominated your life, if you haven't yet turned 80, that magical age when you cease worrying about what people think of you and your follies, don't write an autobiography.
Write poetry. Write fiction. But for the sake of all of us, avoid autobiography because its true purpose is seizing the authority of authenticity, of the real.
Like all historical writing, autobiography is a literary artefact, built from careful selection and deliberate emplotment. But Harry Belafonte's My Song taught me that even in the pages of self-portrayal, self-criticism — deep scrutiny and confrontation of one's fears and one's flaws — is possible.
The purpose of autobiography is not painting pretty pictures in the sunset but ripping apart sore wounds and ugly memories so that they can finally air and heal. It is an act of uncovering, not one of containing. Or is it a site for the articulation of the person that one wants to become?
SOFT ON KENYA
Jeff's book is poised to enter the realm of Kenyan biographies way up high, on the wings of eagles. It comes with a Foreword by Ngugi wa Thiong'o, a Preface by Thabo Mbeki and endorsement from Harvard University's revered literary critic, Henry Louis Gates Jr.
It is a story about flying high – literally, as a Pan Am flight Purser at the tender age of 20 and then winning a scholarship to the prestigious New York University (NYU).
But Jeff was flying high long before then as an accomplished soccer and rugby player, as an award-winning playwright and as deputy head-boy, a leader and a team-player who lets others shine in this story of his life. Today, we know him as a celebrated television journalist.
Like David Lamb's The Africans and Richard Dowden's Africa, Jeff's story is a journalist's resourceful chronicle of recent events in Africa; encounters with African statesmen and brushes with boys and men who are hungry for state power.
Though he handles Kenya with kid gloves and a fair amount of ellipsis (did he not hear of the violence in Naivasha in 2008, the retaliatory one?), Jeff does have some amazing new insights into the workings of the African state.
He is not afraid to go against the grain in giving his radical views on African leaders like Joseph Kabila, Thabo Mbeki and General Sani Abacha, but we hear nothing of his personal take on Daniel arap Moi, Mwai Kibaki, Raila Odinga and Uhuru Kenyatta.
From Thabo Mbeki's rather ponderous preface, we can infer the reasons why this book was necessary. An act of atonement, perhaps? A penance of sorts to help Jeff shed the weight of implied responsibility for being in a place where Africa's story could have been told differently but was not?
Jeff worked for reputable international news outlets at a time when distortions were the norm; when the image of Africa was largely negative and stereotypical (what has changed?). Mbeki is emphatic that: "None of these were the fault of our eminent African journalist, Jeff Koinange. The fault lies in the fact that absolutely no African had any control over what story would be told on Africa by the international media about Africa!"
[caption id="attachment_9604" align="alignright" width="300"]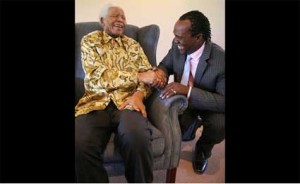 Jeff Koinange meets with the late former South African President Mandela on October 6, 2010. PHOTO/FILE[/caption] Jeff regrets that: "Africans have struggled through generations to get their voices heard, only to have their stories re-told through foreign prisms." How successfully did he transcend these 3D images of Africa — Disease, Deficiency and Death? He tries to give an HD, a High(er) Definition, angle. A lens saturated with context, compassion and cures.
His 2005 portrayal of military atrocities in Bukavu, DRC, focused on the stoic resilience of the victims and was inspired by the heroism of Dr Dennis Mukengere, who was attending to the wounded at Panzi Hospital. But Jeff did not stop there. He sought out President Joseph Kabila, made him watch the harrowing feature and posed the hard questions, patiently pushing for justice for the victims.
If you had heard of Jeff Koinange before "The Bench," then you will be picking up this book to hear his side of the story about a certain Ms Marianne Briner-Mattern of BAK International and the alleged slew of torrid e-mails that accompanied Jeff's sudden exit from CNN. He handles this episode with restraint. "Crucifying a phantom can be exhausting", he says but he does detail the forces that dogged his infamous story of kidnapped oil workers in Nigeria's Niger Delta.
THE SINGLE STORY
In the newly found global enthusiasm dubbed "Africa rising", it has become intellectually fashionable for all of us to claim we are correcting Western perceptions of Africa. Chinua Achebe nurtured this project long before most of us were born. Our Ngugi followed suit and today Chimamanda Adichie does it by warning us about the dangers of "the single story".
But whether this burden of re-presentation, this defence of Africa is what our life's vocation has been up to the moment when we awaken to the ideological flavour of the century is another matter altogether but one that is not too difficult to decode from the silences of our narratives when we tell them.
Still, when will the rest of the world wake up and accept that Africa is, indeed, a many-splendoured gem with delights and verve, with laughter and love, with brutal pains and neglected needs that are as human and familiar as those on every continent from Baghdad to Hurricane Katrina?
Jeff's penetrating lens illustrates his childhood. With self-deprecating humour, he reveals some interesting nuggets — like why he talks the way he does and the things that motivated him to become a voice on television.
We finally have a Kenyan biography that tells the story of middle-class (peri)urban upbringing without apology or economy. The joys of being driven to an elite urban day school, of reading European fairy tales, humming the rhymes of 19th century England, singing Western pop songs of the 1960s and then, finally winding down the evening with American television shows.
What effect did these "foreign" influences have on the worldview and creative energy of a young African? Did they — as Ngugi wa Thiong'o and the other high priests of the gospel of return to "authentic African traditions" argue — colonise young Jeff's mind irrevocably? Or did they give him a dexterous advantage with which to navigate a fast-changing, multi-cultural world?
Jeff's story makes you rethink many assumptions about the comforts of middle-class children and their presumed lack of want and ambition. He describes a different kind of deprivation.
A childhood of sitting in the rear seat of his mother's VW beetle sandwiched between his siblings, his view restricted with no door or window to control, bred in Jeff a life-long desire to be at the front, to record events as they unfold before his very eyes not to have them narrated to him secondhand.
Jeff's story is instructive. He doesn't lecture, or pontificate in that preachy motivational-speaker tone beloved of so many Kenyans these days. His lessons are implicit and they provide precious guidelines for aspiring journalists.
PLEASURABLE READ
But for all of his worldliness, Jeff still reveals a lingering naiveté. He says that those who fill the narrative gaps in Africa have no vested interest. Really? It seems Jeff is determined to shy away from an imminent conversation on race and yet the colour-line, as W.E.B. Dubois called it, is at the heart of the matter.
[caption id="attachment_9605" align="alignleft" width="300"]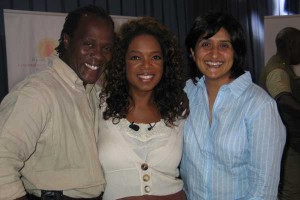 ff Koinange, Oprah Winfrey with his wife Shaila after she made her speech as one of the first students to be admitted to the Oprah Winfrey Leadership Academy in Johannesburg, South Africa. PHOTO/COURTESY[/caption] The chapter on covering Baghdad is cursory — as if reluctant to delve into America's role there. Additionally, there is a fair amount of irony in the way Jeff lapses back to the very trope of Africa(ns) that he set out to reconstruct.
In Sierra Leone he thought: "No wonder the world still referred to us Africans as savages. Who could blame them? Look at what we were doing to each other." Landing in Abidjan after weeks in Sierra Leone Jeff remarks, "it was a 'Hallelujah' moment just being back in 'civilization'."  Likewise, he paints Nigeria unfavourably as "the complete opposite of what I was used to in 'civilised' Johannesburg."
Arguably, the quotation marks around the word civilised lend ironic distance to this cardboard view of Africa, implying that Jeff is using the paradigm made famous by others, not one coined by him. Still, the mere use of the term in these contexts, and his paralleling of New Orleans with Niger — as if Africa holds the original patent on suffering, brutality and filth — will be certain to stir furious denunciations in any discussion framed by post-colonial theory.
When biographies are thin on dialogue, they lack pace and invariably grind down to a humdrum chronological roll-call. Though My African Eyes does not suffer such inadequacies. Meticulously employed flashbacks, flash-forwards and frequent shifts in physical location create the requisite pace and give thematic unity filled with surprises and ironies.
The photographs are stunning, plentiful and cleverly incorporated within chapters as part of the telling rather than being hurdled all together and exiled somewhere separate from the narrative.
With a good dose of wit and a sprinkling of rhyming poetry, this book is a pleasurable read. There are a few instances where its Kenyanness is revealed through grammatical innovations that distinguish our brand of English from any other.
When did Kenyans decide to erect an impersonal perimeter wall between relatives so that a person's grandfather is remotely referred to as "the" grandfather, rather than with an intimate pronoun — "his" grandfather?
KENYAN GRAMMAR
Two generations of readers will bemoan the high irritant quotient from mixed tenses, absent pronouns and the rogue use of the apostrophe. My Standard Six English teacher would have insisted that the possessive form Koinange's (belonging to one Mr Koinange) cannot be used when referring to the entire clan of relatives — the plural or collective Koinanges. But my standard six was a long time ago. There is a sizeable generation of readers who will not pick out any grammatical aberrations in this book.
The tiresome tale of the trials of the apostrophe in Kenyan English must not detain us. Jeff's story beckons. It is a refreshing and brilliant weekend read — inspirational; full of page-turning drama; intrigue; romance. And an education.
It will be available in bookshops mid-June, preceded by the elegant brand of book-launches we have grown to expect from Footprints Press.
Reading Tip: I called Mbeki's Preface "ponderous" because it steals Jeff's thunder — revealing too much too early in the narrative. Skip it. Flip over to page 22. Listen to Jeff first-hand all the way to the last page, then go back to his Prologue and only then should you turn to Mbeki's Preface, Ngugi's Foreword and the effusive back cover blurbs from a battery of luminaries. *Source
Daily Nation
]]>