Africa's Time is now and American Investors Must Not Miss Out
<![CDATA[
-Patrick Griswold, Honorary Counsel of Tanzania to USA
By Ajong Mbapndah L
[caption id="attachment_10005" align="alignleft" width="300"]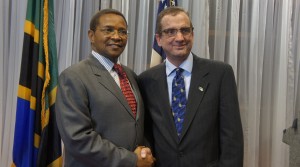 Griswold with Tanzania President Jakaya Kikwete[/caption]
Patrick Griswold is a man with a mission: A mission to make Americans realize that Africa is the next big thing and with abundant investment opportunities. Though American, Patrick says there is a strong part of Africa in him. He lived in Africa for over a decade, speaks Swahili perfectly and was even crowned as a Masai Chief. Patrick has visited scores of Countries and understands the region and its realities to the fullest. His message to American businessmen? Africa is a continent with 54 countries and do not use isolated cases of violence or bad leadership in some countries to label the entire continent.
Patrick, who serves as Honorary Consul of Tanzania to the USA, is at ease talking for hours about Africa, its enormous potentials and easily smoothing out what many will consider as complex obstacles. More than ever before, Africa is ready for business and Patrick is sparing no efforts to share his knowledge of the continent with others interested in doing business with in Africa. At the helm of a network called Why Africa Now, Griswold is putting his vast knowledge of the continent at the service of interested investors. Interviewed by Ajong Mbapndah L, Patrick Griswold talks about Africa Now, his upcoming book, work as Honorary Consul for Tanzania in the USA and more.
Mr Griswold, how will you sum up economic ties between the USA and Africa today?
That is an easy one.  The USA is underperforming.  If you take out energy and transportation, the likes of GE, Boeing, Exxon etc. the USA only has a small single digit percentage of the $400 billion in global trade with Africa.  Even with those blue chips the USA till has less than 10% of trade with Africa.  Now, that is just trade.  With regard to the business and investment opportunities on the continent, the USA is also well behind the Chinese and others. 
What in your opinion took the USA so long to prioritize or go for business opportunities in Africa?
With the exception of Cocoa Cola and a very few others the rest of the USA companies have not thought of Africa as having realistic markets.  The Obama administration did bring prominence to the energy sector opportunities last year, rightly so, but that has been about it.  The key reasons Americans are behind is:
They think of "Africa" only.  Most don't realize Africa is made up of fifty-four countries that are all different and most of them are stable, safe and have not experienced any of the conflict or terrorism the press highlights about the few, isolated, hotspots.  Also, very few Americans don't realize seven of the ten fastest growing economies are in Africa and Africa was the only continent not to be in a recession over the past one decade or more.
Also, they have not been informed or educated to Africa's development.  Most of the media American's see about Africa are Breaking News of bad things done by a few people in isolated places or requests by donor organizations for aid that include destitute looking people that need food, medicine etc.  I think if you check there are people like that all over the world, including millions in the USA.
American companies are not encouraged enough to look at Africa and they have no level of comfort there.  The British and other Europeans have been there a long time.  The Chinese have been almost pushed there by the government.  So they have plenty of their own countrymen and women on the continent to connect with both business wise and social wise.  Americans have been few and far between.  Therefore, they almost polarize from there since they have no connections or contacts.  It is more of a natural reaction than a business decision, which is wrong.  The number of Americans in Africa is now growing, albeit very slowly, but many more need to go there, check things out and get their business going.
How does the USA bridge the gap that exists with a country like China which is literally everyway in Africa?
I guess that is my job in a way!  I literally got tired of African country leaders and business people asking me, when I was in meetings with them in Africa, where all the Americans are.  So I realized there may not be another American with the passion, work experience and vast network in all sectors (government, business, NGO, finance etc.) that could educate USA companies to the opportunities they are missing and then help fast-track them to their goals.
The press needs to cover Africa business more.  CNBC-Africa does a great job but it cannot be viewed in the USA.  There are other great conduits for Africa business information but few are known to Americans.
In two terms of Office, Africa is the least Region that President Obama has visited, does this send the right signal that the USA is serious about doing business in Africa?
[caption id="attachment_10006" align="alignright" width="300"]
been crowned as a Masai Chief ,Griswold is fluent in Swahili[/caption]
I'm not sure it is the President's responsibility to be the Director of Business Development for USA companies.  Certainly the US Trade Department and other organizations can play a part to solicit business abroad but in the end the C-Suites, especially the publicly held ones, are compensated to find new markets.  You'd have to be a very closed minded, or uninformed, executive to not yet realize Africa is booming and America is well behind in capturing their market share.  Instead of over pressuring sales people in soft markets, like the USA and Europe, I often tell executives to simply spend some of their budget traveling to Africa to see the opportunities first hand.  That will do more than any seminar, policy manual or sales consultant. 
As someone who has travelled extensively across Africa, what are some of the perceptible changes you have seen over the years that could facilitate partnership or the integration of US businesses in Africa?
The biggest change is leadership.  Africa's leaders don't want to make the mistakes of the past.  They don't want aid – they want foreign direct investment.  All the tax holidays and incentive programs are in place and it is much easier today to start a business there today.  Also, the infrastructure has improved tremendously and that will continue.  The biggest change going forward will be the middle class which will top out at one-billion strong in the next couple of decades.  That is monumental. 
Keep in mind that one third of Africa's fifty-four countries are leading the way in terms of economic growth, one-third are next in line to experience such growth and one-third are well behind and have more serious challenges.
With regards to investment opportunities, may we know some sectors that you consider as promising?
Energy
Construction – especially affordable housing
Health and Medical
Hospitality
Agriculture
ICT
I can go on and on – the opportunities are enormous. 
The opportunities are there but what about challenges? What should investors going to Africa expect and how do there navigate the challenges?
This is one of the most common questions I answer.  It is almost like executives are looking for reasons NOT to go to Africa only because they are uncomfortable with the idea as I mentioned earlier.  A better way to answer your question is to explain why some foreign companies fail in Africa. 
The first thing is they try to implement a business plan from their home place, or other market, in Africa.  That just doesn't work.  African countries are (all) different and adjustments must be made to business plans.
Also, foreign companies have a tendency to be impatient and not commit for the long run.  They get frustrated and retreat without giving an honest effort.  This is normally due to not having the right local partner, or advisor with Africa experience, before going into the market.  Sometimes companies go into the wrong countries to start with!
Lastly, not understanding and respecting the cultural differences.  Forget about the difference between Africa and the rest of the world, two African countries can be so different that there is no way you can expect to operate the same in each country.    
Can you tell us more about Why Africa Now, its mission and what it has done to change perceptions in USA about doing business in Africa?
Why Africa Now! was created to fill the need for expert knowledge and advice for companies and investors prepared to participate on the continent with the largest economic growth on the planet . . . Africa.  Our mission is to educate and update the outdated mindsets of Africa and present the exciting business and investment opportunities there.  Africa is a huge continent made up of fifty-four countries and you simply cannot paint the entire continent with the same brush.  Certainly problems exist in a few isolated areas on the continent but in today's Africa the rewards are high in many countries, including seven of the ten fastest growing economies in the world.
The first step is we update companies and investors about today's Africa including where the best opportunities are among the fifty-four countries, what areas to avoid and how to minimize risks and maximize profits. Then we listen to clients goals for Africa and recommend the best, easiest and quickest path to success.  We also broker deals on our clients' behalf with Governments, potential partners and other organizations.
 You are also an Honorary Consul of Tanzania to the USA, what do your duties entail and in terms of investment opportunities what does Tanzania offer?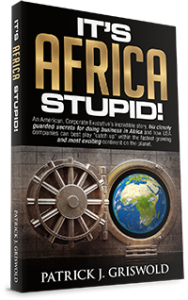 My duties are primarily promoting Africa, East Africa and specifically Tanzania.  As former Tanzania Ambassador to the USA, Mwanaidi Majaar suggested, I am much better at explaining what the opportunities are, and what it is like to run a business in East Africa, than Tanzania bureaucrats are.      
As far as opportunities, I'll pass on what Tanzania President Jakaye Kikwete mentioned in the most recent meeting I had with him.  He simply stated that when he attends meetings of the Africa Union, he is regularly told that his fellow leaders are very envious as Tanzania is blessed with so many resources.  Tanzania is rich in minerals, including gold and other precious metals, a leader in tourism due to the best game parks in the world, it is a coastal country who's port serves a dozen countries and is a huge trade center, it has vast areas to develop agriculture, large bodies of water and last, but maybe most importantly, Tanzania is known as the most politically stable country on the continent with very kind and hospitable people. 
We also also understand you are at the verge of completing a book on Africa title It's Africa, Stupid! What is the book about and why that title?
First of all, I am not calling anyone stupid. I'm simply using that title to get people's attention to inform them of the business opportunities they are missing out on – while the USA and Europe continue to sputter.  The book covers my very first trip to East Africa in 1985, what I've learned over the past three decades from living and doing business in Africa, including for a Fortune 500 company, and the proven path to business success there.  It will also update readers on today's Africa and how the USA can play catch-up to China, and other countries, and gain some of the very lucrative business and investment opportunities on the continent.
On your personal relationship with Africa, a continent you have done business in since 1985, how many countries have you visited, how many languages do you speak and what fascinates about the continent?
I lost count on the number of countries.  I've driven from Ethiopia in the north all the way down to South Africa so there is quite a few right there.  I pretty much know every corner of East Africa having lived and worked out of there for over a decade.  The only African language I use regularly is Swahili.  Needless to say French is common in Africa as well and I still remember some Mandarin to use on the wave of Chinese there.
Explaining what fascinates one about Africa is impossible.  I would liken it to a lady trying to explain to a man what it is like to give birth.  Unless you have lived in Africa and experienced all it has to offer you will never understand.  My wife often, jokingly, tells people about a movie called I Dreamed of Africa.  She claims the first few years of our newlywed life there was just like the movie.  The husband constantly goes on business trips and leaves the young wife home in a foreign place to fend for herself!  Without a doubt, Africa has given us the best years of our lives and we built relationships that that will last forever.
What makes you hopeful for the continent and what makes you nervous?
Africa's time is now.  I often tell people I spent some very difficult times there in the past but I have never regretted it.  I was hands on involved in the liberalization of economies, the related policy decisions and watching economies change from socialism to capitalism.  It literally watched it go from being lucky to have water, let alone hot water, at hotels in the 1980s and 1990s in places, to now having the highest rated hotel in the world there.  Watching, and being involved in that transformation, has been an education more valuable than any business school.  I am very confident Africa will continue its growth and be a dominant force in the world economy in the next decades.
The biggest concern is management of resources.  From minerals to water to enormous foreign direct investments.  All of these things have to be managed in a way that they benefit all of the people in each country. 
In the end, many African leaders have told me they are very fortunate to be able to study the USA and the EU and others, to not only understand free market economies but to also recognize, in some ways, how not to do things.   
*Learn More about Patricks Work at Why Africa Now
]]>