MTN at Crossroads as Nhleko Seeks Deals for African Champion
<![CDATA[By Christopher Spillane and Matthew Campbell* [caption id="attachment_9342" align="alignleft" width="300"]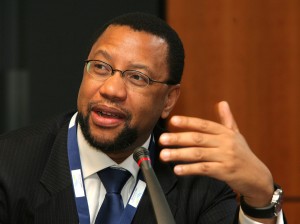 Photographer: Hannelore Foerster/Bloomberg
Phuthuma Nhleko, chairman of MTN Group Ltd.[/caption] MTN Group Ltd. (MTN), the South African telecommunications company that's assembled anemerging-markets mobile empire through acquisitions, is on the hunt for more takeovers. Its biggest obstacle may be domestic politicians. Led by Chairman Phuthuma Nhleko, Africa's largest carrier is seeking transformational deals that could take it beyond the continent and the Middle East, according to people familiar with the situation. That ambition has been frustrated twice before, most publicly when a $23 billion merger with India's Bharti Airtel Ltd. (BHARTI) failed amid government opposition five years ago. To succeed this time, MTN must walk a tightrope between finding a transaction big enough to make a difference, but which won't compromise South African control, the people said, asking not to be identified discussing a private matter. Politicians, concerned that local owners' stakes are diluted or stock-market listings shifted abroad, have more recently sought to block health-care and retail takeovers in the country. "We're beginning to open to the idea that these companies are going international, but their South African weighting must be preserved," said Adam Habib, the vice chancellor of Johannesburg's University of the Witwatersrand and a professor of political science. "That's what unraveled the MTN engagement with Bharti." MTN's conundrum illustrates the difficulties facing large companies in South Africa as they look to reduce exposure to its slowing economy without attracting politicians' ire. Growth in what is Africa's second-biggest economy after Nigeria slowed to 1.9 percent last year, the lowest since a recession in 2009.
Millicom, Reliance
MTN, whose market value is $40 billion, is particularly interested in deals in emerging markets in South Asia and the Middle East as well as closer to home, where it could build on its expertise selling low-cost mobile services, the people said. Among possible targets it has examined is 
Millicom International Cellular SA (MIC)
, a carrier that operates throughout Africa with a market value of $10 billion on the 
Stockholm
 exchange, the people said. Also on the list is India's 
Reliance Communications Ltd. (RCOM)
, with which MTN explored a deal last year that broke down after disagreements over price, people familiar with the matter said at the time. Other Indian carriers, like 
Maxis Bhd. (MAXIS)
's Aircel division, may also attract MTN, the people said. Reliance shares today rose 1.6 percent in Mumbai trading, while Maxis rose 1.3 percent in Malaysia and Millicom advanced 2.6 percent in Stockholm. MTN fell 0.6 percent in Johannesburg. Representatives of MTN, Millicom and Reliance declined to comment on possible transactions. An Aircel representative didn't return a call and e-mail seeking comment.
Government Control
A large deal would need the support of South Africa's Public Investment Corporation, which manages a government pension fund with about 14 percent of MTN's shares. The PIC earlier this year torpedoed an attempted takeover of drugmaker Adcock Ingram Holdings Ltd. by Chile's CFR Pharmaceuticals SA. For the government fund, "it's important that as you grow your economy you keep your people in control of the economy," said Elias Masilela, CEO of PIC, which manages about $153 billion. "You've built up this investment and if you can run it, why don't you run it yourself?" In 2011, South Africa's minister of economic development and two other ministers, as well as a labor union, tried to prevent Wal-Mart Stores Inc.'s purchase of a controlling stake in retailer Massmart Holdings Ltd. The deal ended up being approved. MTN's attempted merger with Bharti collapsed in 2009 when leaders of the ruling 
African National Congress
 declined to support a deal that could see Johannesburg-based MTN's control and primary market listing move abroad. South Africa's Treasury didn't respond to e-mails or phone calls seeking comment.
Cash Pile
To avoid such hurdles for any future deals, MTN could use one of its subsidiaries for a merger or takeover — a structure that would avoid a dilution in South African owners' stakes, said Kate Turner-Smith, an analyst at BPI Capital Africa in Cape Town. MTN also has about $4 billion of
cash
. "There would definitely be issues or questions surrounding a change of control of the holding company, but underneath that there's a lot of flexibility," Turner-Smith said. In 
Africa
, 
Ethiopia
 is among the few still-untapped opportunities and a market MTN is keen to enter, the people said. The country, with a population of 89 million, had just 22 percent mobile-phone penetration in 2012, according to data compiled by Bloomberg. That compares with 131 percent in South Africa and 71 percent in 
Kenya
.
20-Year Rule
An expansion beyond Africa would be a big step into the unknown for MTN, which was founded in the same year of South Africa's first democratic elections in 1994. Early indications from this week's national election show the ANC will extend its 20-year rule. Powered by South Africa's growing economy, MTN began expanding elsewhere in Africa in the late 1990s, gradually building up a presence in places including Uganda and Nigeria. During Nhleko's nine-year tenure as chief executive officer which started in 2002, MTN increased its subscribers 30-fold by pushing into countries such as Iran and Syria. U.S.-educated Nhleko returned to the company as chairman last year. Recent moves by other South African companies aren't making it easier for MTN's expansion efforts. The country's politicians would be keen to keep MTN close after seeing 
SABMiller Plc (SAB)
 and Anglo-American Plc move their headquarters and primary listings to 
London
. "South Africa wouldn't want to lose MTN because it's a home-grown company that's been immensely successful," said BPI's Turner-Smith. "MTN is almost seen as the family jewels." *Source
Bloomberg
.To contact the reporters on this story: Christopher Spillane in Johannesburg at
cspillane3@bloomberg.net
; Matthew Campbell in London at
mcampbell39@bloomberg.net
]]>