AU launches campaign to end child marriage
<![CDATA[By ANDUALEM SISAY*
[caption id="attachment_9565" align="alignleft" width="300"]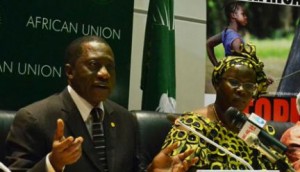 African Union Commissioner of Social Affairs Mustapha Sidiki Kaloko and AU Goodwill Ambassador Nyaradzayi Gumbonzvanda (right) during the Ministers for Social Development Conference in Addis Ababa, Ethiopia May 29, 2014. ANDUALEM SISAY | NATION MEDIA GROUP[/caption] The African Union (AU), the United Nations Population Fund (UNFPA) and Unicef have launched a two-year campaign to end child marriage in 10 African countries.
"We (African countries) lose the potential for growth when millions of girls get married and are denied education," said Dr Mustapha Sidiki Kaloko, the Commissioner of Social Affairs at the AU, during the African Ministers for Social Development Conference in Addis Ababa Thursday.
"This time, a holistic approach is very, very important. The objective of the campaign is to accelerate end of child marriage in Africa by enhancing continental awareness and by taking appropriate legal, social and economic measures," he said at the press briefing after the launch.
Burkina Faso, Cameroon, Chad, Ethiopia, Mauritania, Mozambique, Malawi, Niger, Sierra Leone and Zambia were selected for the campaign based on the high prevalence rate of child marriage.
Child marriage prevalence was around 30 per cent in eastern and southern Africa, and 40 per cent in western and central Africa, according to Dr Kaloko.
Dr Kaloko identified Ford Foundation, Plan International, UNECA, the Canadian government, Save the Children and African Child Policy Forum, as among the partners in the campaign.
Ethiopia's Deputy Prime Minister Demeke Mekonnen said child marriage prevalence rate indicated a failure of the education system.
After completing the two years cycle, the campaign will continue in another set of African countries where child marriage was prevalent.
According to reports, child marriage was being practised globally in 41 countries, out of which 30 were in Africa.
"Prevention activities and protection as well as provision of shelter to the already victims of child marriage, especially for those in conflict zones, are critical," said AU Goodwill Ambassador Nyaradzayi Gumbonzvanda.
She stated that 39,000 girls became child brides everyday.
Unicef Deputy Director Martin Mogwanja stated that reduction in child marriage in Africa had been slower than expected.
"It is slow because addressing the child marriage is addressing social norms, traditions, practices and cultures, which are strong.
"Therefore, we need to be strong and invest in good communications and good understanding and communicate messages that clearly explain risks and dangers of having child marriage to all parts of the society," he said. *Source
Africa Review
]]>