2014 World Cup: Tension rises as German legends roundly condemn Ghana's Kevin-Prince Boateng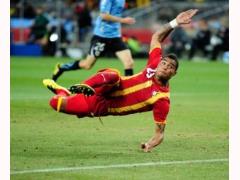 Tension is simmering between Ghana and Germany ahead of their World Cup clash after Black Stars midfielder Kevin-Prince Boateng was roundly condemned by German legends for questioning the quality of players in their squad.
The 26-year-old, who was born in the European country before switching nationality to play for his father's country in 2010, sparked fury in Germany last week.
He lashed out at the quality on player in the German national team claiming that they have no match winners in their squad and have no leaders to guide the team to success at the World Cup.
Boateng's comments have not been taken lightly as top German football stars have been lining up to condemn Boateng for his comments especially German legend Paul Breitner.
'What does Mr. Boateng want?,' German legend Paul Breitner asked during a talk show in Germany this week
'He should mind his own business and rather concern himself with his own team and look for leaders over there.'
Oliver Bierhoff, General Manager of the German national team 'Die Mannschaft' also joined in to reject Boateng's claims insisting that the Ghanaian's claims are baseless.
'We don't need anybody on the pitch screaming around furiously. What we need are players, who are able to assume responsibility – and looking at our squad, I think we have those,' Bierhoff said in an interview with the Bild newspaper.
While Bierhoff was stoic in his response to Boateng, Germany coach Joachim Loew insists they will respond to the claims on the pitch: 'I just want to say: We will respond adequately to that at the World Cup.'
Wolfgang Niersbach, president of the German Football Association DFB, responded to Bosateng's claims that they will not progress beyond the group phase.
'Of course we will make it through the first round. We have that kind of self-confidence. We lost only one of the last 25 official matches and of course our goal is to win the title.' Niersbach said.
Boateng is no stranger to controversies before Ghana plays Germany as he became Germany public enemy No.1 for injuring Michael Ballack before the 2010 World Cup.