Music star Akon unveils plan to light up 1m African homes
<![CDATA[
By KEMO CHAM * [caption id="attachment_8714" align="alignleft" width="300"]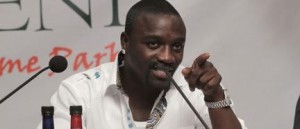 African American artiste Akon speaks at a press conference in Nairobi in this file photo. The celebrity has rolled out an ambitious plan to power one million African homes by the end of 2014.[/caption] Music superstar Akon has embarked on an ambitious energy project to electrify one million households in nine West and Central African countries by 2014.
The Senegalese American celebrity's project, 'Akon Lighting Africa', involves installing solar equipment in rural households and public places.
The artiste-cum businessman was in Sierra Leone on Monday after flying from neighbouring Guinea where he held talks with President Alpha Conde and addressed university students on his inspiration to develop the continent.
The 'Akon Lighting Africa' is set for official launch in March, in Senegal.
The '9 days, 9 Countries, 9 Presidents' tour, which also takes him to Mali, Gambia, Burkina Faso, started last week in his native Senegal where he met President Macky Sall.
Other countries reported to be on the list of the artist`s mega energy plan are Equatorial Guinea, Congo and Cote d'Ivoire.
All these countries are battling crippling energy deficits, particularly in the rural areas. Akon has been meeting their heads of state and key officials.
"We wanted to focus the project on rural areas because we often forget that our parents in these remote areas need electricity," he was quoted saying after meeting Burkinabe President Blaise Campore.
In Burkina Faso, it was disclosed that 200, 000 households will benefit at the initial stage, with plans to expand.
Energy 'a challenge'
At a press conference in Bamako, Mali, Akon said that energy was a challenge to quality education, industries and sustainable infrastructure.
He said his project would allow millions of children to access to electricity and improve their opportunities through extended hours of study.
The artiste initiated the project but is working with an alliance of partners, with names including SOLEKTRA International, Byd Solar Technologies, Azuri technologies, NARI [[an affiliate of China Grid], ADS Global Corporation, and the NGO Give1 Project.
The team is expected to complete the project through a public-private partnership. Akon was however quoted saying it would take both the form of business and charity.
In Guinea, local media reported that he was also seeking, alongside this energy project, investment opportunities across the health and education sectors.
His delegation also includes a Chinese partner.
'Also a businessman'
Akon has since cemented his interests in Africa with fairly sizeable investments that include interests in the Senegal International Airlines and a diamond mine in South Africa.
"I'm also a businessman, but I want to do business that benefits Africa," he was quoted during his stay in the Guinean capital, Conakry.
The artiste told students at the Gamal Abdel Nasser University in Conakry that all the resources needed to develop Africa were at the disposal of the continent, and that all Africans needed to do was to take the driving seat.
Akon also preached nationalism, calling on Guineans students, whom he reportedly met at the request of President Conde, to think first as Guineans before their individual ethnic groups.
Guinea was recently marred by violent ethnic clashes after a widely disputed poll that brought Prof Conde to power. President Conde, according to local media reports, wanted the artiste to serve as inspiration to the youth and future leaders of his country.
]]>