Big Brother Africa: Controversial but popular show keeps coming back
<![CDATA[By LYNETTE MUKAMI* [caption id="attachment_8786" align="alignleft" width="300"]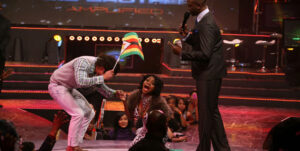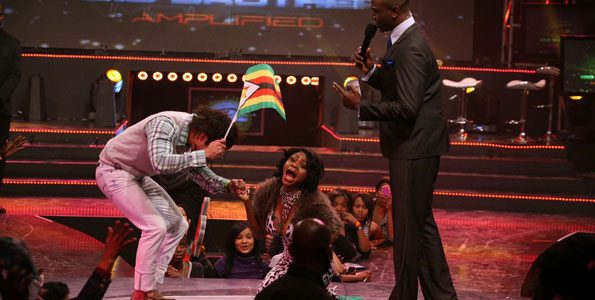 Zimbabwean Wendell Parson and Karen Igho of Nigeria when they won the BBA season six in 2011. Photo/FILE[/caption] With the year now well in, we are moving closer to the annual drama that is the Big Brother Africa (BBA) reality show, expected to be aired in August.
The fact that the tragic story of Nigerian ex-contestant Goldie Harvey's story was one of the most read and commented stories in Africa in 2013 suggests BBA is arguably the biggest and most popular reality television show in Africa, if not the most controversial.
Fashioned after the original show that aired for the first time in the Netherlands in 1999, Big Brother Africa places individuals from different African countries under one roof for about three months, with strict rules. It is then up to the contestant to endear themselves to a voting public.
It is a mix of many things, from outright entertainment to tragicomedy, but for its devoted fans, and ratings-watching television executives, it cannot come soon enough.
The fortunes of those who participate vary, from success stories to shortfalls, and tragedy. Perhaps the biggest was the sudden death of Goldie shortly after leaving the Big Brother house. According to her record label which announced her death on her Twitter and Facebook pages, she died in Lagos following a short illness just after returning from the United States.
During her stay in the house, she had a romantic relationship with Kenyan contestant Prezzo. Just before her death, Prezzo was quoted in a TV interview in Kenya saying that he planned to marry the Nigerian singer.
However, after her death, it emerged that she was already married to a Briton, with the man claiming to be her husband saying that the relationship with Prezzo was all for showbiz and that the Kenyan should let her family "grieve in peace."
Prezzo himself has also had some run-ins with the law after he left the BBA house. He was allegedly involved in a gun fight with a Swiss military colonel in Nairobi in late 2013. According to local police, the officer was attached to Amisom.
Another ex-contestant and co-winner of the 2011 BBA show, Zimbabwean Wendell Parson has had his fair share of legal troubles since his exit. In 2013, he was arrested by Zimbabwe police for $25,000 in alleged car fraud.
He was accused of insuring his car with Alliance Insurance Company two days after his car had crashed. The allegations were eye-raising especially since he had won $100,000 from the reality show and was given an additional cash gift of $50,000 by President Robert Mugabe for winning the continental show.
Despite the successes and failures of the show and its contestants, as can be expected in these parts, the moralists and "gatekeepers" of African values have also been out in force.
Since its first Pan-African season aired in 2003, the series has endured a slew of criticism from regular and prominent Africans alike.
Religious leaders and even presidents decried the show for its supposed immorality. Former Namibian president Sam Nujoma once asked the local TV station to stop "showing this so-called Big Brother" and instead start broadcasting the history of Namibia, a statement that seemed to resonate with public opinion at the time.
Banned show
Malawi went a step farther and banned the show for what it termed as immoral behaviour. Lawmakers in the conservative country felt that the show was too explicit and was corrupting the morals of their children.
However, the country's High Court ruled that parliament had overstepped its powers and the show was soon back on air.
Some argue that while the show may be called "Big Brother Africa," there is nothing African about it except that the contestants are African. The format is borrowed from western variations of the same such as Big Brother UK.
While the show's novelty has seemingly waned in many parts of Europe and in America, the franchise, which only airs on digital Pay TV, looks to be cementing its place among Africa's middle and upper class audiences.
Not everyone has had unkind words for the show though. The late former South African President Nelson Mandela was impressed by and asked to meet the first BBA winner Cherise from Zambia.
While it's not certain how long the show's run will continue to be successful in Africa, ex-participants are cashing in on the fame that the reality series has brought them.
Many have gone on to make careers out of their stints on the show while others who were already household names at home went on to gain continental fame with their talent (or notoriety).
For instance, housemates like Gaetano Kaggwa (of Uganda), Uti Nwachukwu (of Nigeria), Kevin Chuwang Pam (Nigeria), and Vimbai Mutinhiri (Zimbabwe) have capitalised on their fame after leaving the BBA house.
Here's a look back at five of the most memorable, defining (and scandalous) moments of the Big Brother Africa franchise.
Cherise Makubale's win
Zambian Cherise was the first winner of Big Brother Africa in 2003. She beat 11 housemates from other parts of Africa to win the $100,000 prize.
The win was momentous not just because she is a woman, but also because she won Africa's collective hearts by avoiding drama and not being boring, being the mother of the house and embodying what most Africans considered the virtues of an African woman.
After her emotional win, she was invited to lunch with then President Levy Mwanawasa who praised her good behaviour in the house and made her Zambia's roving "ambassador," complete with a diplomatic passport.
Of her he said, "An African woman should cook and sweep. Winning is nice and you will enjoy it, for the sky is the limit for you." She even got to meet a man she hailed as her hero, Mr Mandela who reportedly asked her, "How many boyfriends have you got?"
However, the strategy of being the fun but proper lady of the house has only worked for Cherise. While other female contestants have tried to win hearts by being the mother of the house, Africa has responded with a collective yawn.
The Richard Bezuidenhout affair
Richard was then a newly-wed, 24-year-old film student from Tanzania when he became a contestant in the second run of the BBA show in 2007. Once in the house, he became popular with most housemates including Angolan contestant Tatiana Durao, whom he quickly began an affair with.
However, this isn't the most scandalous bit of Richard's stint on Big Brother Africa.
An extended drinking spree ended in an event which is still disputed to this day. With the cameras still rolling, it is alleged that Richard sexually assaulted (some say "raped") Nigerian housemate Ofunneka Molokwu, who had passed out next to him.
After several requests by another housemate (Tatiana) to stop, he finally backed down and security was sent in to remove Richard and medics to attend to Ofunneka. It is also at this point that the live TV feed was stopped.
Many bewildered viewers who had watched the live feed rushed to complain on MNET's message boards about the incident but the network later released a statement disputing the public's version of events, insisting that whatever had happened was consensual. Later, Ofunneka went on record to defend Richard and has insisted that no abuse took place, saying "I cannot call what happened rape."
The show's producers chose to keep Richard in the house. The incident seemingly did little to dent Richard's popularity in Africa as he still went on to win Africa's biggest reality show.
His wife was equally forgiving.
Knifegate
In 2013, BBA dubbed its 2013 edition The Chase, promising drama and action that would keep viewers glued. They weren't lying.
It all started with Tanzanian housemate Nando getting his first strike when he attended the Channel O party with a steak knife in his pocket.
Asked by Big Brother why he had a weapon with him at a party, he defended himself saying "I carry knives everywhere I go and I had no intention of using it on anyone."
He didn't explain why he had it but some housemates speculated he carried it around in case fellow contestant Sulu came at him during the party. He was also caught with scissors under his bed, was warned for violating house rules but was given another chance. Finally, towards the end of July, Nando instigated a heated argument with Ghana's Elikem who in the heat of the moment hurled an expletive about the former's mother. After other housemates' intervention to separate the two, Nando was heard saying, "I feel like stabbing him. A ni**a like that deserves to die."
That marked the end of his turbulent nine weeks on the show. BBA decided enough was enough and the troublesome young man was sent packing.
The 'goodbye glasses' slap
In the 2012 edition dubbed Stargame, an altercation between Sierra Leone's Zainab and Ghanaian DKB seemed to come out of nowhere. The beefy comedian accused Zainab of spying on him while he was getting ready to shower, she denied doing so.
He threatened to slap her if she tried to do so again and it all went downhill from there. She dared him to hit her and in a fit of anger, he went ahead and slapped the glasses off her face.
DKB was immediately ordered by Big Brother to report to the diary room and was disqualified immediately for violence, a contravention of the "non-violence" rule of the house.
Later, Zainab was also asked to pack up and leave as the rules also did not allow housemates to provoke or instigate violence. The 2012 season saw the non-violence rule broadened to include "provocative behaviour that creates a hostile environment that results in violence."
Once in Ghana, DKB apologised to Zainab, her family and Africa for the incident. In a previous season, Hannington Kutesa from Uganda was disqualified for hitting South African contestant Lerato Sengadi after a drunken argument. *Source
East African
]]>