Angolan leader 'to transfer presidency to his cousin'
<![CDATA[
[caption id="attachment_8720" align="alignleft" width="300"]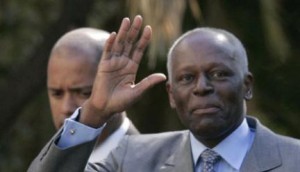 Is José Eduardo dos Santos preparing to to wish goodbye to the Angolan presidency? PHOTO | FILE[/caption] Angolan leader José Eduardo dos Santos is working to pass the presidency to his deputy president Manuel Domingos Vicente, who is his cousin, a Portuguese media station has reported.
Reportedly the President wants a peaceful transfer of power where stability is assured, reported Radio e Televisão Portuguesa (RTP) on Friday, quoting a former Angolan Finance minister, Fernado Heitor.
"Things are working in an intrepid and serene way and you do not realise it. President dos Santos will pass the presidency to Manuel Vicente," RTP quoted Mr Heitor as saying.
The former minister was giving a lecture to Portuguese businesspeople on the topic of Angolan investment.
He was dropped from government in a 2002 cabinet reshuffle and has since then joined the opposition Unita party. The opposition connection may very well cloud his views on the Dos Santos' government and the succession.
"The military structure is established in such a way that there are unlikely possibilities for a coup d'état since all generals are rich and have no problems.
"All generals in Angola have diamond mines", he asserted.
He advised Portuguese businessmen to invest out of Luanda's overheated market.
"In the last few years the Angolan market outside Luanda has been growing rapidly and you are advised to invest in it," he advised his audience.
Mr Vicente was appointment vice-president after the 2012 elections. Previously he was the chief executive of Sonangol, Angola's state oil company. This is the top post in the country's most important economic sector.
President dos Santos is the second longest-serving leader in Africa. He has ruled Angola since 1979 and has since then secured successive terms in elections in 1992, 2008 and 2012.
The next general election is expected to take place in 2017.
Last year, in a televised interview with Portugal's SIC channel, the 71-year-old leader said he was looking for someone to succeed him.
According to Forbes magazine, the Dos Santos family controls a huge chunk of post-war Angola's economy.
His eldest daughter, Isabel, is reputed to be the richest woman in Africa. In 2013, Forbes estimated her net worth to be in the region of $3.5 billion.
Angolan officials never like to talk on the record on the succession issue. *Source
African Review
]]>