ZUMA EXPOSES ANC GOVERNMENT
<![CDATA[President Jacob Zuma delivered his state of Nation address to which exposed a number Anc doings remained hidden for a long time.  Questions have been asked as to why media has not exposed some of these acts. Here are some of revelations Zuma made during his address which shocked many: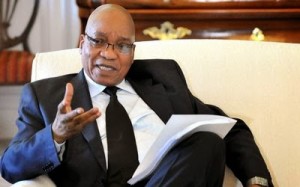 1. The Anc government established the National Planning Commission which produced the landmark National Development Plan, the country's socio-economic blueprint and one of the major achievements of this fourth administration.2. On average, the economy has grown at 3,2 percent a year from 1994 to 2012 despite the global recession which claimed a million jobs. The national wealth, measured in terms of GDP, has grown to more than 3.5 trillion rand.3. There are now 15 million people with jobs in the country, the highest ever in our history, and over 650 thousand jobs were created last year, according to Stats SA. 4. Our social grants assistance programme which now reaches about 16 million people, provides a safety for millions, especially vulnerable children. 5. We have now streamlined regulatory and licensing approvals for environmental impact assessments, water licenses and mining licenses. Parliament is finalizing amendments to the law to give effect to this very positive development, which will cut to under 300 days, the time it takes to start a mine, from application to final approvals. 6. The tourism industry has grown dramatically. In 1993, South Africa received a mere 3 million foreign visitors. By 2012, the figure had grown to 13 million visitors. 7. We have built a 700 kilometre fuel pipeline from Durban to Gauteng to transport 4 billion cubic litres of petrol, diesel and jet fuel a year. 8. To realise the economic potential of the Western Cape and the West Coast, we launched the Saldanha Industrial Development Zone and opened two new factories in Atlantis. 9. To improve the water supply, two large new dams were completed, De Hoop in Limpopo and Spring Grove in KwaZulu-Natal, while phase 2 of the Lesotho Highlands Water Project is to be launched soon. 10. Construction is continuing at the new power stations, Medupi in Limpopo, Kusile in Mpumalanga and Ingula near Ladysmith, employing more than 30 000 workers. 11. We developed  Integrated Resource Plan for Energy which has led to development of petroleum, especially shale gas for the Karoo region and the South African economy. We expect to conclude the procurement of nine thousand six hundred megawatts of nuclear energy. Biofuels manufacturers have been selected and have started work. 12. A 37 000 kilometres of fibre-optic cable has been laid by the private and public sectors in the past five years. This will be significantly expanded in the years ahead. 13. The Automotive Investment Scheme that was launched in 2009 has approved a total 3.8 billion rand worth of incentives for about 160 investment projects. These sustain more than 50 thousand jobs. 14. In the past two years alone, more than 20 000 minibus taxis and 330 buses were assembled locally, drawing investment and development to our cities. 15. The number of children attending Grade R has more than doubled, moving from about 300 thousand to more than 700 thousand between 2003 and 2011. 16. Eight million children attend school for free and 9 million receive meals daily while at school to receive their education.
17. Student enrolments at universities increased by 12% while further Education and Training college enrolments have increased by 90%. We have increased the budgets of the National Student Financial Aid Scheme to R9 billion to meet the rising demand.18. Another major achievement of this term has been the establishment of two brand new universities, Sol Plaatje in the Northern Cape and the University of Mpumalanga.19. Ten new hospitals have been built in Ladybrand, Germiston, Mamelodi, Natalspruit, eThekwini, Zola, Bojanala, Vryburg District, Swartruggens, Khayelitsha and Mitchell's Plain. 20. Some of the successes of the National Anti-Corruption Hotline include the following: • 1 542 officials were dismissed from the Public Service. • 140 officials were fined their three month salary. • 20 officials were demoted • 355 officials were given final written warnings. • 204 officials were prosecuted. 21. The Framework has been designed as the first five year building block of the National Development Plan, from 2014 to 2019. Many people heard about these successes for the first time. Social media comments indicated clearly that Anc government critics could not produce evidence to dismiss these visible achievements.
]]>