World Cup: 25 stunning moments … No1: Cameroon stun Argentina in 1990
François Omam-Biyik's goal and an unheralded team of journeymen defeated Diego Maradona's world champions in Italy
Of the greatWorld Cupupsets –the USA's victory over England in 1950,North Korea's over Italy in 1966andAlgeria's over West Germany in 1982probably push it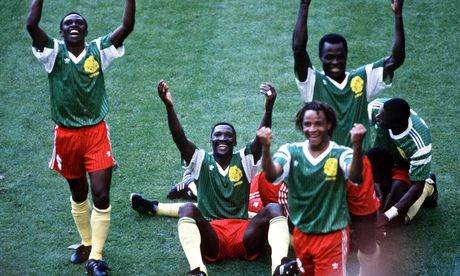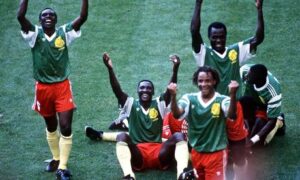 close – this one stands alone in myth and memory. It was not a perfect match but it was an irresistible narrative, as the World Cup champions, led by the greatDiego Maradona, were vanquished by an unheralded team largely assembled of journeymen players from the French lower divisions – though for some of them even that was either an impossible dream or a distant memory.
In the space of 90 minutes African football, once derided for being all about juju magic and Zairian defenders with a limited grasp of free-kick regulations, became credible. The result was celebrated not only inCameroon, where impromptu street parties erupted across the nation and a reporter from the Telegraph wrote, intriguingly, that "a lady in a floral dress and turban did a hand-stand", but across Africa and beyond. When they were finally knocked out a woman in Bangladesh committed suicide, writing that "the elimination of Cameroon means the end of my life".
"No one thought we could do anything here against Maradona, but we knew what we could do," the goalscorer, François Omam-Biyik, said after the game. "We hate it when European reporters ask us if we eat monkeys and have a witch doctor. We are real football players and we proved this tonight."
The match is best remembered for the moment, two minutes from the end, when Claudio Caniggia,Argentina's flaxen-haired substitute striker, went on a run down the right. Italia 90 was something of a festival of simulation during which neither Caniggia nor any other Argentinian was to become known for their refusal to go to ground under any kind of challenge, but with his side trailing and time running out he stayed up when an imprecise tackle came flying in, kept going despite a second attempt to bring him down, and was promptly taken out in the most emphatic style by Benjamin Massing, an assault that sent the tackler's right boot, and possibly a few body parts, flying across the pitch, and earned Cameroon their second red card of the day. As Pete Davies put it in his peerless book about the 1990 World Cup, All Played Out, it was "a kind of full-pelt, waist-high, horizontal flying bodycheck. The general intention seemed to be not so much to break Caniggia's legs, as actually to separate them from the rest of his body."
The opening match set the tone for a tournament that was to feature precisely twice as many red cards as the 1986 World Cup in Mexico, which itself had seen more than any previous finals. "Cameroon neutralised Maradona mainly by kicking him," wrote Matthew Engel in The Guardian. "He spent much of the game horizontal despite wearing calf pads as well as shin pads. His 10 team-mates seemed too stunned to make any trouble but they were kicked as well, if they got in the way."
Though the first red card, shown to the goalscorer's brother André Kana-Biyik for a foul on Caniggia, was harsh the French referee, Michel Vautrot, had little choice but to follow Fifa's newly handed-down guidelines for ultra-strict arbitration. Brian Glanville, in his Story of the World Cup, insists that "a bruising game was made worse by [his] draconian refereeing" but in the following day's Express, James Lawton proclaimed his victory over "a rising tide of wild and often cynical tackling" as "perhaps the greatest triumph" of the night. Sepp Blatter, then Fifa's general secretary, boasted before the tournament began that, as a result of their fair play initiative, "players will behave in a decorous manner in all phases of the match". The players, it turned out, hadn't really been listening. "I'm unhappy the referee was forced to intervene as he did, but I'm pleased that he did," Blatter said after the match, having criticised the behaviour of players who "want to destroy the game of soccer instead of letting creativity and genius flow".
But though a recording of this match will never be of much use to anyone learning the art of clean tackling, there was significantly more to Cameroon than studs and muscle. "I don't think they had any intentions of beating us up to win the game," said Maradona. "I cannot argue, and I cannot make excuses. If Cameroon won, it was because they were the best side."
"This was no fluke, the better team won," wrote David Lacey in The Guardian. "They won, moreover, after finishing with nine men on the field … Such was their superiority that the Africans still finished looking as if they had more men on the pitch than their hapless opponents."
Napoli, with Maradona their inspiration, had just won the Serie A title from Milan by two points, and the local fans delighted in his downfall, so much so that the Argentinian, who had been suffering from an ingrown nail and played with the aid of a protective carbon fibre "bionic toe", claimed he had "cured the Italians of racism". "The whole stadium was shouting for Cameroon," he observed. "Wasn't that nice?"
They say in Douala that "l'impossible n'est pas camerounais", and never has the saying seemed more true than for those three weeks in 1990. For the Cameroon team that redefined the way the football of their continent was perceived arrived as if intent only on reinforcing stereotypes. Their preparations were shambolic, their squad divided, their players unappreciated, but for all that it took the unequalled penalty-earning skills of England's Gary Lineker to beat them in the quarter-finals, when England came from behind to win 3-2 just as it was starting to look like Cameroon would be swept irresistibly to a showpiece reunion with Argentina on a wave of supple-hipped, corner-flag-bothering hysteria.
To say they were underestimated before kick-off would be to wrongly suggest that they were estimated at all. "The Soviet Union is a tough opponent, but I'm generally pleased," the Argentina manager, Carlos Bilardo, said after the draw the previous December. "Our group is not the easiest but we should have no problems in qualifying for the second round." Cameroon were widely quoted at 500-1 to win the tournament, among the rankest of outsiders.
A couple of years earlier Paul Biya, the country's president, had asked the Russian FA to send over a few coaches who wouldn't mind helping out for a while. The first to arrive was Valeri Nepomniachi, an unexceptional ex-player whose only experience of first-team management had been a single season at the helm of an obscure Turkmenistani club in Russia's third division. Biya appointed him national team manager, even though he spoke no French and almost no English. At the World Cup his team-talks were translated by the man normally employed as a driver at the Cameroon embassy in Moscow, and by various accounts freely disregarded by the players. Nepomniachi only just made it to Italy, having come close to the sack after the country's hapless displays at that year's African Cup of Nations, where as reigning champions they lost to Zambia and Senegal and were eliminated in the group stage.
After that failure, and just a few weeks before the World Cup, Biya made another intervention. He calledRoger Milla, a 38-year-old who had retired from international football three years previously and moved to Réunion, a tiny French-controlled speck in the Indian Ocean, where he played for a team called Saint-Pierroise. Biya demanded the striker's return; Milla announced that he was "always ready to be called to my country's colours" and back he came.
Cameroon's pre-tournament training camps in Bordeaux and Yugoslavia not only featured frequent defeats to obscure club sides in warm-up matches, but also intense bickering, both about Milla's arrival and the delayed payments of bonuses due to the players. The goalkeeper Joseph-Antoine Bell became the voice of the players' demands for cash. Perhaps, having just come second in the voting for France's footballer of the year, he felt his position in the team was secure enough to survive a little controversy. But then, on the eve of the tournament, he criticised his team-mates in a newspaper interview, saying they had "no chance of coping with Argentina, or any other team" and that they "will go out in the first round without much glory". Even though his place had, he insisted, been absolutely guaranteed by Nepomniachi, he was dropped. "I used to believe that he selected the team," he said. "I don't any more."
Bell seems to be an unusually divisive figure. In 2011 he published a memoir,Vu de ma Cage, with a controversial section on the 1990 World Cup that was dismissed by the defender Stephen Tataw as "500% lie". "I don't do reflections, I write about facts. The book tells what I have done, it tells the facts of my life," insisted Bell. "Every time he spoke his tongue dripped with the poison of selfishness," countered Tataw. Bell returned to the team for the 1994 World Cup; when Cameroon were eliminated in the group stage fans back in Douala burned down his house.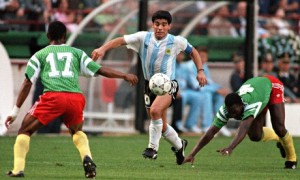 Until just a few hours before kick-off in Milan Thomas N'Kono had considered himself unlikely to even be in the matchday squad – Bell didn't like him, and wanted the relatively inexperienced Jacques Songo'o on the bench instead. Suddenly he was first choice, a decision taken so late, and so unexpectedly, that his wife missed his moment of glory having decided to go shopping instead. "I thought it was a very bad team and we were going to lose," N'Kono told Jonathan Wilson in the latter's book on goalkeeping,The Outsider. "Suddenly the coach said I was going to play. Five hours before the game. I said no way. I had no confidence in the coach. The federation, the minister of sport, seven or eight people were telling me I had to play and I was saying I didn't feel ready. They said if I wasn't going to play they would play Songo'o, and if he didn't want to play they would put an outfielder in goal. I went to talk with the president of Cameroon, and eventually I agreed to play."
The replacement's performances at the World Cup proved so good that a promising 12-year-old midfielder from Tuscany decided that he'd prefer to be a goalkeeper all things considered, and bought his first pair of gloves. "It was N'Kono and his spectacular saves that made me fall in love with the position. He became my hero," the kid said, many years later. As an adult, he named his son Thomas in the Cameroonian's honour. The young Italian's name was Gianluigi Buffon.
Argentina shared a few of their opponents' problems, including controversial team selection – Jorge Burruchaga was surprisingly chosen ahead of Caniggia – and goalkeeping issues. Still, their evening did not start so badly. "Everything was under control until Cameroon went down to 10 men and we got disorganised," said the Argentina manager, Carlos Bilardo. Six minutes later Cameroon scooped a free-kick into the penalty area, Cyrille Makanaky flicked it on and Omam-Biyik rose unfeasibly high, while his nominal marker Nestor Sensini hesitated. His header flew low towards goal, though neither very hard nor very far from the goalkeeper, but Nery Pumpido, a World Cup winner in 1986, inexplicably shovelled it into the net. Eleven minutes into their second match Pumpido broke his leg, and he would never play for his country again. Like N'Kono his replacement, Sergio Goycochea, went on to have a fabulous tournament, excelling in the penalty shoot-outs that took Argentina through the quarter- and semi-finals even if he was beaten by the one penalty that really mattered, Andreas Brehme's in the final.
Bilardo called this defeat "the worst moment of my sporting career", and after it Carlos Menem, the Argentinian president, and his predecessor Raúl Alfonsín both phoned him to recommend certain tactical tweaks. "Everyone called me to tell me what to do," Bilardo said. "I heard from the president, two former presidents and the opposition leader." The politicians clearly had some decent ideas, as Argentina made five changes for their next match, and improved sufficiently to reach the final. "I have never seen anything like it before in my life," said Bilardo. "I have never seen anything unify the nation like that. Not politics or music or anything. Everyone was watching and hoping for the team. And when we came home, they were happy for us. We were proud to have reached the final."
Milla played only the final nine minutes of this game, but settled into his role as Cameroon's supersub and scored twice against Romania in their second game and twice again against Colombia in the second round, becoming one of the sensations of the tournament. He returned in 1994, where he broke his own record as the World Cup's oldest goalscorer by grabbing his side's consolation ina 6-1 thrashing by Russiaat the age of 42 years and 39 days. "I'll tell you something," he told France Football after Cameroonwere finally knocked out in 1990, "if we had beaten England, Africa would have exploded. Ex-plo-ded. There would have been deaths. The Good Lord knows what he does. Me, I thank him for stopping us in the quarter-finals."
Having played for Laval in the French second division, Omam-Biyik's performances earned him offers from some of the biggest clubs in Europe, but he refused to break an agreement to join Rennes. Shortly after the tournament he was asked in an interview with the Guardian whether his match-winning goal against Argentina had been the best moment of his career. "It was one of them," he replied. "The best 'moment', if I can stretch the definition of the word, was the whole of that wonderful time we spent in Italy – the experience we gained, the atmosphere, and the money."
The team returned to a rapturous welcome, with the government announcing a national holiday to enable everyone to celebrate. "When we arrived at Douala airport, the aeroplane had to pull up and come around again," said Omam-Biyik, "because the runway was totally flooded with people." The players' victory parade lasted two full days, and ended with President Biya conveying honours not only upon the players, but their coaches, the support staff, and even journalists.
Twelve years later the holders were again beaten 1-0 by unheralded Africans in the opening game of the World Cup finals, France falling to Pape Bouba Diop's goal. But while 11 of Cameroon's 22-man squad in 1990 played for domestic clubs and not one outfield player was based at a European top-flight team, by 2002 all but two of Senegal's 23 was based in Europe and 16 of them played in the French top-flight. "No team could ever again do what we did in 1990," said Milla. "The element of surprise is not there. Everybody knows everything about all the teams now."
The fanfare for Diego Maradona was drowned by the drums of Black Africa in Milan last night as Cameroon defeated Argentina, the World Cup holders, to open the 1990 tournament by destroying a whole package of preconceptions.
This was no fluke, the better team won. They won, moreover, after finishing with nine men on the field, the result of Michel Vautrot's determination to obey Fifa's guidelines in dealing with persistent and cynical fouls. The French referee sent off two Cameroon players but such was their superiority that the Africans still finished looking as if they had more men on the pitch than their hapless opponents.
This result, the biggest shock in a World Cup since Algeria's 2-1 defeat of West Germany in the opening phase in Spain in 1982, has immediately thrown the new tournament off its predicted course.
Argentina's chances of winning Group B already look slim. On last night's evidence one would not give much for their hopes of defeating either the Soviet Union or Romania. Maradona began brightly but when he faded the whole team fell away, losing rhythm and confidence and looking just another poor side.
England, if they finish runners-up in Group F, will meet the second-placed team in Group B in Genoa in the second phase. Now Bobby Robson might prefer it not to be Cameroon. Better even Maradona than the inspirational Francois Omam-Biyik, who scored the winning goal five minutes after Kana-Biyik had been sent off and departed blowing a farewell kiss to an adoring crowd.
The Third World has long since threatened to arrive on the wider footballing stage in style but nobody seriously expected Cameroon to make the entrance they did on a balmy Milanese evening after half an hour of noisy pomp and ceremony had made it a natural setting for Maradona.
Long after the finish, in a stadium empty except for reporters, the PA system suddenly burst forth into the theme music from Ben Hur. Certainly this was one race which had seen several collisions and the finish that the majority wanted. The Milan supporters, remembering the way Napoli had pipped their team for the Italian championship, made sure that Maradona did not feel at home by whistling and jeering every time he touched the ball.
Cameroon, and in particular the tall muscular figure of Benjamin Massing, one of four French League players in the side, fouled Argentina's new ambassador for sport at almost every opportunity. Maradona must have felt he was encountering a distant relative of Claudio Gentile.
Massing became the second Cameroon player to be dismissed when Vautrot showed him the red card two minutes from the end after he had taken out Caniggia, sent on by Argentina's manager Carlos Bilardo in the second half to give his struggling team an extra attacker, thigh-high. Massing had been the first of three Cameroon players to be cautioned, so he had to go.
And so did Kana-Biyik, without the preliminary of a caution, for coolly tripping Caniggia just past the hour. To him fell the distinction of being the first player to receive a red card in the opening game of a World Cup since referees started carrying red cards.
Fifa had been specific in its instructions on how to deal with this sort of offence and Vautrot set the sort of disciplinary standards the World Cup needs to heed, otherwise there will be anarchy.
While there was a natural inclination to rejoice with Cameroon, ugly images of their tackling lingered in the mind's eye. But when all is said and done it was a joyous occasion which did not lack a sense of irony. Four years ago, when Maradona sent Burruchaga clear to score the winning goal in the last World Cup final, their green-shirted opponents West Germany collapsed in the centre circle in despair. When the game ended last night the green shirts, what was left of them, dissolved into a celebrating heap, leaving Argentina to wonder if the new roof of the San Siro had not fallen in on them.
Cameroon never looked like a side which had been sent into the opening match to play stooge to Maradona. Their man-to-man marking system was tighter, they were first to the ball in all parts of the field, they created space with greater ease and opened up ever widening gaps near goal as the holders' defence became threadbare.
From the start Omam-Biyik's willingness to run at a retreating defence looked like causing Argentina problems. Not only that, Cameroon had more skiil on the ball than their supposedly superior opponents.
There was little hint of a shock at the start, which was an anticlimax after all the hype. A couple of touches from Maradona might have given Argentina two goals had not N'Kono, keeping goal instead of the more experienced Bell, somehow blocked the danger.
A goal then might have settled the holders. As it was, they became unsettled by Cameroon's close marking and hard tackling and never got their act together thereafter.
Midway through the first half Burruchaga was just able to flick the ball away from an empty Argentina net after Omam-Biyik had caught them square with an early through ball. Seven minutes before half-time the same player produced a sudden shot from a narrow angle that nearly went in under Pumpido's body.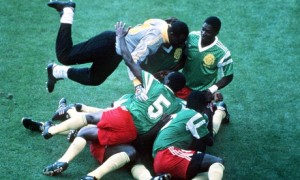 When Cameroon scored Pumpido was badly at fault. Ironically the goal followed a gratuitous Argentinian foul by Lorenzo, who conceded a free-kick on the right.
Cameroon players pile on top of each other as they celebrate the only goal. Photograph: Bob Thomas/Bob Thomas/Getty Images
As the ball came across, Lorenzo rose with Makanaky and it spun off the defender high to Omam-Biyik, whose header was well aimed but should not have carried the power to beat a goalkeeper of international class. However Pumpido appeared confused by its direction, reacted like a dosing slip fielder and allowed the ball to squeeze under his right hand and over the line.
Argentina could not believe it, the crowd could not believe it, the world television audience probably did not believe it and even now it seems like something out of a fantasy. It is one thing to beat Argentina with a full side but to finish on the attack with nine men is rather rubbing it in.
*Source The Guardian. Watch full game here