The Top 10 Most Liveable Cities in Africa
<![CDATA[
1. CAPE TOWN, SOUTH AFRICA
[caption id="attachment_8407" align="alignleft" width="300"]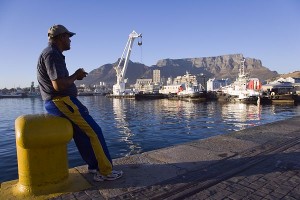 Cape Town[/caption] Cape Town is one of the most beautiful cities in the world, let alone Africa, having already won a number of prestigious international travel awards. It's where most people in 
South Africa
 wish they lived. It possesses all of the amenities and sophistication of a urban area, yet the pace is decidedly relaxed, with the city being nestled between the ocean and the mountains, creating an ideal mix of work and play. A short drive away and you can find yourself in one of the hundreds of vineyards that produce some of the world's top wines. While summers (October–April) are lovely, winters can be dreary with much fog, rain, and wind. That's why some would prefer to call Cape Town the "Windy City"—it's in fact known at the "Mother City" and is the caretaker of the insurance and now burgeoning digital sector. It's also where you'll find the advertising execs and creatives, with many retailers and fashion designers headquartered there. Housing options vary, from Tuscan-styled homes (a trend seen across the country), funky "SoHo"-style downtown lofts, and gated urban estates. While crime rates remain high, security is generally considered to be less of a concern than in Johannesburg, and is evidenced through the conspicuous absence of the ubiquitous high walls and electric fences on each and every home as seen in some parts of Johannesburg and Pretoria. Like many 2010 World Cup host cities, Cape Town's public transport infrastructure was given a boost, primarily through the MyCiTi rapid bus service. Routes are still limited though, so unless you're willing to commute via railway or chance the minivan taxis, it still is the kind of city where it's best to have your own car to get around.
2. ACCRA, GHANA
In addition to being a wonderful urban home for roughly 20 percent of Ghana's 20 million total population, Accra has become the leisure destination of choice for upscale Nigerians who take a quick 45-minute flight to spend time at their Accra weekend homes. Ghana's capital city is a sophisticated urban area, with a full range of restaurants, bars, nightclubs, and increasingly, shopping malls. There are many [caption id="attachment_8408" align="alignright" width="300"]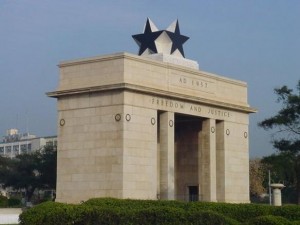 Accra,Ghana[/caption] affluent areas, including East Legon—the location of the city's only traditional shopping complex, Accra Mall. Another popular option is Osu, locally referred to as "Oxford Street", where many go to shop and hang out. The downtown area has seen much development over the last decade and the range of serviced high rise apartments makes it an easy location to set up home quickly. The warmth of the Ghanaian people is an asset and is an important part of what attracts Nigerians to want to spend their leisure time here. The tropical climate makes it all the more appealing. Things are changing for the better, and fast. Many citizens who left to the West are returning home, bringing with them enthusiasm, fresh ideas, and degrees from top universities abroad. Coupled with the government's commitment to investing proceeds into social and physical infrastructure, one can only imagine that Accra will become even more liveable in the years to come.
3. NAIROBI, KENYA
Nairobi is fast becoming the African city of choice for multinational companies seeking a foothold for their African operations. Nairobi is a gracious city that possesses much of the sophistication of the large South African cities, but provides these offerings in a "kinder and gentler" way. General Electric and the Rockefeller Foundation recently chose Nairobi to anchor the African operations, so too the likes of China's CCTV news broadcaster. While there is some tension surrounding the upcoming elections, the government is generally considered stable.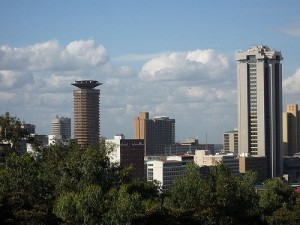 Housing options include many comfortable suburban style homes at affordable prices relative to other African cities, often with a reasonable amount of land. Apartment compounds have also sprung up in recent years, many with the comforts of swimming pools and fitness centres. The technology industry offers much promise, and internet connectivity is considered tone he best on the continent today. Getting around remains tricky. Best to buy your own vehicle though with import taxes, it's fairly expensive. Other options that offer quite an experience include the mini-bus matatu to boda-boda motorcycle taxi—both mainly used by locals.
4. JOHANNESBURG, SOUTH AFRICA
From the moment you step off the plane at OR Tambo International Airport (ORTIA), it becomes clear why Johannesburg is considered a world-class city. ORTIA rivals some of the best airports in developed worlds. It's sleek, modern, expansive and offers a wealth of stores and restaurants, much like many parts of South Africa's and Africa's economic capital. Since the late 1800s, thousands migrated to the city seeking employment at one of the many gold mines. The quarries have since dried up but an influx of people continues today. They come from other parts of the country and from across the continent, to work and to make money. Johannesburg is also an attractive base for many African companies as it provides easier access to international opportunities. [caption id="attachment_8410" align="alignright" width="300"]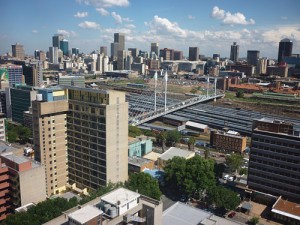 Johannesburg .South Africa[/caption] In recent years there has been efforts to revive the neglected inner city. Money has been invested by local government to clean the streets, and renovate the derelict buildings. It's paid off, with the private sector now playing a role, too. The area is home to the plush headquarters of AngloGold Ashanti and others. New apartment blocks are being filled up and plans are being made for a new mall. Malls though, are not hard to find. Apart from the larger Sandton City and Eastgate mall, virtually every suburb has one or two of their own. Though a concrete jungle in some parts, many are surprised by how lush and green the city actually is. In fact, Johannesburg holds the title of the largest man-made forest in the world!
5. GABORONE, BOTSWANA
Though young—having only gained independence from Britain in the 1960s—Gaborone has flourished. Politically stable and economically buoyant, Botswana's capital is considered to be a peaceful city. It's likely partly due to it being small in size, with a population of just over 230,000, but still offers a diverse mix of people, and places to see. Gabs, as it is popularly known, is located in a country known for being one of the world's largest producers of rough diamonds. The precious stone continues to play a major role in the city's development. Just recently, leading diamond producer de Beers announced it would be moving some of its operations to the sub-Saharan country from London. Apart from diamonds, the economy is also driven by its beef exports, the majority of which is sold in Europe as well as the growing tourism industry. The development of modern sports facilities saw the city successfully hosting the Africa Junior Athletics Championships in 2011, and has made it a popular contender to host the 2014 African Youth Games. Gaborone is also well connected to South Africa's capital, Pretoria. It's strategic location means that you'll find South African stores in Gaborone's many large malls. It shares many similarities with its neighbour, though is considered to be somewhat safer.
6. LIBREVILLE, GABON
Modern and vibrant, the country's largest city is home to just over half a million people. They're young (nationally, half are 19 and younger) and urbanized. School enrollment rate in 
Gabon
 is over 70 percent and literacy is close to 90 percent. In Libreville, it's over 63 percent, which translates into a most capable service staff in restaurants, hotels, and shops. The French influence extends beyond being the official language, providing for a very stylish city that boasts a grand boulevard with beautiful architecture and monuments. This city on the beach makes the transition from work to play very easy. [caption id="attachment_8411" align="alignleft" width="300"]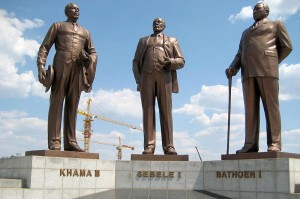 View of Gaborone,Botswana[/caption] Libreville's newly built Stade d'Angondjé stadium recently host the final match of the 2012 African Cup of Nations. Preparation for the sporting event saw increased government investment in improving roads and other public spaces. More property development projects are also popping up across the city to keep up with rapid urbanization. Oil has been the main driver of economic growth here, but with reserves declining, there's increased efforts to investment in other mining production projects. Away from the mines, you're spoilt with vast natural landscapes. The country's government made a commitment a decade ago to set aside more than 10 percent of total land for national parks and nature reserves. Close to Libreville, there's the Akanda National Park, one the more than a dozen across the country thats helped it become a popular eco-tourist destination.
7. TUNIS, TUNISIA
A lot has changed here since the Arab Spring unrest started nearly two years ago. While unemployment remains a concern and the new government still works toward stabilizing the economy, the smallest country in North Africa is becoming one of the fastest developing. The first half of this year, saw a GDP growth rate of 3.5 percent, with a steady increase in the manufacturing sector. French territory for over seven decades, there's a rich diversity in the culture here—African, Arab and European. Along modern infrastructure, the old world remains through the Medina of Tunis, one of the first Arabo-Muslim towns, and now also a UNESCO World Heritage Site. People live long—there's a life expectancy of 74.6 years. It might have something to do with the picturesque setting of the Mediterranean Sea as a backdrop. People here are happy too, says the Happy Planet Index (HPI). Measuring sustainable well-being, Tunisia was named the second happiest place in Africa (after Algeria). Once on the wealthiest cities in the Muslim world, Tunisia's capital is now also considered to be the least expensive city (for expats) in the region. Getting around is fairly easy with the extensive rail network that links the capital to other parts of the country.
8. DAR ES SALAAM, TANZANIA
Dar es Salaam is a rapidly growing city, from the new infrastructural projects to its people, literally. With an annual population increase of over three percent each year, it's the third fastest growing city in Africa—and one of the fastest in the world! It also has a large expatriate community. [caption id="attachment_8414" align="alignright" width="300"]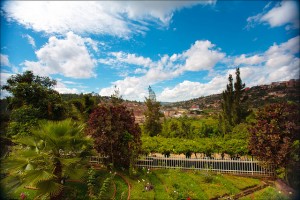 Kigali ,Rwanda[/caption] Though no longer the country's capital, Dar es Salaam is the largest city in
 Tanzania
 and remains the political and economic hub. There has been great investment in education here, with an extensive programme to provide free primary schooling, efforts that were lauded by international bodies when enrolment rates reached over 90 percent. The city is also home to the largest and oldest public university in Tanzania, the University of Dar es Salaam, which recently celebrated its 50-year anniversary and has seen a sharp increase in the number of registered students. There's also the Institute of Technology (DIT), one of the leading institutions providing technical training in the region. There's also plans to revamp the neglected railway transport network. Millions has also been spent over the past five years to improve the cities roads, making travelling a lot more efficient. Situated close to the equator, the city enjoys tropical conditions for most of the year. Though Dar es Salaam has its own magnificent beaches (including many exclusive resorts), the island of Zanzibar is also just a short ferry ride away.
9. WINDHOEK, NAMIBIA
From the language to the distinct architecture, the German influence on Windhoek is evident—a lasting reminder of Namibia's early colonial history. Don't expect big city living; the most recent count puts total population just over 320,000. The small but active city is home to just about every national government institution, making it the country's political, cultural, social, and economic capital. [caption id="attachment_8412" align="alignright" width="300"]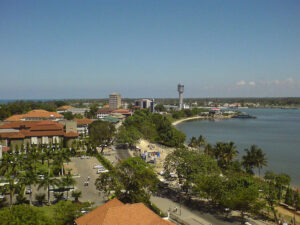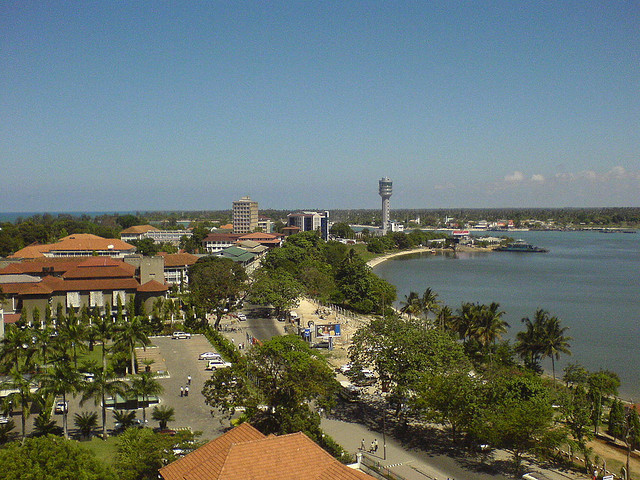 DAR ES SALAAM,Tanzania[/caption] If Namibia is best known for the Namib Desert, the oldest in the world, then Windhoek is best known for its beer. Windhoek Lager is one of the fastest-growing premium beers in the region and is sold abroad in over 20 countries. The old brewery still stands tall in the city's central business district and now hosts many cool restaurant, bars and shots. When visiting there and other parts of the city, expect to meet a diverse range of people with a multitude of background, from the indigenous San, Hereo, and Kavango groups to expat Europeans. The city is attractive for many reasons: it's clean, relatively safe and getting around the city is easy. Both taxis and buses provide efficient transport and it helps that the roads are well-maintained.
10. KIGALI, RWANDA
From the expansion of its Central Business District to the recent road construction project to help ease traffic congestion, Rwanda's capital is slowly becoming one of the most rapidly developing cities on the continent. Centrally located in the heart of Rwanda, Kigali is home to close to one million people, and there's also a large community of expats here who get to enjoy the diversity the city has to offer. As with most African countries, there's two scenes on offer. While the majority of the population still live in rural areas, new modern structures continue to be built in the Central Business District. One of the latest developments is the Kigali Tower, a 20-floor office and retail complex that is the city's tallest building. Living in Rwanda's capital is not cheap, as the cost of imported goods are high. The biggest asset here remains the diverse wildlife, most popularly the rare mountain gorillas. Tourism remains an important source of revenue as the country's largest foreign exchange earner: in the first quarter of this year alone, there was a more than 20 percent in visitors compared to last year. The increase is likely to see further investment in the hotel, service, and tourism industries. *Source
Africa.com
Blog
]]>