Tanzania becoming the new Chinese province in Africa
<![CDATA[
Daniel Mbega*
Tanzania's strong relations with China go back to the era of Mwalimu Julius Nyerere and Mao Tse Tung. The Chinese 'Dragon' is now set to invest billions of dollars in the iron and coal mining sectors of the country that will last for more than a century.
Isaac Haule (65), a subsistence farmer at Nkomang'ombe village in Ludewa district, can't help to see the long standing Mchuchuma and Liganga projects which the public at large have been so eagerly waiting for take place saying they will usher in a new era in extractive industry in the country. A father of five and a local government retiree, Haule says though the people are confident of the projects, but it's likely Ludewa could be the new Chinese 'embassy' as China's Sichuan Hongda Company Limited is to invest US$ 3 billion in an iron ore and coal mining that will last for more than a century. AN EMBASSY AND ENORMOUS COAL AND IRON RESERVES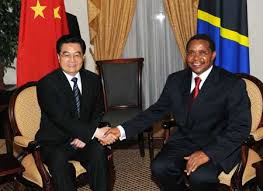 "Forget the official embassy at Kajificheni (Hid Up) in the posh Oysterbay area in Dar es Salaam, or the market place full of 'Made in China' brands everywhere in the country, but the new China's biggest 'embassy' will be here in Ludewa district where, according to government data, has massive coal and iron ore reserves that will last for more than 100 years," he says. However, he says implementing the twin projects will unlock the mineral potential in the country especially in extractive metallurgy, particularly the iron ore from Liganga which could lead to production of iron and steel and the ultimate growth of steel industry in Tanzania. "Compared to the West, on my opinion, the Chinese are the best investors, we are quite sure the projects will succeed as there will be no politicizing," he adds. His opinion is echoed by Pius Ngeze, a ruling Chama cha Mapinduzi (CCM) cadre and former legislator for Ngara constituency in Kagera region, who sees the Chinese investment at the twin projects as vital for the nation's economy regardless of the critics from the West. "Since independence China has been helping our country, this is not the first time, compared to the West who have for years now been helping Africa, the Chinese are trustable. I'm sure even these projects will be a success," he says. Ngeze says, as far as globalization is concerned, the West need not to fear the Dragon in pumping up money to invest in Africa as the continent needs development after being left behind for years. THE DRAGON'S SYSTEM "The fact is Western Europe countries have benefited much from Africa since the slavery and colonial eras, they exploited us, took our resources to feed up their mushrooming industries and couldn't give Africans enough knowledge to manage themselves. "Now China has come into the scene most of them are complaining fearing that they won't have enough room to continue exploiting us as the Dragon's system of training Africans in her universities could help us manage ourselves," he says. For the past 10 years, Chinese companies have increased tremendously in terms of contractual activities, especially in construction. Since 2000 China has financed many projects in Tanzania including the 60,000-seatter ultra modern stadium in Dar es Salaam that cost US$ 34.24 million with China donating US$ 19.1 million; Rehabilitation of Amani Stadium in Zanzibar; Construction of Dakawa Agricultural Technology Demonstration Center; Dodoma Urban Water Rehabilitation and Chalinze Water Supply Projects; Construction of Mwalimu Nyerere Modern Conference Centre; ICT Backbone Infrastructure Optic Fiber Project; and Defense Cooperation. ROAD CONSTRUCTIONS Chinese companies have emerged in many construction deals. According to information from the Tanzania National Roads Agency (TANROADS), in the past 10 years, 14 Chinese companies have entered 58 roads construction projects of 3,140.85km long worth US$ 1.75 billion. China Henan International Cooperation Group Co., Ltd. (CHICO) from Henan Province which was awarded a US$206 million contract by the Road Development Agency of Zambia to design and construct the 175km Mansa-Luwingu road, has alone entered 13 contracts with Tanzania with a total of 705.2km worth US$ 490.26 billion. These include the 34km Package 1 Singida-Iguguno (US$ 11.75 million); 42km Package 2 Singida-Iguguno (US$ 8.8 million); 33km Package 3 Sekenke-Shelui (US$ 12.51 million); 60km Mwandiga-Manyovu (US$ 32.54 million); 35.7km Kigoma-Kidahwe (US$ 19.56 million); 19.20km Bonga-Babati (US$ 11.95 million); 42km Tabora-Urambo (US$ 31.17 million); 59.1km Kyaka-Bugene (US$ 51.6 million); 84.6km Dareda-Minjingu (US$ 51.6 million); 76.6km Kidahwe-Uvinza-Ilunde (US$ 47.5 million); 132km Isaka-Ushirombo (US$ 88.223 million); 1.5km Widening fo Kilwa Road Phase III (US$ 3.4 million); 85.5km Nyanguse-Musoma (US$ 3.3 million); and the 154km long Kagoma-Lusahunga joint venture contract with CRSG worth US$ 116.2 million. However, China Sichuan International Cooperation Co., Ltd (SIETCO) has a total of 283.9km long worth US$ 123.03 million, namely the 63km Isuna-Singida (US$ 18.5 million); 32km Tarakea-Rongai-Kamwanga (US$ 8.8 million); 95.1km Iringa-Migori (US$ 51.123 million); and 93.8km Migori-Fufu Escarpment (US$ 44.7 million), while CICO is constructing the 95km long Nangurukuru-Mbwemkuru (US$ 23.82 million). China Geo-Engineering Corporation International Ltd (CGC INT'L) with offices in Niger, Burkina Faso, Mauritania, Senegal, Gabon, Congo (Brazzaville), Morocco, Tunisia, Sierra Leone, Laos and project departments in Ghana, Chad and Central Africa, has a total of 525.9km long road projects in Tanzania worth US$ 151.2 million. These roads include the 112km Shelui-Nzega (US$ 12.6 million); 120km Kyamorwa-Buzirayombo (US$ 29.822 million); 54km Manyoni-Isuna (US$ 18.4 million); 104.2km Arusha-Namanga (US$ 49.64 million); 125km Chalinze-Tanga Phase I (US$ 25.9 million) and the 10.7km Umoja 'Unity' Bridge (US$ 14.9 million) bordering Tanzania and Mozambique. CHINESE EXPANSION The Chinese state-owned hydropower engineering and construction company (SINOHYDRO) which has aggressively gone on the path of international expansion, becoming a "face of China expansion" across the world by pursuing operations in 55 countries across Asia, Africa, Europe (from the European headquarters of Belgrade, Serbia), North America and South America. In Tanzania it has won 12 road construction projects with 779.95km long worth US$ 434.36 million. These roads include the 40km Sengerema-Usagara (US$ 21.724 million); 100km Buzirayombo-Geita (US$ 25 million); 50km Geita-Sengerema (US$ 24.034 million); 43.65km Dodoma-Mayamaya (US$ 25 million); 89.3km Manyoni-Itigi-Chaya (US$ 66.56 million); 56.1km Nzega-Tabora Lot 2: Puge-Tabora (US$ 35.085 million); 54km Handeni-Mkata (US$ 34.81 million); 65km Korogwe-Handeni (US$ 38.4 million); 73.8km Katesh-Dareda (US$ 38.94 million); 65.1km Singida-Katesh (US$ 31.34 million); 65km Tanga-Horohoro (US$ 42.43 million); and 78km Peramiho Junction-Mbinga (US$ 48.444 million). In 2012 Sinohydro was selected by Nigerian government to construct the Zungeru hydropower station, project worth USD 1.013 billion and in the same year it was selected by a local government in Georgia to construct a ring road, project worth USD 129 million. According to TANROADS, while CHIKO had a contract to construct the 4km Sam Nujoma Road in Dar es Salaam (US 7.9 million), China Civil Engineering Construction Corporation (CCECC) won four contracts in Tanzania with 145.6km long worth US$ 95 million. These include the 48.6km long Magole-Turiani (US$ 25.43 million); 52km Tabora-Urambo (US$ 36.3 million); 45km Dumila-Rudewa (US$ 25.5 million) and Package 3 of Jangwani Depot for the Dar es Salaam Bus Rapid Transport (US$ 7.81 million). "China Communications Construction Company (CCCC) has five road construction contracts with 273.5km long worth US$ 178.333 million which include the 36km Mbeya-Lwanjilo road (US$ 33.622 million); 36km Lwanjilo-Chunya (US$ 24.5 million); 71.8km Mwigumbi-Maswa-Bariadi-Lamadi (US$ 40.91 million); 58.8km Nzega-Tabora (US$ 40.283 million) and the 70.9km Fufu Escarpment-Dodoma (US$ 39.05 million)," reveals data from the Roads Agency. Beijing Construction Engineering Group Co., Ltd. (BCEG) won the tender for the Dar es Salaam Bus Rapid Transit to construct the Ubungo Terminal, Feeder Station & Up-Country Bus Station worth US$ 8.91 million; Kivukoni Terminal & Feeder Station worth US$ 3.042 million; Kariakoo Terminal & Feeder Station worth US$ 3.854 million; and Feeder Station worth US$ 2.68 million, while China Henan constructed the Ruvu Bridge for US$ 2.69 million. Other Chinese companies with their projects into brackets are, Jiangxi Geo-Eng (75km Sumbawanga-Kanazi road worth US$ 47.9 million), China Hunan Construction Engineering Group Corporation – CHCEG (76.6km long Kanazi-Kizi-Kibaoni road worth US$ 50.3 million), China Railway 15th Bureau Group Corporation – CR15G (112km long Sumbawanga-Matai-Kasanga road worth US$ 80.912 million), and China Newera (64.2km Ikana–Laela road worth US$ 46.812 million). Japanese construction companies, which in the early 1980s and late 1990s were competing with European companies, this time around only three had won six contracts of 204.4km long worth US$ 106.09 million, while 12 European companies won 1,688.91km long contracts worth US$ 667.25 million. Enoch Ugulumu, head of Planning and Economic Department at the University of Iringa (formerly Tumaini University), says though China have been doing business in Africa for many years, now the country has turn to Foreign Direct Investment (FDI) to look for viable and sustainable investments like extractive industry. "Most Tanzanians use Chinese goods – from urban to rural areas – we have cellphones, clothes and motorbikes popularly known as 'Boda-Boda'. But these twin projects will surely mark the permanent Chinese existence in the country as we're told the mineral reserves are likely to last for more than 100 years," says Ugulumu who has been closely following up the investment. THE CHINESE ASK NO AKWARD QUESTIONS UNLIKE OTHERS However, Ugulumu has more confidence on the Chinese engagement in mining, saying implementing the projects will be reality as China does not interfere in the internal affairs of its partner countries or demand democratic or governance reforms. "Most African countries, for instance; Malawi, Zambia, Tanzania and South Africa fairly satisfy the Western democratic prescriptions, but look how the majority of their citizens who are crippled by poverty, inequality and unemployment. Let the Chinese come in," he emphasizes. Speaking on transparency on the FDI, Ugulumu says China is very transparent compared to the United States, giving examples on countries like Zimbabwe, Uganda, Libya, Chad, Gabon, Mozambique and Guinea where the two had investments and US failed to provide official data. Though China has invested billions of dollars in Africa in the extractive industry in the quest of securing resources it needs to fuel its booming economy, including the 239 square kilometers at the Mui Basin in Kenya that host more than 400-million tons of coal worth US$ 38.123 billion under China's Fenxi Mining Group, but the Mchuchuma and Liganga projects seem to be the biggest investment in East Africa for the 'Dragon'. The NDC and SHC signed a joint venture accord on September 21, 2011 and have jointly formed Tanzania China International Mineral Resources (TCIMR) that, among others, will see the construction of a thermal power plant at the Mchuchuma coal mine in Ludewa district to produce 600MW almost matching the 623MW that Tanzania's energy sector currently produces. Under the agreement TCIMR will build a coal mine, iron ore mine, coal-fired power plant and steel works at the Liganga iron ore and nearby Mchuchuma coal mines, some 800km south-west of Dar es Salaam. The project will construct a 220 kV transmission line from Mchuchuma to Liganga and 400 kV transmission line from Mchuchuma to Mufindi to connect with the national grid. SHC won a competitive tender that saw a total of 48 international companies on the twin projects, among them three were international Australia based, four from India, two from China, others from Singapore, United States of America, South Korea and Malaysia. Some of the companies were China Huadian Engineering Company Limited, Nava Bharat Pte Limited (Singapore), Sarda Energy and Minerals Limited (India), AES Corporation (US), STX Corporation (Korea), Rio Tinto (Australia), BHP Billiton (Australia), CANHAM Mining International (Australia), Indria Berhad (Malaysia), Tata Steel Corporation (India), Global Steel Holdings (India) and Ispat Industries (India). The Mchuchuma has identified over 536 million tons of coal reserves, while the Liganga area has estimated iron ore deposits between 200 and 1,200Mt, with 45Mt of iron ore already proven through drilling. It is estimated that three million tons of coal will be mined annually, lasting for over 100 years and 2.9 million iron ore deposits mined every year for not less than 90 years. To most Tanzanians, SHC seems to be the redeemer as they still complain of frequent power cuts and higher tariffs they are currently paying, making it difficult for most of them, whose daily income is averaged at less than one US dollar. "The (electricity) tariffs are very high, we can't afford. Let another source of power come, maybe the tariffs will be reduced," says Mathias Maliwa (42), a businessman based in Iringa Region. The mining contract has so far drawn concerns even to politicians, including the opposition, who for many years have been in contention with the government due to shadowy contracts that exploit the country's mineral resources, and now have confidence on the Chinese investment that they can't wait to see it take off. Madaha Juma Madaha, Ludewa District Commissioner, is optimistic that the projects now are coming to reality after many years of dilly-dallying and that power production could at least bail the people out from frequent blackouts while providing more than 8,000 employment opportunities. "This time around, under the Chinese, we can achieve something from our resources. But we want the locals to benefit first," he says. Ludewa MP, Deo Haule Filikunjombe (Chama Cha Mapinduzi), says the agreement between SHC and the Government could bear fruits, but cautioned the government to make sure that first beneficiaries of the twin projects be the Ludewa residents. "We don't want this to be another demonstration area like what is happening now in Mtwara," says Filikunjombe, referring to the current situation in Mtwara region where residents have held a number of demonstrations to resist the building of a gas pipeline to Dar es Salaam. "Compared to other mining contracts, at least here now the government has done something by securing 20 percent in the joint venture which could increase as production continues," he said, adding that Tanzanians were represented on all process through their representatives. It has already been agreed between SHC and NDC that coal and steel factories are going to be built in Ludewa so residents need to get rid themselves of fears. On September 2012 All Africa reported that Stanbic Bank Tanzania had secured syndicated financing worth US$ 2.914 billion for the projects in collaboration with ICBC bank whereby the two had signed an agreement with TCIMR to provide financing. EXPECTATIONS OF THE TWIN PROJECTS The coal-iron twin projects that are set to commence in 2015 are estimated to have a turnover of US$ 728.46 billion per year, an equivalent of 7.5 per cent of the current Gross Domestic Product (GDP). Outspoken Kigoma North legislator Zitto Zuberi Kabwe (Chadema) is among those politicians who support the twin project. Zitto, chairman of the Parliamentary Public Accounts Committee (PAC), who – in a deeply divided society and an utterly fractured politics – had in the past opposed mining contracts that led to his expulsion in the House on several occasions, says the Chinese-Tanzania partnership is optimistic on the project, saying the production of 600MW could liberate Tanzania from arbitrary and frequent power outages. "Once the thermal plant starts operation and production, it is evident that a total of 1500MW will be produced from the South Tanzania Electricity Complex as Mchuchuma coal mine is one of the three mega projects in the Southern Tanzania that are being carried out by NDC," says Zitto. He says the twin projects has set a new generation of mining regime in Tanzania as the government now has got rights rather than the current situation where mineral rights are offered to private companies that are allowed to explore, develop mines, produce, process and sell the minerals abroad. "Once a private company is offered a mineral right, then it belongs to it, it can be traded and even being used as security to financial institutions for raising capital. The government only waits for the company to pay royalty, taxes and other related fees. Government participation, as itself or through a state enterprise, is nil. This is the regime existing now," he says. Abel Ngapemba, NDC Corporate Affairs Manager, has said that the government will get about TShs. 51.8 billion as royalty, annually in the projects. "After exploration works that took about six months, preparations for construction of the power plant that is expected to generate about 600MW of electricity will take off before the end of the year 2013," said Ngapemba. However, Zitto suggested that NDC pay for 4% more by reinvesting its dividend (or the government reinvest its royalty to be paid) and 25% be IPO to the Dar es Salaam Stock Exchange (DSE) so that the public owns 25%, NDC 24% and the Chinese 51%, adding that Tanzania can even go for more by asking SHC to bring 5% of its stake at IPO. The price of one ton of coal, according to Ngapemba, is expected to be US$ 86.201 and total revenues from the sale of electricity projected at US$ 285.981 million per year and about US$ 971.28 million will be generated annually from the sale of steel, US$ 424.935 million from titanium and US$ 114.125 million from vanadium. CRITICS AGAINST CHINA As the eastern giant intensifies its quest for natural resources and a gateway to other African states, critics attribute the growing relationship to the 'Dragon's hunger' for raw materials to feed its booming economy as they see China in Africa as an "imperial power" practicing "virtual colonialism". In mid-2012 for example, China's ambassador to South Africa, Tian Xuejun, said China's investment in Africa of various kinds exceeds US$ 38,244 billion, among which US$ 14.023 billion is direct investment. "China is not a reliable partner… it will abandon Africa as soon as its needs are met. China is not a philanthropist but rather maneuvering to woo and buy the African good will," says Rev. William Mwamalanga, a resident of Mbeya City., but acknowledges China's role in the infrastructural and industrial development as well as the swift cancellation of African debts is undeniably commendable. Rev. Mwamalanga, an economist and human rights activist, mentioned of the 'scam and ruin' of what happened in Zimbabwe: "We heard what happened in Zimbabwe where, according to an article 'Disappearing Diamonds' by South African journalist Khadija Sharife, a notorious Hong Kong based company had been exploiting diamonds at Marange fields. This concern should be taken seriously and is evident that some, if not all, Chinese companies are ripping out our resources." He argues that by pursuing and practicing non-interference policy, China is indirectly destroying the democratic dispensation in Africa which will eventually lead to massive corruption and human rights violations among other woes. "After 10 years to come this country, especially the Southern Highlands zone, could be another 'China State' full of Chinese people, the Far East country brings in even petty traders (marching guys) who even sell sweets… they see Africa as a paradise for employment opportunities thus making it safe for them to live in," he added. He further says failure of the government to set up mineral policy and laws that could govern natural resources and safeguard Tanzanians in employment by those foreign companies could create problems in a few years to come as Chinese mining firms could create slave labour conditions with scant regard for safety or the local culture. In January 2013 it was reported by international media that Nigerian workers at Lagos-Badagry highway construction site protested because of poor salary and the Chinese company management had no medical facilities. Mabere Nyaucho Marando, a lawyer and politician with Chadema party argues that the aid China offers is so little to address Africa's developmental needs and that this aid goes essentially to nations with endowed natural resources. He accuses China for grabbing exclusively huge natural resources while dumping only sub-standard products in Africa, emphasizing that the only motive behind Chinese activities in Africa is to serve its own national interests. As people wait for the 'Dragon' to spit fire from Mchuchuma coal mine, many wonder whether this could be realistic and questions about due diligence as the Chinese company has no experience in power generation. According to its official website, SHC is principally engaged in the manufacture and distribution of zinc ingots and chemical products and the Company's major products are zinc ingots, monoammonium phosphate, lead-sulfide concentrates, zinc oxide, zinc-sulfide concentrates, calcium hydrogen phosphate, liquid ammonia, calcium superphosphate and organic phosphate fertilizers, among others that are being distributed in domestic and overseas markets. The numbers are huge. Eventually, three million tons of coal, three million tons of iron ore and one million tons of steel will be produced per year. "The potential of all this is obvious from these numbers. But fulfilling this potential will not be straightforward. And doing so while avoiding all the social and environmental problems than often follow the mining industry will be even harder. Some notes of caution are therefore justified," said Ben Taylor, former Executive Director of Daraja Development Limited, a non-profit organization based in Njombe. First, he says, this is still all at an early stage. TCIMR has been given 36 months for "exploration" before project implementation begins, though government leaders suggest things would move more quickly. "Either way, there's a good chance that we're still a long way away from any significant employment, coal, steel or power being produced." He adds: "When this much money is involved, the project is bound to attract interest from people who are not interested in helping Tanzania, or even in making a legitimate profit. Corruption is a serious risk here. When the numbers given are so inconsistent, this only serves to create doubt. Let's not forget that initial investment is only half the battle. Keeping things running can be just as big a challenge." THE MINING SUMMIT Most people doubt about Chinese companies which are said to have a poor record when it comes to delivering on commitments in Africa. These reasons seem to be the dominating agendas in the coming Central and East Africa Mining Summit which is to be held in London between 20th – 23rd January, 2014 that will attract participants from the extractive industry, particularly from the region. According to the tentative programme of the summit, a number of papers will be presented including 'Investment and risk: examining the risks and rewards of mining in Central and East Africa; Examining how relationships with state mining companies can be optimized: a case study on the role of Gécamines in the Democratic Republic of Congo; Understanding China's increasing political role in Africa and in mining in Central and East Africa; and Examining strategies to secure and improve power supply and lower the costs of mining.' Tanzania will be represented by Stephen Masele, Deputy Minister for Energy and Minerals, who will present a paper on 'Assessing government policies in Central and East Africa: how do governments plan to support mining in the region?'; while Edward Johnstone, Independent Power Consultant from Tanzania will present a paper on 'Assessing solutions for mining companies: from coal to solar power, how can you make the best choice for your project or operations?' Other papers to be presented on the first day will be 'How should mining companies and governments invest in expanding power capacity?; Managing resource nationalism and political risks in East and Central Africa; Assessing how geopolitical risks in Central and East Africa will impact mining companies in the future.' The programme show that invited speakers in the summit will be Richard Musukwa, Deputy Minister for Mines, Energy and Water Development from Zambia; Martin Kabwelulu Labilo, Minister for Mines from Democratic Republic of Congo; Najib Balala, Minister for Mines from Kenya; George Simbachawene, Deputy Minister for Energy and Minerals from Tanzania; and Irene Muloni, Minister for Mines from Uganda. TRUST THE DRAGON While many in the West view Africa as a land of poverty, the Chinese see the continent as an almost limitless business opportunity. It is not surprising when on March 25th 2013, Beijing and Dar es Salaam signed a total of 17 deals worth US$ 13.355 billion which the authorities say the huge funding will cover many strategic economic areas and will have a direct impact on the national budgets at least for the coming two fiscal years. These deals include the multi-billion dollar modern port project to be constructed in Bagamoyo to service the Great Lakes region that is scheduled to be completed by 2017. The new Bagamoyo port will be designed to handle 20 million containers a year, compared to the annual 500,000 containers that pass through Dar es Salaam. Analysts say that China stands to gain from the new port as it would facilitate China-bound shipments of minerals from neighbouring landlocked countries via the Indian Ocean. It is predicted that the new port will attract a huge shift in trade from Mombasa – which handles 600,000 containers a year – ushering in big changes in how the region does business. The bilateral deals call for China to commit $500 million in 2013 for starting the port construction, which will include the building of a new 34-kilometre road joining Bagamoyo to Mlandizi and 65 kilometres of railway connecting Bagamoyo to the Tanzania-Zambia Railway (TAZARA) and Central Railway line. Two years ago, China arranged a $1.3 billion loan to the Tanzanian government at an interest rates of just three percent to finance the construction of 524km Mtwara-Dar es Salaam gas pipeline. Last October Tanzania signed contracts worth US$ 1.639 billion with Chinese companies to construct power plants and housing units in the country, deals that mark China's growing economic presence in Tanzania. The contract signing ceremony, which was witnessed by the Tanzania premier Mizengo Pinda, took place in Guangzhou, China, and includes a US$ 667.755 million contract that was awarded to Tebian Electric Apparatus Stock for the construction of a 400 kV power transmission line, and other US$ 667.755 million deals with China Railway Jianchang Engineering Company and China Poly Group Corporation to develop residential and commercial property. In May 2013 Tanzania signed a framework agreement with China Merchants Holdings for the construction of a new port, special economic zone and railway network that could involve more than US$ 9.53 billion. Being the world's second largest economy, China has more than built trust in Tanzania and other African countries that they dismiss allegations related to the Dragon's quest to African raw materials. "The investors are committed to stimulating the development of transport infrastructure and this will also necessitate the building of new and strengthening the current power transmission lines," Dr Chrisant Mzindakaya, NDC Board of Directors chairman, said during the signing of agreement in 2011, adding: "My expectation is that your negotiations today will lead to a win-win situation not only for our two institutions but for the prosperity of our two friendly nations." SHC Chairperson, Lin Conglong, said his company's decision to invest in Tanzania was motivated by, among other things, traditional relations between Tanzania and China through the late Mwalimu Julius Nyerere and Mao Tse Tung. China-Tanzanian joint venture cooperation started in the 1960s and has been developing rapidly in recent years. It's said that Tanzania is China's largest aid recipient country in Africa. At present, there are eight Sino-Tanzanian joint ventures established in Tanzania. Among them Tanzania-China Friendship Textile Co Ltd, which was reorganized on the basis of the former Chinese-supported Friendship Textile Mill by using the interest-subsidized preferential credit provided by the Chinese government, serves as a successful example for mutually beneficial cooperation. According to the statistics from Tanzanian Investment Center, by the end of August 2012, there have been more than 300 Chinese companies investing in Tanzania's infrastructure, agriculture, manufacturing and SME development with a total registered capital of over US$ 971.28 million. During the contract signing ceremony of the JV agreement between Sichuan Hongda and NDC on September 21st, 2011, Tanzania's Vice-President Dr Mohammed Gharib Bilal, was quoted as saying that the production of power and iron and steel from Mchuchuma and Liganga projects will also lead to development of key infrastructures including the Mtwara Port, the Mtwara to Mchuchuma-Liganga Railway and power transmission lines, especially that will link Mchuchuma power station with the national grid. "Apart from serving the projects, the infrastructure so developed will help to spur further development of other economic activities along these infrastructure corridors… It is thus clear that implementation of these two projects is at the heart of Tanzania's future economy that will uplift the majority of our people from poverty; to the level of middle income economy as hoped for in our National Vision 2025," he said. However, President Jakaya Kikwete recently said that he would like to see all industrial projects, especially the Mchuchuma and Liganga, start before he retires, assuring Tanzanians that he will use his presidential powers to ensure that the giant projects for establishing basic industries geared to tap huge Liganga iron ore and Mchuchuma coal reserves begin before 2015. "The government aims at turning NDC into a catalyst for industrialisation in the country. The projects for industrialisation based on utilisation of Liganga iron ore and Mchuchuma coal reserves, which have been in the country's talks for many years, must start before I retire," he was quoted as saying. President Kiwete reiterated his promise on his visit to Liganga in mid-October, saying he was quite sure the projects will commence soon. It is said that the projects are yet to start waiting for the Environmental and Social Impact Assessment (ESIA) to be verified after the process was done by environmentalist and former Ludewa Member of Parliament, Professor Raphael Mwalyosi. TCIMR is now set to begin its activities in the year 2015. *Source
Pambazuka.
This article was supported by Forum for African Investigative Reporters and WITS China-Africa
]]>