THERE WAS NO ATTEMPTED COUP IN JUBA, BUT A CORONATION OF AUTOCRACY
By Dak Buoth Riek*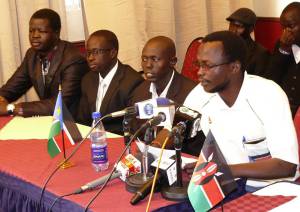 A simple way of losing sight of where you are going is by losing sight of where you are coming from. It is on this basis that the stooge, Sudan People's Liberation MovementImage (SPLM) led government needed an immediate political upheaval before it buttresses its oppressive machinations. South Sudan have had trouble history within itself fiercefully than it had with Bashir's Khartoum. When we finally ascertained independent 0n 9th July 2011 after many decades of devastating liberation war, there was a breathed of fresh air and relief with a high anticipation that our country 's leadership headed by General Kiir would provide all of us with the basic services that we had lack for over a centuries and that whatever else will be people's centered. Now those hopes have withered again, Let me at the onset precisely narrate what in my view caused the current spilling political turmoil in our country. My explanation on the aforementioned may not appear countenance to you because I know some of you will want to judge the situation superficially as it floats without examining its genesis.
MUSEVENI KILLED OR PART OF CONSPIRACRY IN GARANG DEATH South Sudan is now at the verge of collapse with Ugandan's illegitimate leader Kaguta Yoweri Museveni, becoming the first to cheers up the ongoing setback. Museveni has since been uncomfortable after all his evil underhand that Killed Dr John Garang were unraveled. In Miguna Miguna's Memoir, 'The Peeling Back the Mask', a Quest for Justice in Kenya, he has attested and expounded in details, how Museveni killed Dr Mabior, wittingly to execute what he is currently undertaking.
THE FALLACY OF 1991 SPLM SCHISM AND DIVIDE AND RULE DEMAGOGUES Irresponsible and incompetence leadership in our country had caused what we are witnessing today in Africa's 54th nation. It is Irresponsible in the sense that our country's bureaucracy is not oriented to the culture of fostering national unity and reconciliation; instead it worked towards scratching the old wounds with an intention to ignite the already existing inflammable situation. Quite often than seldom, people talk about the 1991 SPLM schism, unfathomable event which we all know had led to the loss of dozen lives, and caused untold suffering to all of us. ''I have never defected or betrayed the cause of my people'', All these vile and hate speech utterances always come from the president's mouth. Sincerely, what are these suppose to do with the people at the grassroots? And who stands to gain from it? Instead of upholding to the ideals and aspirations coined in our liberation's manifesto, an ideals to live in a united, secular and democratic society. President Kiir and his political cohorts, reverted to the former Sudanese president, Jafar Neimeri's retrogressive, enslaving and divisive politics of Greater Upper Nile, Greater Equatoria and Greater Bar El gazal and so forth.
THE EMERGENCY OF INDIGENOUS OPPRESSORS IN SOUTH SUDAN A leadership that does not know what its suppose to deliver to the people it serve, and what it should do for its future generation, and what it should do to make its citizenry earn respect and dignity among foreign nations is country whose future is at frailty. The SPLM led government is well known for its naivety, that is why its policies are prone to foreign manipulation as Rebecca Garang said "South Sudanese people now become a liability to the region and remain indebted to the world.'' There has never been a tangible achievement that surpasses our expectations, corruption became epidemic in our country. People find it unbearable to survive and when they tried to raise it, they got prosecuted and heavily penalized in accordance with their kangaroo laws. It first started out as a very small character until it took roots, it spread and engulfs everything. It became all-pervasive, and nothing in the end worked without bribes or influential connections. Illegal and subversive activities became habitual. Decisions were based on political favoritism, clans and regional inclinations. Go and read the infamous south Sudan Dura scandal, the 75 current and former ministers scandal, the south Sudan 4 Billions USD scandal and the recent President Kiir 's office Scandal. The justice and peace protocol which was assented to here in Nyayo stadium and brought to us in a silver plate by our iconic liberation hero Dr John Garang has since his untimely death been thrown away shortly after he was buried.
THE UNFULFILLED EXPECTATIONS OF THE SOUTH SUDANESE PEOPLE The preservation of Order; the promotion of good, and punishment of evil; and the raising of taxes in the interest of the common good which are the fundamental responsibilities of any legitimate authority, were never undertaken in south Sudan. The award in which the SPLM led government was to bring to the people, was none other than order and peace, which in my view ought to have been its priority because the most fundamental civil liberty is the freedom from fear of harm on the part of the civilian population, without which other liberties mean very little. However, don't forget that this people who are now fiercely fighting were good economical, social and a political friends. They all hail from the mother SPLM, the governing party. Their enmity peels after some of them complained that their cups were half empty following the infamous July 2013 cabinet overhaul that saw many of them left in the cool.
SPLM DEPOPULATION STRATEGY AGAINST POTENTIAL DISSIDENTS COMMUNITIES Do not be complacent with the chronology that the ongoing war is an ethnic conflict between the Nuer and the Dinka. Yes it's undeniable that innocent members of the Nuer and Dinka have been massacred by Kiir's machinations in the name of cracking down his opponents. And that was what angered many Nuers, including the top SPLA army commanders who have now vowed to oust Kiir. Since south Sudan attained its sovereignty eight years ago, right from its interim period, Nuer have died in thousands in the hand of Kiir 's mercenaries and he has never expressed his heartfelt condolences or condemnation on the same in The State's Television. They were massacred in cold blood in Old Fangak, Payijiar, Akobo, Uror, Manyendit and in Mayom counties. Sometimes, when I try to meditate on this repeated heinous killing, I find it undisputable that Kiir's regime did have a shadow depopulation strategy against Nuer and members of other communities whose leaders he deems as his potential opponents.
OUR INTERIM LAWS WERE CRAFTED FOR ANARCHY INSTEAD OF POSTERITY The ongoing crisis did not occur as a happenstance to me given the reasons and facts that conflict in south Sudan was wittingly meant to be inevitable. Even though the current spilling violence is going to be ceased as there are regional and international efforts sprouting to calm it, there is still going to be a renewed and long lasting conflict unless the ongoing Addis Ababa mediation is not going to be a truce. A sane South Sudanese would otherwise be naïve and indeed foolish not to believe that conflict in South Sudan was nurtured to its apex.The current interim constitution is an embodiment of rules made to promote anarchy. It was a law crafted for violence and not for posterity. Those of John Luk Joak, the former minister of justice and legal affairs, Pagan Amum Okiech, Dr Cirilo Iteng, Taban Deng Gai, Dr Marial Biel, Nhial Deng, Dr Kosti Manibe and Deng Alor just to mention but a few, were among several other cabinet ministers, majority of whom are now called political detainees, whom Dr Riek Machar demanded to be released prior to any cessation of hostilities. They were the ones who empowered the President with a view to mangle Dr Riek Machar politically without realizing that a nation is bigger than an individual, and as it is said citizens who value their privileges over principles, end up losing both. This is truly what had happened to them. They do not know that political marriages are always temporal. They are now frying in a pan which they had created themselves awaiting to answer charges for treason. Shetani ashindwe!
SHAMELESS DRAMA AT INDEPENDENT INAUGURATION On 9th July 2011 Pagan Amum and the aforementioned group conspired attempting to barred Dr Riek Machar from giving a speech at independent inauguration, if you have had a privilege to watched that joyous event at John Garang Moaseulom in that year you could have recalled how Dr Riek forced his way to the dais to welcome president Bashiir and Kiir, unbeknowned to him and the jubilant crowd of local and the international dignitaries who had early that morning packed the tiny scorching stadium, the Microphone Dr Machar was using promptly developed a hitches that made him to halt for at least ten minutes allegedly because of Pagan Amum 's tricks who was then the master of ceremony. Their intention was to mutilate Machar 's dignity and to framed him as somebody who have stabbed people at the back in the days of struggle, an ignoramus opinion informed by lack of moral respect for national leader of Machar 's kind. They are short sighted people who could not acknowledge Dr Machar 's dialectic philosophy which profoundly contributed to the independent of the republic of south Sudan. Haven't he (Dr Machar) helped revitalized an alternative in Nasir in 1991 to fight for south Sudan independent from the Arabs monolithic regime as opposed to Garang 's SPLM which then was advocating for liberation of the all sudan, we would still be grounding our teeth.
THERE WAS NO ATTEMPTED COUP IN JUBA, BUT A CORONATION OF AUTOCRACY Be assured that what happened on 15 December, 2013 in juba did not occur as a result of an attempted coup, but as a coronation of autocracy in our nation. The word coup was just a concoction of lie to cover up the truth, the people's power, ''democracy''. People have always sympathized with him in all the rots he has presided over, considering his limited education. If you still hold doubt of this, you wait and see, time will tell. Those who are laughing now, thinking otherwise may perhaps have a last weep. Dr Machar and his comrades are ensuing a fight that is not tribal but a war against unwanted imposition of dictatorship in our country. You know it is like if someone wanted to fight you and you became hesitative, At first he will want to insult you with an intention to provoke, if you remain mum, he perhaps may make a further attempt to hit you such that you can ensue a war of self defense. If a scenario of the sort occurred to you, it's unless you have some physical deficiencies that you can withhold your temper. Notwithstanding the thousands lives which were feared dead in the conflict, the law will first and foremost extract the intent and the causation of the fault before holding into account any orchestrator thus, Gen. Kiir will have at his disposals all the burdens of proof at the trail. MY RINGING THOUGHTS I have also been holding a secretive, distinctive and scriptural opinion that the so called SPLM leaders who are now bringing their fight to us are just political thugs. I see this fight as a political strategy meant to confuse the public such that they (SPLM) can form a unity government among themselves without allowing the citizens to elect their leaders of choice. I doubt this is just a ploy to skip the forth coming 2015 poll. If their enmity was indeed authentic as they claimed, how comes no one among them was hurt including those that they held captive in their respective custodies? Are you detecting this illusion? Nevertheless, we dismiss the Museveni's IGAD mediation in Addis Ababa as a batch of greedy crooks and goons who are only there to widen our rift. finally, The father of South Sudan independence, Gen Lazarus Sumbeyoi should just resign from the mediation team to avoid mutilating his image. The following are the prerequisite for finding the way forward in brokering this political turmoil 1. African Union to appoint a competent impartial team to broker peace in this crisis. 2. Expeditious investigation into all the horrors committed be undertaken by UN agencies. 3. Museveni military who are now killing us indiscriminately be ordered to withdraw. 4. Allow immediate humanitarian access to all the affected people in various UN camps.
the Article was written by:
Source maalmad . Dak Buoth Riek is a Law student at Presbyterian University of East Africa and Chairperson of Congress of South Sudanese Patriots for Peace and Reconciliation. you can email him at eligodakb@yahoo.com