Japan and China criticise each other's Africa policies
<![CDATA[By Duncan Bartlett* [caption id="attachment_7955" align="alignleft" width="300"]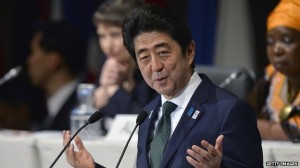 Shinzo Abe is visiting three nations in Africa[/caption]
China and Japan are criticising each other's policies in Africa as each country pledges more money for the continent.
Japan has suggested China is buying off African leaders with lavish gifts. Meanwhile China accuses Japan of courting African support for a place on the United National Security Council. Japan's leader Shinzo Abe is touring three nations in Africa, the first trip there by a Japanese prime minister for eight years. Mr Abe is expected to pledge more than $14bn in aid and trade deals during his trip to Ethiopia, Ivory Coast and Mozambique. China has hailed Africa a "golden groun
Chinese foreign ministers are visiting East and West Africa this month.
'Beautiful houses' Mr Abe's spokesman Tomohiko Taniguchi admits Japan is lagging behind China in terms of investment in Africa. But he told the BBC that "countries like Japan, Britain and France cannot provide African leaders with beautiful houses or beautiful ministerial buildings". The Chinese often pay for public buildings, including the African Union headquarters in Ethiopia, where Mr Abe is due to speak on Tuesday. Mr Taniguchi said: "Japan's aid policy is to really aid the human capital of Africa." He said many African leaders believed that through strong links with Japan they could obtain industrial expertise and know-how. China insists its aid and co-operation with Africa are completely selfless. The Chinese foreign minister Wang Yi told the Hong Kong newspaper Ming Pao that China does not approve of "certain countries" which try to compete with others for their own interests and offer aid to Africa out of purely political motives. This appears to be a reference to Japan's attempts to win the votes of African leaders in support of its bid to be a permanent member of the United Nations Security Council, something China opposes. *Source
BBC
d" for foreign investment and has pledged to double its aid to the continent to $20bn a year. ]]>