Former prominent personalities in Rwandan government: Where are they now?
<![CDATA[By Edmund Kagire* [caption id="attachment_8030" align="alignleft" width="300"]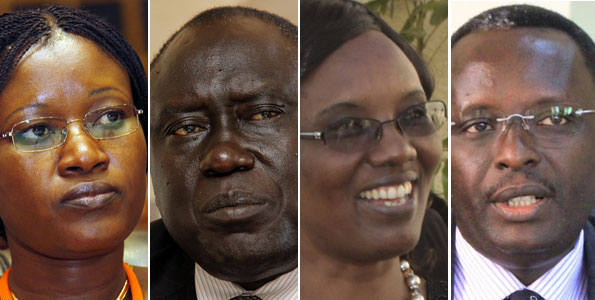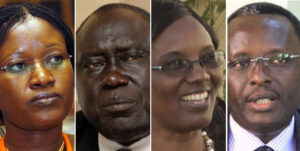 From left: Monique Mukaruliza, Tharcisse Karugarama, Rose Mukantabana and Martin Ngoga. Photos/FILE[/caption] They were once prominent public figures holding high government offices. In 2013 or before, a number of them were dropped amid changes in the government and they disappeared from the limelight. Rwanda Today set out to trace some of them.
Protais Musoni
The former Minister of Cabinet Affairs was dropped May last year and replaced with the youthful Stella Ford Mugabo.
Being one of the longest-serving ministers and Rwanda Patriotic Front (RPF) stalwarts, his removal from the Cabinet led to a media frenzy, considering that the senior politician was considered among the "super ministers." It was said that Mr Musoni had failed to meet the expectations of the appointing authority, a theory affirmed by President Paul Kagame during an RFP expanded congress a few weeks later, alluding that it could have been the reason.
Consequently, Mr Musoni joined a line of officials who apologised to the party for failing to deliver and were pardoned. The former minister now works at the Kimihurura-based RPF Secretariat.
"I have not retired," Mr Musoni told Rwanda Today in a telephone interview. "I am performing my duties at the RPF Secretariat.
"I wake up every morning to go to work. Nothing has changed in my daily schedule. I am still serving the public in the party capacity."
Tharcisse Karugarama
The former Justice Minister, an RPF "historical," was dropped from the Cabinet May last year.
He, too, was in the media limelight long after his sacking for many reasons, some controversial, but the seasoned judge has since weathered the storm. The elderly politician has been spotted at different social functions, including weddings and graduations, cracking his usual humorous jokes, and also presiding over 
gusaba
, the traditional ceremony to request for a bride's hand in marriage from her family. It is a task performed by eminent witty elders who are admired in society.
Mr Karugarama could not disclose his current occupation, opting to take a break from the attention of the media. "My media friends, allow me to enjoy my retirement," he jokingly said in a phone interview.
He was seen last week attending the National Prayer Breakfast at Kigali Serena Hotel.
Monique Mukaruliza
Ms Mukaruliza was the Minister of East African Community until July 12, 2013, when she was dropped in a surprise mini reshuffle along with her permanent secretary, Bill Kayonga.
For the first time, President Kagame spoke out on the reason for dropping a minister. As the appointing authority, he rarely reveals the reason for the changes he makes to his Cabinet.
The Head of State said that he lost his patience after the Mineac officials organised a regional meeting that was riddled with inefficiencies leading to national embarrassment as some delegates were stranded at the airport on arrival.
A few days after she was shown the door, Ms Mukaruliza also apologised to the ruling party during an expanded congress meeting.
Ms Mukaruliza was handed a new lease of life in September when she was tasked with co-ordinating, at the national level, the trilateral single tourist visa and use of identity cards as travel documents for nationals of Rwanda, Kenya and Uganda. The project officially kicked off on January 1, 2014. She would also bounce back as a commissioner in RPF during the party polls held in December 2013. It remains to be seen whether this will restore confidence in the appointing authority to put her in line for a future big political appointment.
Rose Mukantabana
The former speaker of the Second Parliament has since taken the back seat in the Lower Chamber of Deputies.
Returning as one of the female representatives of the City of Kigali, Ms Mukantabana opted to settle for the position of a back bencher. She did not vie for an elected position in the current House.
She successfully steered parliament from 2008 to 2013, when she oversaw the passing of important laws.
According to her, the Second Parliament inherited 24 Bills and passed 349 laws, of which 312 were published in the national gazette while 37 were awaiting publication and 13 were pending when its mandate ended. Only 24 Bills were sent back to the Executive. Her term was the best in Rwandan history: She saw through 96 per cent of her work, perhaps the reason she decided to take a less active role in the current House.
Martin Ngoga
In September 2013, President Kagame nominated Richard Muhumuza, a prosecutor, as the new Prosecutor-General, replacing Martin Ngoga who still had two and a half years on his second mandate. At the time of his replacement, Mr Ngoga was seen as one of the country's most influential figures, having pushed Rwanda's legal interests in the international arena and particularly taking on countries harbouring genocide suspects.
During his tenure, he convinced the International Criminal Tribunal for Rwanda (ICTR) to transfer the remaining cases to Rwanda as well as different countries to extradite genocide fugitives.
Mr Ngoga's influence in the Judiciary was visible, particularly for the reforms he made in the prosecution authority.
It had been hoped that he would be rewarded with an even bigger post. However, Mr Ngoga is not known to hold any government or party post, five months on.
Lt-Gen Caesar Kayizari
The general was dropped as the Rwanda Defence Forces (RDF) Chief of Staff in July, 2012, and replaced with Maj-Gen Frank Mushyo Kamanzi.
It wasn't until March last year when the football-loving military man was named ambassador at Rwanda's new mission in Ankara, Turkey.
Lt-Gen Kayizari has since disappeared from the public radar.
Rwanda and Turkey have however taken further their diplomatic and economic ties, with the jolly general running things behind the scenes.
Rosemary Museminari
In 2009, Ms Museminari was dropped as the Foreign Affairs minister after a two-year stint in the hot seat.
She was replaced by Louise Mushikiwabo, who was then at the helm of the now-defunct Ministry of Information.
The soft-spoken Ms Museminari had served during a period when Rwanda was going through a volatile diplomatic spell in the region and beyond.
Her replacement with the tough-talking Ms Mushikiwabo was a clear signal that she had fallen short of steering the country through the murky waters of diplomacy, where communication and authority in decision-making play a key role.
Ms Museminari would later be appointed the UNAids Representative to the African Union (AU) and United Nations Economic Commission for Africa (ECA), where she is still serves.
Dr Albert Butare /Linda Bihire
In a December 2009 reshuffle, Dr Albert Butare was dropped as Minister of State for Energy at the Ministry of Infrastructure alongside his engineer boss Linda Bihire.
Speaking in a syndicated radio interview, President Kagame then said such changes in government were necessary when one was not getting good results.
Apparently, the duo had failed to deliver in the energy and infrastructure docket, a priority for the nation to achieve its development ambitions.
The two learned fellows settled back to their old professions with Dr Butare completing his PhD and set up a consultancy firm, the Africa Energy Service Group (AESG), as well as venture in real estate.
Ms Bihire returned to London, from where she had been outsourced. According to her profile on the Internet, she has since settled back in Croydon, where she is a construction consultant. *Source
The East African 
]]>